You are here: Style Articles > What to Wear > Christmas Outfits
Christmas Party Outfit Ideas
Here are a few ideas to help you with last minute planning of your Christmas and holiday season party outfits using your current wardrobe.
I recommend you create a list of Christmas holiday parties you'll be going to then work out exactly what you'll wear to each event. Remember to create complete outfits, including shoes, accessories and outer layers. Try on and record (for example with a photo) the outfits you like.
If you don't have anything that makes you feel great, but you don't want to buy a whole new outfit:
Try re-styling -- can you combine separates and accessessories in a different combination to make it feel more stylish and contemporary?


Accessorize -- add a bold necklace or scarf that has a seasonal feel. For example: something shiny or sparkly; something in a metallic, green and/or red. Layer 2 or more necklaces that have similar colors or a similar 'theme' or 'look' to create more of a statement. If you don't have something suitable already this is usually an easy, cost-effective way of making an existing outfit feel like new.


Add a festive top -- if you still can't find anything suitable in your wardrobe identify the bottoms you'd like to wear then buy a new top. You might find this easier (and more cost effective) than buying a dress when you're feeling stressed!
Smart Casual Christmas Party Outfit Ideas
If you don't like showing your upper arms, or you want to add more warmth, on sleeveless styles try adding a 3/4 sleeve or full length fine knit in a tone of the top colour. And/or simply add an outer layer of a dressy cardigan or softly tailored jacket.
In the suggestions above either pants (that is tapered, or fuller width) can be used with any of the tops. Choose a heel height you're comfortable in, especially if you know you'll be standing for most of the event, but try and make the style a bit dressy, as shown.
Some of My Holiday Party Outfits
This is the outfit I'll be wearing on Christmas evening (2016) for a dinner with friends.
I'll style the top with a partial tuck.
I'm loving the swishy, casual elegance of this outfit!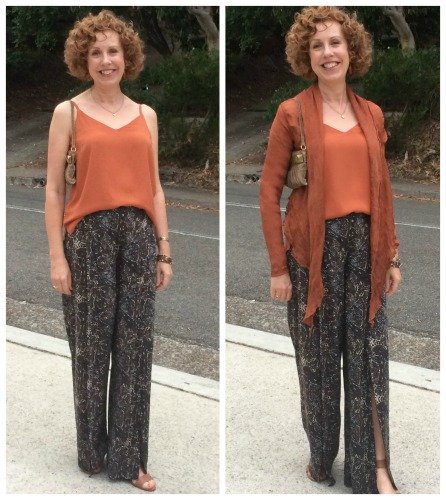 Outfit for Christmas Socializing
Here are some of the outfits I wore for the 2014 Christmas season (I'll still be wearing most of them this year, but for different occasions):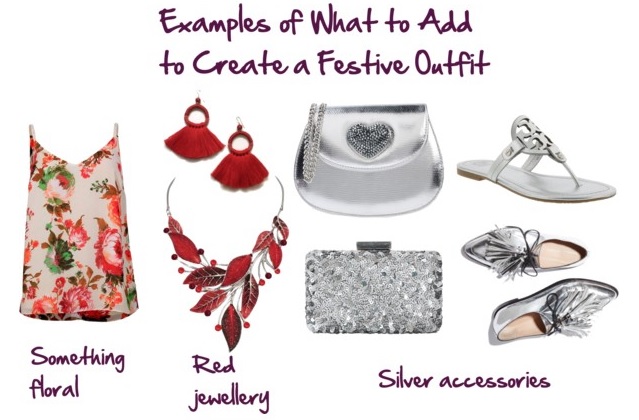 My Outfit for Christmas Day
We're hosting a Christmas Dinner for friends at our place and this is the wonderfully comfortable and stylish outfit that I'll be wearing. If it's a little cool I have a mesh waterfall cardigan that I can pop over the top.
The dress and the necklace are from a local boutique called Walker & Beck.
The dress has some 'flaps' of fabric at the sides that can be tied to look like a sarong (as shown in the photo). However, I can also take one flap to the back and one to the front and tie it at my shoulder if I fancy a change. I love the way the bead necklace copies the vertical lines and paler color within the dress. My earrings are yellow-toned glass bead drops. The darker yellow-brown tones of the dress echo, and therefore emphasize, my hair tones.
The shoes are my own design from Shoes of Prey.
I'll change into my outfit about an hour before the guests arrive. Then to protect it while I'm cooking I'll wear a full length apron.
Christmas Eve Garden Party Dress
This lovely dress from Picnic Clothing has one shoulder, a high-low diagonal hem-line, and a waterfall ruffle at the side.
When I don't want to expose a shoulder I wear a tank in a similar tone under it, like the one shown in the photo.
The necklaces (there are 2 necklaces, layered in the photo) are from Walker & Beck.
The gold metallic evening bag is one I've had (and loved) for many years.
The shoes are another of my creations from Shoes of Prey. For a garden party I'll swap them for some gold metallic wedge sandals.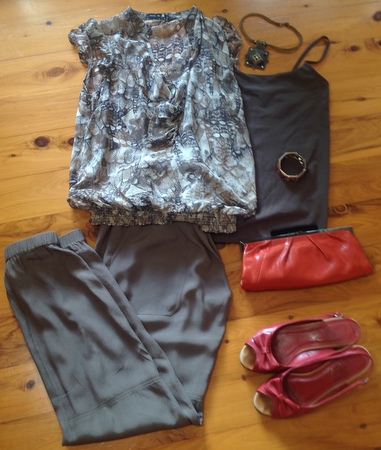 Smart Casual Christmas Parties
This is one of my current 'go to' outfits for smart casual social events, such as casual dinners with friends.
The top and pants are from Picnic Clothing. I wear the cami under the top since it's quite shear.
The necklace came from a stall at Paddington market many years ago. People often comment that they like it. I like the way it gives this very feminine silk ruffle-top a bit of an edge. In this outfit a red necklace would also work well.
The red clutch was from Country Road many years ago. The bangle is an Art Deco inspired red and gold design from Accessorize UK.
The shoes are yet another of my much loved creations from Shoes of Prey.
For More Ideas...
For more ideas check out these articles on other websites:
Like This Page?