Shoe Party to Design Your Own
Custom Handmade Shoes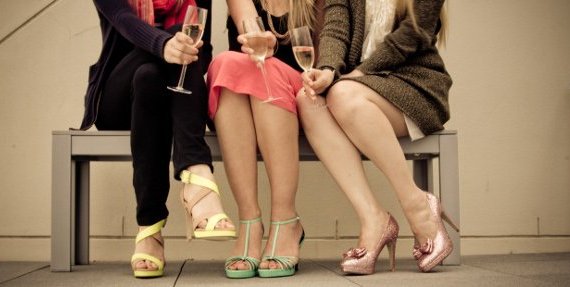 How would you like to design your own custom handmade shoes? You pick the shoe design, the heel height and style, the materials, and any decorations. Your custom shoes are handmade with loving care and delivered within 4-6 weeks.
I am delighted to offer private shoe parties where you can design your own perfect shoes online in a fun social setting with your friends and co-workers.
The parties are relaxed, fun, social workshop-style events. If you like you can provide a glass of bubbles and a few nibbles. You get to see and try on examples of the shoes, feel and see the beautiful material swatches and design your own shoes.
I offer this service as an independent stylist for Shoes of Prey. In case you haven't heard of them, Shoes of Prey is an Australian custom shoe company that allows you to design your perfect shoes online.
What I really like about the concept is that you can get fashionable shoes, customised with the colours and style elements you want, that are comfortable as well.
My custom designed shoes
I, of course, own quite a few pairs of Shoes of Prey shoes and they're proving to be the most comfortable shoes I own. You can read about some of them here. I find designing stylish custom shoes quite addictive -- be warned!
They also cater for special needs such as narrow feet, or wide feet. And with Australian sizes from 2.5-15 (European 31-49) cater for small and large feet as well. Each shoe is handmade and comes with a 100% customer guarantee -- if your shoes don't fit, or don't turn out to your liking, they will remake them, or refund your money.
Advantages of Hosting a Shoe Party
Although you design and order your custom handmade shoes online the advantages of hosting your own party with me include:
I help you work out your size for both flats and heels. If you have any special fitting needs I help with that too

You see actual examples of shoe designs

You get to see, touch and feel the gorgeous materials. It's easier to visualise your shoe design when you can see the materials together

I can help you with your designs. With so many choices it's easy to get confused, you can take advantage of my image consulting expertise and knowledge of current styles to help work out what you want

You earn shoe credits that you can use towards your own custom handmade shoes

Shoe party specials -- there are some materials and styles that are only available through a shoe party
How it Works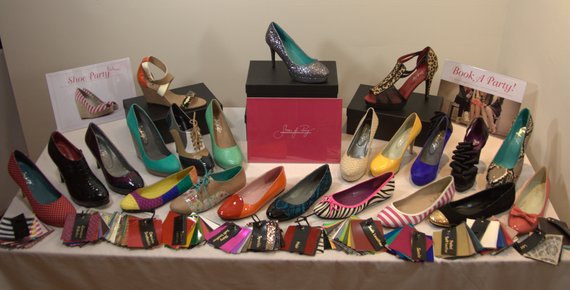 Example of Custom Handmade Shoes Setup for Party
Schedule the party date and time
We agree a date and time. Your party can be on a weekend, week night, or week day. It typically runs for 2 hours.

I can come to your home or your office (with your organisation's permission).

I live in Avalon on Sydney's northern beaches and mainly travel within about a 2 hour travel radius. Contact me to ask if you're not sure if that includes your home or office.

Ideally you'll have WiFi broadband internet access and know your access password. I'll bring a laptop and an iPad. It's good (though not essential) if you and your guests also have an iPad, other tablet, or WiFi enabled laptop.


Invite your guests
Ideally aim to have around 8-12 girls at your party.

I customise a graphical invitation for you and can either send it to your guests directly, or give it to you to send. I'll also add it to my website as a private page so you can add a link to your invitation from Facebook and other Social Media sites.

I do the same for reminders.


Enjoy your party!
You might like to offer champagne, wine and soft drinks and a few nibbles.

I'll facilitate your party, but don't worry there's no long, boring presentation. I'll let you and your guests know what to do then let you get on trying the shoes, handling the materials and designing shoes online.

I'll answer questions on style and design and give you styling tips, if you want them.

Your guests may like to bring:

Some past their use-by-date shoes that they want to recreate
Pictures of shoe styles they love
An outfit or 2 they need shoes for
You'll earn a $20 shoe credit just for hosting a party, then $20 more credits for each pair of shoes ordered at your party. Please note: if someone you invite can't attend, but orders shoes anyway; or if a party guest doesn't order on the night, but within a day of your party you will still be given credits based on their orders.
>> Contact me to find out more and to book.
Like This Page?