Style Makeover Workshops
These style workshops are designed as fun, interactive sessions for you to learn how to reflect who you are through your clothing. Each workshop addresses a specific aspect of developing your personal style.
You can either sign up for a scheduled public workshop, or get together a group of friends and book a private session.
The public workshops listed below are kept small to ensure everyone gets my personal attention. They're held in my home in Avalon, NSW (on Sydney's northern beaches).
If you'd like to attend a public workshop on a particular topic, but don't see it listed below, do let me know and I'll see what I can do.
Workshop Options
Scheduled Workshops
Update Your Look for Spring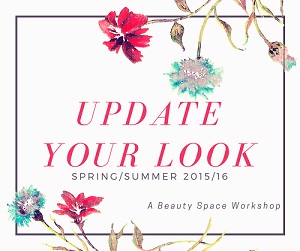 Learn how to update your makeup and your clothing style for spring in this fun and informative 2 hour workshop.
You don't have to love fashion or adopt every passing trend. However, it is important to have at least an overview of current trends so you can keep your look contemporary. We save you time and effort by presenting an overview of the best of the current season so you can adopt what works for you.
Join makeup artist Petrina and I in the relaxed and friendly setting of Petrina's beautiful garden studio in Northbridge.
Personal style: I'll share with you the main clothing and accessory trends for the coming season and what you should consider before introducing new clothes and accessories into your own wardrobe.
Makeup: Petrina Milas, of Studio Petrina Milas, has transformed the look of thousands of clients from all walks of life with her artistic eye and timeles touch.
In this workshop Petrina will demonstrate ideas to update your makeup for Spring, identifying current beauty trends and how they might work for you and your lifestyle.
Limited seats are available, so it's essential to book early.
Dates: Thursday 10th September 10am-12pm, and
Saturday 12th September
Location:
Studio Petrina Milas, 7 Baringa Road, Northbridge, Sydney, NSW 2063
Price: Secure your place for only $27 (including tea and coffee on arrival)
Book now: by clicking here. You will be taken to the booking page of Studio Petrina Milas or phone Petrina on 0416 120 160
Discovery Your Personal Style -- for Business

Does your appearance reflect your personal values and beliefs? Does it convey who you are and how you want to be seen in your business?
When you look good you feel good, but what you choose to wear plays a much more vital role than just flattering your appearance. Others use how you present yourself to quickly make assumptions about you, for establishing your credibility and for deciding if they want to work with you.
In this 2 hour workshop you'll be led through a series of fun, interactive group exercises to explore:
How you are currently perceived
How you want to be perceived, and
How to use that information to consciously dress for your personality, your business and your ambitions
Bring with you: 1 or 2 of your favourite magazines and shop catalogues with you (ones you've finished with, so we can cut them up!). They don't have to be fashion magazines, they could be home styling or design magazines.
Dress code: business wear
When: Tuesday 6th October 7pm-9pm
Where:
Be Ultimate offices: Suite 3, Level 1, 15-17 Stanley Street, St Ives (parking at rear)
Price: $99
To book: Limited places available. Click here.
Downsize with Style Masterclass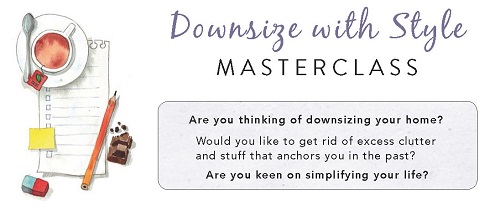 Are you considering downsizing your home and feeling overwhelmed at the thought?
How should you start? Do you have too much accumulated 'stuff'?
Or perhaps you just want to simply your life?
This masterclass brings together 6 experts who can help you stop procrastinating and start living the life of your dreams.
To find out more and to book click here
When: Saturday 31st October 9.30am-4pm
Where:
Moore Park Golf Club, Cleveland Street, Moore Park NSW 2021 (onsite parking available, public transport nearby)
Private Style Makeover Workshops
Private workshops can be scheduled for small groups of 4-8 women. They run from 2-5 hours. Topics covered include:
Finding and wearing your best colours
Creating an inspirational wardrobe
Wardrobe Magic: Outfit ideas -- mixing, matching and layering
Shop your wardrobe -- learn how to find new outfits in your current wardrobe
Shoe party -- design your own custom handmade shoes
Clothes recycling
To find out more contact me.
Like This Page?