You are here: Using Your Style ePortfolio

Tips for Using Your Personal eStyle Program
To get the most out of your personalized eStyles first use it to assess your existing wardrobe. In particular, look at items that you rarely or never wear and work out what is wrong.
Then use it before you buy new clothes and accessories to determine how good the item is for you.
If you haven't already done so, start by logging into your program and looking at the video. Next read "Using Your Style Solutions" page on the eStyle website.
Then follow the directions below. These are what I advise my in-person clients to do. And what I follow myself when I conduct a wardrobe audit or take a client shopping. By following these steps you'll be sure to get the most out of your style recommendations.
Please note...
This information only makes sense if you have ordered your personalized version of the eStyles program -- this is the online program/website that lets you know how to dress to flatter your body shape. Find out more about the eStyles program.
Clothing and Accessory Assessment
For each garment, outfit and accessory check the following (remember to login first, so you see your personalized recommendations)...
Fitting/outer silhouette -- select My Garments > DESIGN & COLOR > Garment Silhouette. Click on a style picture to see the description.

Check out your recommendations for Very-Fitted, Semi-Fitted, Boxy-Stiff and Boxy-Soft.

See your best skirt silhouettes by selecting My Garments > SKIRTS > Basic Shapes.

See your personal recommendations for dress silhouettes by selecting My Garments > DRESSES > Basic Shapes.

And see your recommendations for pant shapes by selecting My Garments > PANTS > Width.

Jacket and top lengths -- select My Garments > OUTERWEAR > Top, sweater and jacket length.

Use these lengths for any top length.

The recommendations are for an average arm length. If you have short or long arms adjust the length recommendations up (for long arms), down (for short arms) by one. For example: for long arms Knuckles becomes Wrists; 1st Finger Joint becomes Base of Thumb and so on.

Check your arm length as follows: do your knuckles come just below the lower curve of your bottom?...

If so, your arm length is average
If your knuckles are well below you have long arms -- avoid three-quarter length sleeves as these will make your arms look longer
If your knuckles are well above you have short arms
Skirt, dress and coat lengths -- select My Garments > DRESSES > Skirt and dress length. Also use these lengths for cut-off pants, such as capris, and shorts.

Scale -- see the various sections in My Garments > ACCESSORIES and also My Garments > DESIGN & COLOR > Pattern.

Use your scale recommendations for patterns, belt widths, eyeglasses, hats, jewellery and so on.

Shoe vamp and toes -- select My Garments > ACCESSORIES > Shoes & Boots and review your vamp, heel and toe recommendations. (The shoe vamp is the opening of the shoe).

Skirt and pant co-ordination -- select My Garments > DESIGN & COLOR > Color Value and Color Flow.

In fact all the sections under DESIGN & COLOR are particularly important for balancing your body proportions using color, fabric types and patterns.

Check that inner design lines, patterns and color changes aren't sabotaging your look by drawing attention to an area of your body that you don't want to bring attention to. For example, if you have a triangle horizontal shape any tops that have a patterned horizontal border at the hip line are not a good idea as this will make your hips look wider.

Then start at the top of the garment and work down checking your recommendations for each section in MY GARMENTS...

Collars & Lapels
Necklines & Straps
Sleeves & Cuffs
And so on
I can't emphasize enough how important it is to get lengths and the vital-V area (the area between the tips of your shoulders and the mid-point between your breasts) right, as the "Using Your Style Solutions" page states!
Check the Color Suits You
Color is another important element in assessing a piece of clothing or an accessory, especially for those items that are worn in the vital-V area or around your face.
Click here for more information on color.
Other Considerations
If all of the above check out and you still can't work out why you're not wearing some garments that are still lurking in your wardrobe here are a few other things to consider...
Is it in good condition? Maybe it was an old favorite that's now past its best. This is a good candidate for copying -- make it (or have it made) again

It may be the right color, but is it in the right fabric? Do you like the print? Is the color contrast right for you? Is the color surface (matt, sheen, shine) right for you? (All of these questions are answered with my color analysis service, either in-person or online, via email)

Does the style work for your current lifestyle? If your lifestyle has changed since you bought the item it may no longer be appropriate. For example: if you've just entered the work force; if you're now a stay-at-home mother; if you've retired

Does the style suit your personality? If your style personality tends to the dramatic and the garment is a traditional classic it won't suit your personality. If the garment is ultra feminine and your style is more on the natural side it won't work either. Can you change the look of the garment by altering it (remove some of those ruffles, change the length and so on) or wearing it in a different way (for example add a scarf, a brooch, a statement necklace or a vest)

Is the style still in fashion? The style may just be too old-fashioned and make you look older than you are. Such as loud patterned pants with an elastic waist from the 80s.
Companion Style Guide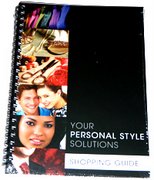 This printed handbag size Shopping Guide is designed to be carried easily when you are shopping. The guide contains all the styles in the Style ePortfolio as well as useful information you can refer to while shopping.
Simply transfer your personal recommendations from your personalized ePortfolio to the shopping guide using a different colored highlighter pen for the recommendation categories: Great, Good, and Good only if.
Order through your Style ePortfolio, by selecting the Books/Products menu option, or click here.
Share Your Style Makeover Experiences
I'd love to hear from you what difference dressing for your body type has made to the way you dress. Please add a comment below to share your experiences: