Autumn Winter Fashion 2013 Australia
Colour, patterns and texture are major autumn winter fashion trends for Australia and the southern hemisphere. There are some beautiful fabrics around.
Update a neutral work, or smart casual outfit with a bold coloured jacket or cardigan. Add a touch of leopard or snake print in an accessory, for example.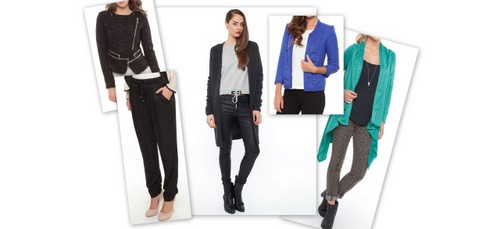 Images courtesy of (left to right):
Honey and Beau
Wish
Nique
Decjuba
Volcom
There's quite a range of silhouettes to choose from, so choose what works for your shape. One major trend is skinny or tapered pants with either a fitted top, or a larger, looser top -- choose from large and boxy or loose and draped.
Autumn Winter Fashion Main Style Themes
The main Autumn Winter fashion themes include:
Romantic -- soft flowing fabrics in dresses, blouses jackets and cardigans; floral prints; lace; shear fabrics


Mens style -- jackets: including biker-style jackets in leather, or fabric, or mixed leather and fabric; tuxedo pants: in both straight and the more feminine tapered shape; military detailing such as epaulets and gold-coloured buttons


60s boxy, mod style -- seen in straighter shift dresses; boxy tops and tapered cropped pants


30s art deco styles -- architectural shapes and aztec-inspired triangle and diamond-shaped patterns
Autumn Winter Fashion Trends: Main Style Elements
Pants and Trousers
There are still a lot of skinny-style pants around. However, there are also tapered styles. Some of these tapered styles are slim fitting, others are slightly fuller with a pleat or 2 at the waist. Some end in a cuffed ankle, or have zips at the ankle.
There are also quite a few tuxedo styles around, both straight and tapered.
There are also fun, strong-coloured jeans and pants and many types of patterned pants. Patterns include subtle snake and dots as well as colourful graphic prints.
You'll also find leather pants and mixed fabric and leather pants. Brocade is another fabric type to look out for.
There are also some fuller, almost palazzo-style pants, both glamourous styles and more casual pyjama styles (the latter I personally think are best saved for lounging at home!).
Coats & Jackets
Coat styles include:
Fuller, straighter styles (60s-inspired)
Sleek-lined semi-fitted
Mans-style overcoat
Capes
There are still many jacket styles around this season, including:
Blazers
Tuxedo styles
Shorter (high-hip length) fitted jackets
Boxy, waist-length styles
Chanel-style wool jackets
Biker-style jackets in leather, fabric, or mixed leather and fabric
Waterfall cardigan-jackets
Tops
Tops shapes include: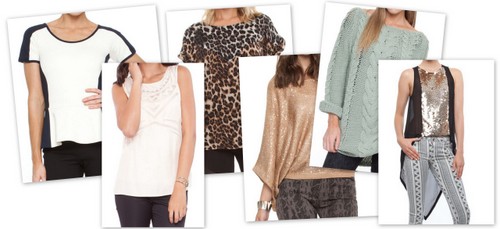 Images courtesy of (left to right):
Saveus
Katherine
Somedays Lovin
Fate
Shilla
Sass & Bide
Peplum tops
Sleeveless shells/tanks that are good for layering
Big, boxy, short and long-sleeved styles
Batwing/kimono styles -- usually best in soft or sheer fabrics to give you some shape
Hip length, baggy jumpers -- great with the skinny pants or the slimmer, tapered pants
The high-low hemline is still around: higher at the front and longer at the back
Dresses
There are still many dress styles to choose from, including:
60s style, straighter shift dresses
Sculpted, hourglass shapes, including styles with peplums
Loose fitting, floaty, feminine dresses
Dressy lace
Lengths are mainly mid-thigh and around knee length. There are also midi Full-length, for more formal evening dresses. There are also some high-low hemline styles and asymmetic hemline styles.
Skirts
There's not much choice in skirts this season. The main styles are:
Above knee length skater style skirts in either a soft fabric -- creating a subtle A-line shape -- or in stiffer fabrics, creating a fuller, A-line silhouette


Straight and pencil skirts, mainly around knee length
Accessories
There are many leggings and jeggings in firmer fabrics, including Ponti. They come in neutral blacks and greys, but also in brighter colours and prints -- especially leopard and snake. These make great layering pieces, under shorter dresses, tunic-style dresses and even under skirts.
Jewellery comes in many fun and bold statement pieces this season! Many of the necklace styles give the appearance of an embellished collar -- a great way to lift a plainer knit top, or simple dress.
Shoes -- Autumn Winter fasion for shoes includes many fun styles!
One of the main trends in shoes is an ankle strap. Worn under pants anyone can wear this style. However, worn with skirts or dresses this is a challenging style for many since it can make your ankles and calves look thicker and your legs look shorter. A strap that forms a v-shape on the top of your foot maybe your most flatter strap style. Or perhaps a t-bar strap in a tone similar to your skin colour.

Design Your Own Perfect Shoes
Heel styles include wedges, stacked heels and stilettoes, as well as flats. With and without platforms. A flat platform is a new trend.
Toe styles include points, almond and rounded! There are also peep-toe styles in both shoes and boots.
Materials include suede, hair, shiny patent, glittery, matt, soft leather, lace, strong colours, patterns. Embellishments include studs, buckles or bows. There really is something for everyone!
Styles include: courts/pumps, shoe boots, knee length boots, ballets, and loafers
Autumn Winter Fashion Main Fabric Trends
Colour Trends
The colour blocking trend continues -- combining strong and unusual colour combinations within one outfit. You need to be rather confident to wear this look, since it will certainly attract attention!
I prefer the tone on tone colour trend: picking one colour and combining similar colour tones within the one outfit. This is an easier combination if you're not particularly tall. It can also look quite elegant.
Black
White
Black and white
Grey
Greens: especially emerald and khaki/olive tones
Blues: especially navy and cobalt
A few reds: especially watermelon, burgundy
Lots of pinks and pinkish purple, including fuschia and raspberry
Oranges: clear bright oranges and more muted versions too
Gold, silver and other metallics
Fabric Types
Lace
Leather
Metallic-look
Brocade
Wool crepe -- great in pants
Ponti
Fabric Prints and Textures
Sequins, glitter and shine
Animal and reptile prints -- especially leopard and snake inspired prints
Florals
Oriental-inspired styles
Graphic prints
Lace
Dots
Stripes
Feathers
Fur -- both fake and real
Loose weave knits
Studs -- both rounded and spiked. These are used to embelish dresses, jackets and shoes
Like This Page?