You are here: Style Articles > What to Wear >
Trend Watch
> Autumn Winter Fashion Trends 2014 South Hemi.
Autumn & Winter Fashion Trends 2014
for Australia & NZ
Since denim is not really my thing, either in colour (blue) or comfort (jeans, unless they're Not Your Daughter's jeans or similar) I can tend to be a bit 'blind' to what's going on in this space.
However, even I can't miss the big range of colours and styles in jeans this Autumn/Winter fashion season. It's a trend that's been growing since the last season. It also includes other garments in denim such as shirts, coats, jackets, tops and dresses.
So, now is a great time to update your jeans and other denim staples. Even the bootcut has returned (great if you have fuller hips).
My personal favourite is the relaxed, boyfriend style (for example, third from left above). Although I'm still waiting to find the right colour (dark), length (full rather than cropped), non-distressed and comfortable (with stretch) pair for me!

The trend of a wide range of styles and colours also continues. Meaning it's easy to create a contemporary look that flatters your shape, colouring, personality, audience and purpose.
However, it does mean you need a good understanding of what that means for you.
Here on my website you'll find lots of articles and resources to help you. I suggest you start here.
If you'd like one-on-one assistance I'd love to help. Check out my services, or contact me and let me know what you'd like help with.
Autumn Winter Fashion Trends: Main Style Elements
Pants, and Trousers
Still many skinny styles
More slim straight styles -- including cropped at the ankle (beware this length unless you're tall and have long legs!)
Relaxed fit, tapered leg styles -- especially patterned styles
Some wider straight styles -- including tuxedo pants
A few fuller leg styles
Plus, see my comments on jeans in my introduction above.
Leather pants are still available. And pants with a combination of leather and a stretch fabric (more comfortable, I'd think).
Skirts
There's finally a little more variety in skirt styles this season, if you search for them:
The main styles are still tapered or straight. An emerging style has split-hem. Coming to knee length or slightly longer

Another variation has an 'envelope' style -- a slight wrap with a pointy-edged hem

There are a few subtle A-line shapes starting to appear. Mainly knee length. Mainly soft flowing, or floaty fabrics

Some full A-line and skater styles. Above mid-calf length (that is, midi), around knee length and higher

And some trumpet, or fluted styles -- fitted at the hips, then flared around the knee region
There are still reports that the midi length is about to be the 'hottest' length, but I'm still not seeing much of that length in shops. Though there is a bit more of the below-knee length.
Dresses
There's still a good range of dress and tunic styles around. Including a good range of dresses in patterned fabrics. Unexpected dress prints include black and white houndstooth checks and pinstripes.
The main styles are shifts, tunics and hourglass fit-and-flare shapes.
The main dress length is still around knee length, and some more midi styles (between mid-calf and knee)
Coats, Jackets, Cardigans & Vests
Coats
The classic trench
Wool coats in 60s boxy styles, as well as more fitted styles
Cloaks and ponchos
Anoraks and parkas -- in high-tech contemporary fabrics and styles
Jackets
Classic denim jackets
Biker-style jackets in leather and fabric
Bomber jackets in fabric vs leather
Tuxedo-inspired styles
Blazers
Chanel-style knit jackets
Cardigans
There's still a good choice of drapey cardigans either with a straight hem, or a waterfall front -- in long and hip length styles

A new cardigan style is the 'coatigan' -- a snuggly cardi that's a cross between a coat and a cardigan
Vests & Waistcoats
I love vests and waistcoats, so I'm always on the hunt for different styles. There are a few around, but you do have to search a bit!

Tops
An emerging trend is stiff, boxy tops. Short sleeved. Long sleeved. Lengths include cropped at waist length as well as high-hip length

Crisp, man-style shirts, in white, but there are other colours around too. Wear under a round-necked sweater for contemporary styling

Cowl neck shells -- useful for laying and going from day to evening
Knits such as:
Accessories
Shoes
The most trendy toe style is pointed

Heels range from stiletto to blocky.

Ankle straps are still around -- this style is challenging for many of us to wear, making our ankles and calves look heavier than they need to. This also has the effect of making our legs look shorter. Worn under full-length trousers this isn't a problem.


To minimise this unflattering effect choose ankle straps that are skin-toned and ideally the shoes will have a cross-bar (similar to Gatsby style shoes) adding a slimming vertical line, as well.
Boots
Ankle boots -- low-heeled and high-heeled

Full-length boots -- flat and low-heeled riding boots are particularly on-trend
Necklaces
The collar and bib-style statement necklaces are widely available. Great for dressing up a simple t-shirt or top. Or for using in the opening of shirt, or to fill a deeper scooped top or dress.
The gem-stone, or stone and metal look is still popular. And there's a good selection of medium and large chain link styles available as well, especially in gold-look metals.
Autumn Winter Fashion Trends: Main Style Themes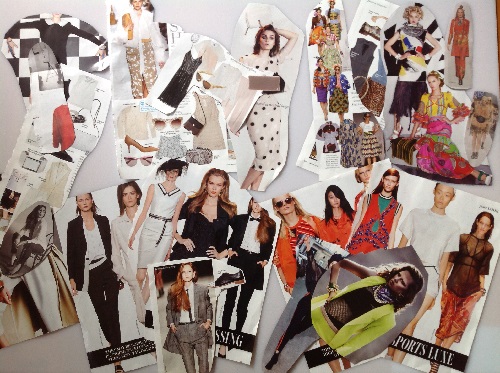 Remember there's no need to adopt a theme wholesale. A few details can go a long way! (I know I need to remind myself of this as I put my outfits together!)
Minimal -- can be created using: 60s boxy shapes; simple designs and styling; minimal accessories; monotone colours or subtle tone on tone colours

Feminine -- think one or more of: pretty pastels; floaty fabrics; lace; pretty florals or patterns with dots or swirls; subtle A-line skirts; hourglass shape dresses; slim cropped pants; pretty cardigans

Man-style -- tuxedo jackets; tuxedo pants; tailored vests; black and white; patterns such as stripes (including pinstripes), checks (including tartan); boyfriend jeans; wider pants; blazers; crisp shirts; bigger suiting fabrics; leather; Oxford shoes and loafers

Bohemian or tribal -- represented by: fringing; clashing prints; bigger silhouettes; longer, full skirts; natural fabrics; rough textures

Sports-luxe -- high tech fabrics used in sport-wear-inspired shapes, such as skinny pants, jackets and tops, designed to be worn outside of the gym and exercise wear
Autumn Winter Fashion Trends: Main Fabric Trends
Fabric Types
The usual cooler weather fabrics such as
various wools
: crepe; suiting; coating; and felt. As well as:
Leather -- both real and imitation. Used in jackets; pants; skirts; and tops. Also used as panels with other fabrics

Denim -- in jeans; skirts; dresses; coats; jackets and shirts

Knits -- merino, cashmere, and wool jersey
Fabric Prints and Textures
Dots -- both polka-dots and larger
Stripes -- pinstripes and wider, vertical stripes; horizontal stripes
Checks -- including tartan and houndstooth
Graphic digital prints
Pop-art inspired prints
Florals of all kinds: Liberty-style, chintzy prints; bold florals; a touch of floral as a graphic accent on a dress for instance; stylised florals
Tropical prints (with or without flowers)
Snake skin-inspired prints
Animal skin-inspired prints -- especially leopard and zebra
Fabric Color Trends
Great winter neutrals include navy, dark grey, charcoal, and khaki as well as black. (I wonder when we'll see chocolate returning? You can find it if you search hard enough, Basler for instance, but there's still not much of this around!).
Black and white prints, or combined in one outfit, are also still on trend this season.
Add colour with:

Pantone Colour of the Year "Radiant Orchid"
Like This Page?