You are here: What to Wear >
Trend Watch
> Autumn Winter Fashion Trends 2012

Autumn Winter Fashion Trends 2012
(Australia, NZ & Southern Hemisphere)
The over-riding trends I'm seeing for this autumn / winter fashion season are...
Skinny jeans in a whole range of colors from bright jewel tones to muted autumn tones -- just when I thought the skinny trend had waned and that we'd be seeing more wider legged styles!

60s inspired styling: modernistic, quirky, blocky styles; colour blocking; clear, acid colors

American Indian and Aztec inspired patterns and materials (such as wood and feather) used as focal points in clothes and in accessories such as necklaces and bangles
Autumn Winter Fashion 2012: Main Style Elements
Pants, Trousers and Shorts
The dominant autumn winter fashion trend is skinny, coloured jeans (as I mention above). These are great for the colour blocking trend. If you're in your 30s or younger I'd go for the brighter colours. If you're over 40 I'd probably stick with the more muted tones, especially if you did this trend the last time round. If you're not skinny yourself (both width-wise and front-to-back), translate this as narrow legs
There are also straight, narrow, pant styles. This style works well for many body shapes -- if you have large hips, avoid styles with obvious pockets, since they have a tendency to gape

And a few tapered styles -- some cropped (a very challenging style to wear without looking as if you've got really short legs!), and some with 1 or 2 pleats at the waist

And only very few of the wider legged styles, that I'd expected to see more of this season

Short shorts -- if you're in your 30s or younger with firm, slim legs and firm thighs, this is a fun style, worn with opaque tights, patterned tights, jeggings or leggings for autumn and winter. Styles include cut off jean-styles and slightly less short, 70s styles
Dresses
There are still many dresses around the main styles are...
50s inspired hourglass shapes -- around knee length
60s inspired shift dress styles in fitted, semi-fitted and more boxy styles -- thigh length and around knee length
Tunic styles -- thigh and knee length
Glamorous, shaped, floaty styles, both short and around knee length
Thicker, knit dresses
Look for the styles that create flattering, hourglass-illusion shapes, from vertical panels of different fabrics or different colours. And you'll still find some flattering ruched styling details as well.
Skirts
There's a greater choice in skirts this autumn/winter fashion season than there has been for a while -- good news if you have a pear shape body and wear a different size for tops and bottoms. And good news if you prefer separates to dresses.
Skirt styles include...
60s Mods-style short A-line shapes in bold colours (good for colour blocking) or panels
Knee length straight and pencil shapes. Some with panels of different fabric, or different colours -- the ones with darker panels on the outside, make you look narrower and taller; fun snake prints (more challenging to find tops to work with them, but worth considering. Unless you're tall and slim look for tops in the lighter, brighter tones from the skirt pattern)
Straight, or subtle A-line silhouettes with architectural styling such as ruching and layers of fabric
Fine pleats and subtle A-line with a single inverted pleat at the front.
Jackets & Coats
Vests/gilets in fur, fake fur, and textured knits
Ponchos and blanket inspired styles for wraps, jackets and coats
American Indian fringing embellishments
Classic trench coat styles in zebra print, bright colours, or interesting fabrics
60s Mod-style boxy coats
Duffle coats in camel and burnt orange
Bomber and biker jackets
Autumn/Winter Fashion Tops & Knits
Batwing styles -- take care with this style, it's not flattering for many body shapes, especially if you have a larger bust, but even if you haven't
Neckline embellishments -- these create a high focal point, which is great for most people
A wide variety of knits -- fine knit; chunky, textured knits; short sleeved; long sleeves and vest styles; jumpers and cardigans
Plain shirts in soft fabrics
Autumn Winter Fashion Accessories
The Finishing Touch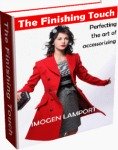 I know many of you need help with accessorizing...
Where to start?
What to choose?
How much is too much?
This is the ebook I now recommend to all my clients to answer these questions and more. See my review of The Finishing Touch ebook to find out why.
Shoe Trends
Shoes and boots are lots of fun this autumn winter fashion season...
Pumps -- in many colours and fabrics; many with fun embellishments on toes or heels
Flats -- ballet flats, brogues and loafers
Shoe boots and ankle boots: cowgirl style; longer, heeled, Victorian style lace ups
Boots -- riding style; chunky cowgirl styles
Evening sandals -- shiny, metallic. With bling
Heels: stilletto, still some wedges, plus blockier, stacked styles
Toes: mainly almond and pointed (though not very exaggerated points)
Soles: platforms, especially thinner platforms, and thin soles
LOTS of lovely texture: hair, suede, fish scale, snake, fur trim
Many different colours and patterns, including leopard print and snake
Scarves
This autumn winter fashion season includes loads of choice in scarf colours, sizes and textures. Use the finer versions in place of necklaces, as well as for outerwear. As well as fun stoles, collars and neck muffs.
Jewellery
American Indian and Aztec inspired styles in necklaces, earrings and bangles. Look for turquoise, colourful beads, feathers, pseudo bone

Metallic statement necklaces
Hosiery
Coloured and textured opaque tights
Coloured and patterned sheer tights
Autumn Winter Fashion Main Style Themes
A wide variety of decades inform styles this autumn winter fashion season, including, but not limited to...
60s Mod inspired styles
There's still some 50s influence
70s inspired styles
Man-style suits and shirts, including tuxedo inspired styles and military styles
Autumn Winter Fashion Main Fabric Trends
Fabric Types
Current fashion trends include...
Mixing fabrics in the same garment, such as wool and leather, lace and crepe

Texture -- such as fur (both fake and real); textured wool fabrics, and wool fleece trims. Shoes and shoe boots, in particular, have textured surfaces such as suede and hair
Prominent fabrics include...
Many variations of wool, such as: fine, trans-seasonal crepes; flannel; suiting; tweed and merino knits
Silk
Leather -- in pants, skirts and jackets (not all at once please!), as well as panels, mixed with other fabrics in dresses and tops
Cottons, such as corduroy, and cotton blends
Fabric Prints and Textures
Tribal prints -- American Indian and Aztec inspired zig-zag patterns, including textured embroidery and beading embellishments

What an artistic friend calls "oily" patterns -- they look sort of like oil on water: rich, muted, smudgy patterns of greeny blues, with hints of yellows and oranges

There are still many hints of animal print around too, though they're sometimes quite subtle in their interpretation: snake and crocodile; and leopard and zebra inspired prints

Quirky florals

Feminine dots and larger, quirky dots

Tartan

Lace -- especially used for one detail, such as sleeves or a neckline panel

Fur -- both real and fake
Fabric Color Trends
There are lots of fun colours around this season. And many navy choices for pants and skirts, so a good time to get out of the black habit, if that's you!
Lots of autumnal colours, especially: mustardy yellows; burnt oranges; teally greeny blues; rusts; gold, camel and caramel; browny-reds
Light to medium browns and beiges, both warm and cool based
Muted purples, mauves, burgundys
Pops of warm citric colors, such as acid yellow and clear, bright oranges.
Emerald greens
Blues include some cobalt, and lots of navy
Still some black (of course), but many shades of grey and charcoal as well
Current Styling Fashion Trend
As you can see above, there are plenty of choices in styles and colours of clothing this season.
At the AICI (Association of Image Consultants International) Australia conference this year we had a great trend presentation from Sarah Gale (famous from the TV show Project Runway Australia). She made the observation that the current fashion trend in styling is to mix and match trends like never before. It's all about finding and expressing your own personal style.
It's a rising trend that comes from social media and fashion bloggers. Since hearing Sarah say this, I've seen it mentioned in fashion magazines as well.
While this is good news, it's also a challenge for many of you. It means it's more important than ever to understand what it takes to look good and to understand and develop your own style personality. For help with this see my articles on...
Have A Current Fashion Trend You'd Like to Share?
If you've noticed a trend that I haven't mentioned feel free to share it here.

Or, if you'd like to talk about a current fashion that you love or hate (regardless of whether it's mentioned on this page already) this is the place to do it.

Tell us what it is about the item or outfit that you love or hate. For example...

Do you love the way it flatters your body shape?


Do you hate the way it looks on you, but love it when you see someone else wear the style?
And if you have a photo to upload to illustrate your observation that would be great.
Fashion Trend Contributions From Other Visitors
Click below to see contributions from other visitors to this page...

60s hair and makeup - Brigdet Bardot fringes everywhere. And 80s relaxed fit big blazers with shorts

Its all over the place 60s, 70s, 80s. Most fashion chains seem to have a fairy definate approach to one theme or another - its less age specific and …
Trends, Really

I think someone in the fashion world needs to get real. They come out with a plethora of combinations that often conflict and call them trends so someone …