You are here: Style Articles > How tos > How to wear a belt
How to Wear a Belt & Look Good When You're Over 40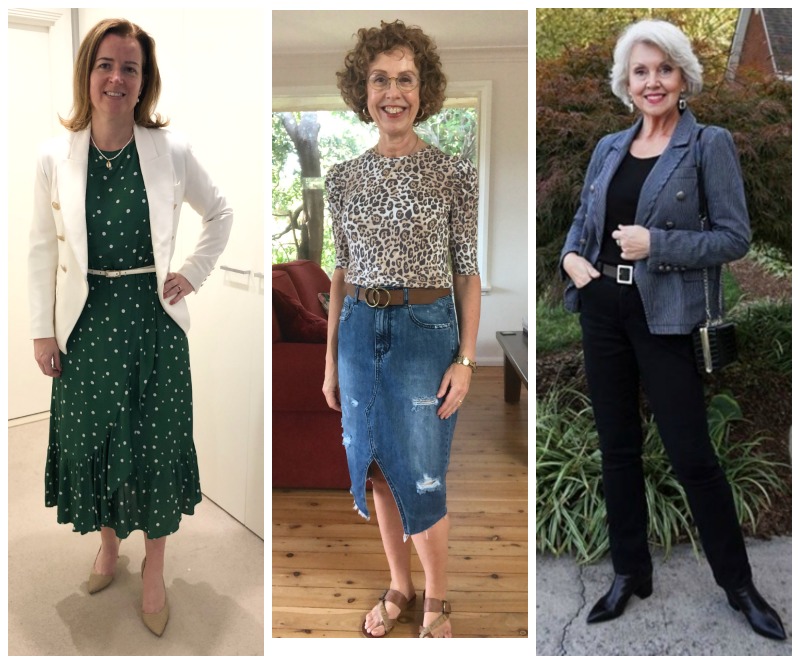 A belt: with a dress, with a skirt and top, and with pantsPhoto 1: more about Tamara; Photo 2: me!; Photo 3: Instagram blogger Susan
You may have noticed belts are back in fashion?
The current popularity of belts goes with the, now main stream, trend for more volume in clothing (in both width and length) and the return of the full-tuck. The addition of a belt to an outfit helps control the volume and provides a finishing touch. And if you have tucked-in your top, and your pants or skirt has belt hoops your outfit will look incomplete if you don't add a belt.
A belt is often a focal point in an outfit. It draws attention to the waist and emphasizes how shapely (or otherwise) that area is.
Yet many of us don't like our tummy area. So, what to do when belts are back in fashion, as they are now?
Luckily, it is possible to wear a belt and create the illusion of a defined waist, even if your middle isn't your best feature.
So if, like me, you're ready to give belts another try, here are some ideas for how to wear a belt based on your body shape and proportions.
If you have a well-defined waist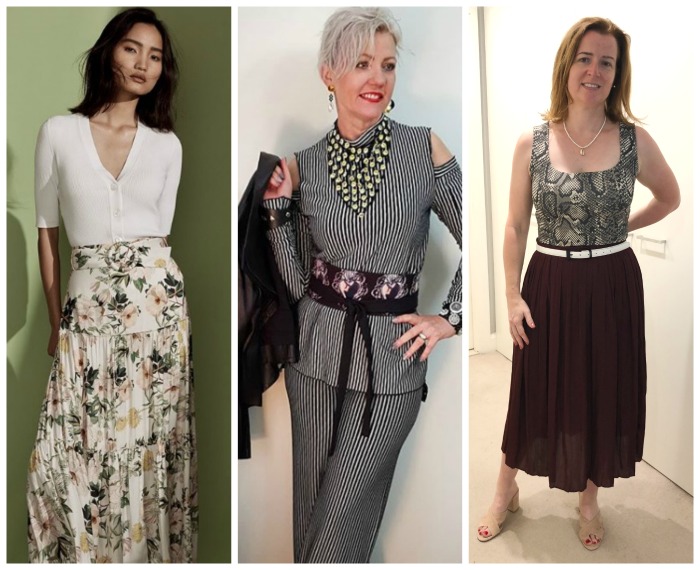 Belts are fabulous for emphasizing a defined waist Photo 1: Witchery; Photo 2: Suzanne on Instagram; Photo 3: the lovely Tamara
A well-defined waist means you either have an hourglass or triangle body shape. You should find it easy to wear belts that make you look and feel good. A belt will define one of your best body features.
However, you will still need to pay attention to your other proportions to find the belt widths, positions and colors that work best for you.
Typically a belt positioned at your natural waist-line will work well.
If you are shorter than about 165cm (5'5") you'll probably find that narrow or medium belts work best with your curves and height.
If you don't have a well-defined waist
Your horizontal proportion will be rectangle, inverted triangle or apple.
With care a belt can still work even if your waist isn't well-defined Photo 1: Wardrobe Oxygen; Photo 2: @notlamb on Instagram; Photo 3: Soozie on Instagram
The wider your torso is, and the more your tummy protrudes, the more challenging it will be for you to wear a belt without emphasizing those aspects of your shape.
You may also be thicker than you like from front to back and a belt can make this more obvious. However, it's still worth experimenting to see if you can find a look that works for you.
Here are some 'tricks' you can use to give yourself the illusion of a more defined waist:
Wear a belt under an open vest, cardigan, jacket or coat create the illusion of a narrower waist
Wear a belt peaking out from a partially tucked top this also creates the illusion of a narrower waist, similar to wearing an open jacket, but this styling trick works better in warm weather
Tuck your top in fully, but then pull it out a bit to make it blouse over your bottom half. This can give the illusion that the belt is pulling the top to a narrower waist. This styling trick can also work with some dress styles -- pull the dress up over the belt a bit to make it blouse over the belt. However, you may also feel the blouson style makes you look too big (especially when you look down at yourself, rather than see yourself in a mirror, or a photo).
Choose a belt color in a similar color to your top or dress, to create a lower contrast and therefore make the belt less of a focal point
Experiment with where you position your belt. Perhaps slightly higher or lower than your natural waist-line look and feel better?
If you have a tendency to bloat look for woven belts that allow flexible options for the buckle position or belts with some stretch.
Examples from my wardrobe
My horizontal shape is rectangle. Even though I'm slim, I don't have much waist definition and it's easy for me to look shapeless from the front and too thick from front to back. I have a balanced vertical shape.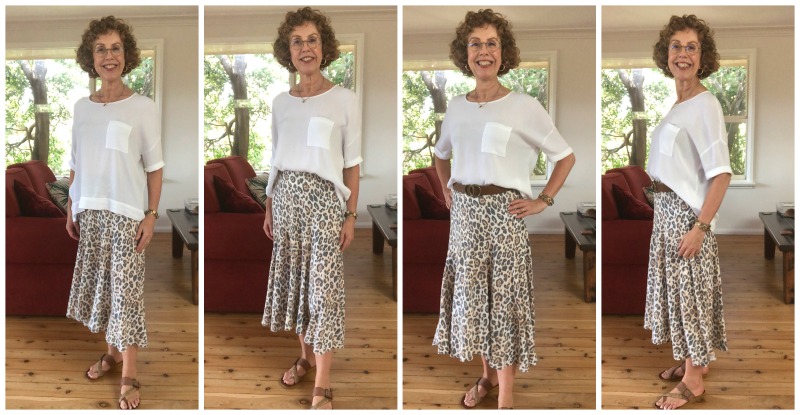 Boxy top over long full skirt. The belt adds a pleasing finishing touch to this outfit Photo 1:Untucked ; Photo 2: partial tuck; Photo 3: belted partial tuck; Photo 4: side view
This outfit of a boxy top over a full, midi-length skirt is perhaps not an obvious combination. However, when the top is partially tucked it has pleasing proportions. I do wear this outfit without a belt. However, the belt adds a pleasing finishing touch.
I could wear this top fully tucked, and then blousoned, but the partial tuck disguises my front to back proportion. It also disguises that I'm wearing the belt quite loose. I have a tendency to bloat so a loose belt works best for me.
Short legs, long torso proportion
Understand your shape & how to dress to flatter your shape
In this free Dress Your Shape mini-course I show you how to easily work out (or confirm) your shape. How this is done might surprise you!
Then we'll look at examples of clothing and outfits that work for your shape.
To get started click the button below. I'll send you 7 small lessons over 7 days.

Wear a belt at your natural waist-line in the same color as your bottoms, to make your legs look longer
You have plenty of torso length to play with so medium and wide belts will work best for you, unless you are very curvy and shorter than 165cm (5'5"), in which case narrow belts may be better for you
Long legs, short torso porportion
Wearing a belt the same color as your top, and a little lower than your natural waist-line will make your torso appear longer
Narrow and medium width belts will work better for you on your shorter torso
If you are short-waisted
For the meaning of low and high waisted click here
This is also referred to as being high-waisted. If you have a larger bust that results in you having less space between your bust and your waist this recommendation also applies to you. Wear belts below your natural waist-line, anywhere from just under your natural waist-line to on your hips (if you have a straighter shape).
If you are long-waisted
Also referred to as low-waisted. You have more torso space to play with, so wider belts should work for you. Try wear belts just above your natural waist-line.
Experiment!
Don't be afraid to experiment.
Try:
Different belt widths
Different belt positions (if the garment or outfit allows you to)
Different belt colors and contrasts against your outfits
Different outfit and belt stylings
Take selfies, or get someone to take photos of you. It's so much easier to be objective when we see ourselves in a photo.
You may decide that the belt trend isn't for you, and that's ok. However, you may also find that it's an easy way to update your look.
Related articles...
> Can thin people wear wide belts?
> How to dress to flatter your body shape
Like This Page?