Professional Photos Plus Styling
Have you ever been asked for a photograph of yourself by your company, the media or your marketing person and wondered what on earth you can give them?
You may need professional photographs for your corporate website or brochure, or for your small business website and offline publications.
Even if you don't need photographs for your work if you have an online presence on Facebook, Twitter, LinkedIn or at any of the many social networking sites you may wish to display yourself in your best light with a professional photo.
Before and after professional portrait photos are also a lovely record of your style makeover journey.
Even if you feel you're not particularly photogenic I think you'll be pleasantly surprised by how you can look after I've styled you, Nelly has done your makeup, together we've "warmed you up" for your photographs and Nelly's worked her photographic magic! Take a look below and see for yourself!
Jan's Previous Professional Photo Jan was so excited by her new
photos that she deleted the
old ones before I could get a copy.
This is the only one she had left!
Another of Jan's
New Professional Photos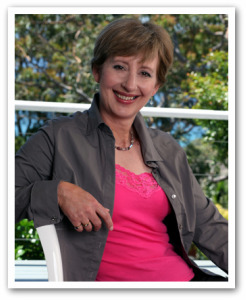 One of Jan's New Professional Photos
"As a small business coach and consultant I needed photographs I could use on my website and in my marketing materials that were professional and conveyed a sense of who I am.
As someone who doesn't like having their photo taken I am very happy, in fact extremely happy, with the results. I think I look great (if I say so myself), something I never thought I would say about me in a photo."
- Jan Delmas, Small Business Clarity, Sydney
[Jan also had her colours and styles done before the photo session]
Your professional portrait photos should be recognisably you, convey the message you wish to portray and make you look great!
The best way to achieve this is with a combination of a great professional photographer who understands how to get you to pose to get the look you want (as well as understanding the complexities of lighting and background of course), a professional makeup artist who understands what's needed for photographs, and a stylist to select your outfits and attend to your outfit details during the shoot.
To offer this service I have teamed with the lovely Nelly le Comte of nlc photography. The multi-talented Nelly is a professional photographer and photographic makeup artist who can also style your hair for the photo shoot.
Ideally you will already have had my style makeover, but I can also offer the styling services detailed below.
Professional Photos Plus Styling Packages
Option 1 -- The Basic Package
Photographic session -- see location options below

Professional styling -- I'll have a phone meeting with you to discuss your needs and let you know the types of outfits you should bring with you to the photo shoot. During the shoot I'll select your outfits from the options you provide

Photographs -- includes 2 high resolution digital photographs suitable for printing and 2 low resolution digitial photos suitable for the web
Option 2 -- The Basic Plus Makeup
This is the recommended option for women and includes all the features of Option 1 plus a professional makeup application by Nelly.
Whether you usually wear makeup or not, having a professional makeup suitable for camera is a good idea (mineral makeup is not good for photographs, for instance, because it is too reflective).
Option 3 -- The Superior Package
This includes option 1 (for men) or option 2 (for women) plus the following mini-style makeover...
A colour analysis assessment -- you take away a colour swatch and a booklet explaining how to use your swatch and lots of details

A mini-wardrobe audit -- focussed on selecting the items to bring to your photo shoot. This may also identify suggested items for you to get before your photo session
Option 4 -- The Full Makeover Experience
This includes my makeover services. It may also include a referral to a hairdresser and other services as required.
The experience starts with a short "before" photo session and ends with option 1 (for men) or option 2 (for women).
Package Prices
Option 1
AU$450*
Allow 2 hours
Option 2
AU$600*
Allow 3 hours
Option 3
AU$850*
2 hour session a day or so before the photo shoot,
then allow 3 hours for the photo shoot session
Option 4
contact me to agree what's included
Additional Photos
Pricing for additional digital photos and printed photos
available on request
* All prices exclude GST
Photo Shoot Location
The photo shoot can be at Nelly's studio in Avalon NSW, at your home or office, or in an outdoor location.
I mainly provide my image consultant services to suburbs within an hours driving distance of Avalon, NSW on the northern beaches and north shore including, but not limited to: Avalon, Bayview, Belrose, Bilgola, Chatswood, Clareville, Cremorne, Collaroy, Dee Why, Forestville, Frenchs Forest, Manly, Mona Vale, Mosman, Narrabeen, Neutral Bay, Newport, North Ryde, North Sydney, Palm Beach, St Ives, Sydney north, Terrey Hills, Turramurra, Warriewood, Whale Beach.
If you don't see your suburb listed here and you would like an in-person consultation please feel free to enquire anyway.
Book Your Professional Photos Plus Styling Package
Contact me to book your in-person colour consultation
by phone or email.