Hello {!firstname}
I'm writing this month's newsletter from Jackson Hole, Wyoming, USA! When I look up I see a view of the still-snow-capped Grand Teton mountains. WOW! The countryside around here is simply stunning! And so is the wildlife (bison, moose, deer, antelope, bear, coyote, white pelican...)!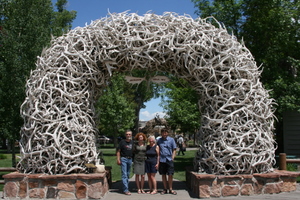 I've been having great fun, with my husband and friends, exploring the Grand Tetons and Yellowstone National Parks and the city of Jackson. Here we are under an Elk antler arch in the town square (that's me second on the left and hubbie on the far right). See my style observations here.
I've even managed to answer one great reader question!
Enjoy this month's Style Snippets. Until next month, all the best

PS I always welcome your feedback, so please contact me with anything you'd like to see either on the website or in this newsletter (reply to this email or use the Contact Me link below).
A Fashion Trend in Jackson and the UK
As you'd expect in the Jackson Hole area, with so many outdoor activities, the main styles are functional, natural and sporty outdoor wear. However, another trend that's popular with younger women is to wear western, rancher-style boots with summer dresses. Which reminds me that I saw this trend of wearing boots -- ankle boots in particular -- in summer in the UK as well.
I actually like this look. It adds an edginess to a feminine, summer dress. However, here in Jackson Hole, where temperatures have been around 80F/27C and higher, I can't imagine wearing this style myself! I've been opting for the comfort of light summer sandals, when I haven't needed hiking boots. I guess that's why I've only seen younger women wearing this style. Women of a certain age tend to favor function and comfort over fashion ;D!