Dress to Flatter Your Body Type
It's an Essential Part of a Style Makeover
Do you know how? In a Style Makeover HQ survey (January 2011) 8 out of 10 women said they don't.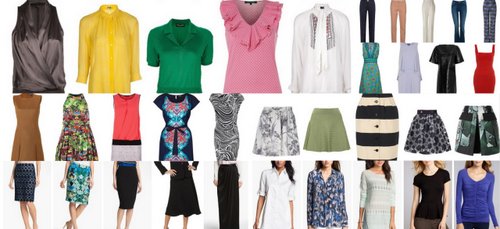 Do you know the clothing styles that flatter your shape?
What Are the Perfect Proportions?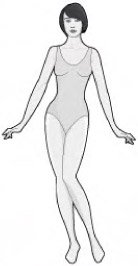 Perfect Proportions
For a female, the 'perfect' proportions are perceived to be:
Moderately tall


Balanced vertical proportions -- that is the fullest part of the bottom is half way between the head and toes


Oval face shape -- the inverted egg shape that's neither too short, nor too long, with balanced facial features


Normal weight


Medium neck length, and


Slightly tapered shoulders
What's Your Body Shape?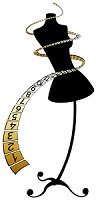 The first step in dressing to flatter your shape is to assess your shape and proportions.
To see if you can work out your own shape have a look here.
It can sometimes be difficult to work out your own proportions. If you'd like a professional assessment here are your online options.
Or use my in-person Dressing for Your Body Shape, or Discover Your Personal Style services, or my Style Discovery Fast Start package
Dressing the Ideal Shape
Of course, in reality, there are not many of us who have all of the ideal proportions.
However, if those are your proportions, then your main style aims are to preseve them. For example, don't wear stiff, boxy shapes that hide your lovely curves. Or styles that make your legs look shorter, or that make your hips look wider than your shoulders.
Mastering the Art of Illusion
For the rest of us our aims are to use clothing styles and colors that create the illusion of the perfect shape!
We can borrow from art and the science of perception to balance our body to the perfect proportions.
Take the Guesswork Out of Dressing to Flatter Your Proportions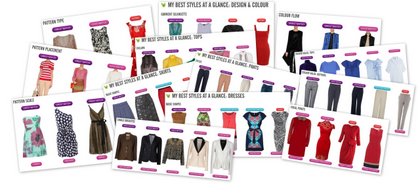 MyPrivateStylist taking the guesswork out of
choosing styles that flatter
It's impossible for me to cover every possible combination of proportions here. However, I highly recommend an online style program that creates a style portfolio personalized to your proportions. It's the program I use with my clients, the My Private Stylist program. Click here for details.
Let's take a look at what I mean with a few examples...
Balancing Your Horizontal Shape

Balancing horizontal shapes to the hourglass or inverted triangle shape
If you do not have an hourglass horizontal shape your aim is to make your proportion more like the hourglass.
If your shape is triangle or inverted triangle that means choosing clothing styles, or using layering, to add apparent width to your shoulders (for the triangle shape), or to your hips (for the inverted triangle shape).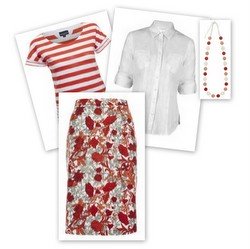 Balancing a Triangle/Pear Shape Images courtesy Sportscraft
One way to make your shoulders look wider is to wear a top that has sleeves. To further increase the apparent width of your shoulders choose a top in a colour that is lighter, or brighter, than the bottoms. Do you see what I mean (see the 'Balancing a Triangle Shape' illustration to the left)?
A top that is lighter than your bottoms will also make you appear taller and slimmer, as a nice side-effect. However, the lighter top may not work for you if you also have a large bust (dependent on how large your bust is, and how light or bright the top). It's because of issues like this (that is, considering another aspect of your proportions) that things can start to get complicated!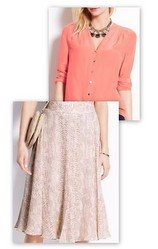 Balancing an
Inverted Triangle Shape Images courtesy Ann Taylor
An example of how to make your hips look wider is to wear an A-line skirt. The effect will be further enhanced if the skirt is in a lighter or brighter color than the top. However, if you are short wearing lighter, or brighter, bottoms than tops will make you appear even shorter (great if you're tall!).
If your shape is rectangle or one of the 2 apple shapes, rather than try and create a better-defined waist, balance to to inverted triangle shape by adding apparent width to your shoulders. This is because the inverted triangle shape is the second-best horizontal shape. For these 3 shapes, it is better to have clothes that do not bring attention to the waist area. For example, avoid a change of color at the waist (especially a horizontal color change) and seams around the waistline.
The 3 outfits below represent styles that work for women with a rectangle body shape.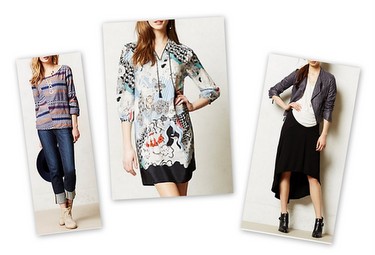 Balancing a Rectangle Shape Images courtesy Anthropolgie
I have included more guidelines for balancing the horizontal shapes here:
Balancing Your Vertical Shape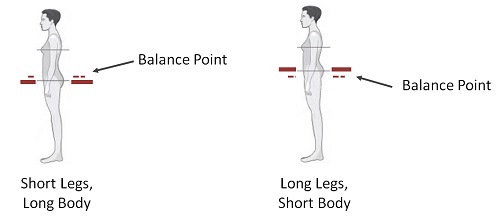 Balancing vertical shapes to the Balanced Body shape
Use the links below to find guidelines for:
How to Find Out More
I recommend 2 resources for doing this yourself:
The My Private Stylist program by Image Innovators (Ann Reinten, my trainer and mentor, is the founder and program creator) -- this very reasonably priced online program lets you enter your proportions (or request a professional assessment), then creates a personalized online style guide that takes all of your proportions into account. Find out more here

The 'Style Wise & Shop Smart' ebook also by Ann Reinten -- Read my review here
Or, if you can come to me in Sydney, either by yourself or with a small group, use my 'Dressing for Your Shape' session for a fun, interactive and personalized way to see what works for you (the My Private Stylist program and a body shape assessment are included in this service).
Like This Page?