I'm busy having fun with seasonal wardrobe updates. There are some lovely knits available at the moment. And many shops have specials on to encourage us to restock our cooler weather wardrobe when it's still in the mid 20Cs!
From what I'm seeing online I suspect it's the same if you're going into Spring -- that even if it's still feeling more like winter where you live there are some good bargains to be had on new warm weather clothes.
This is what happened when I added 1 new item into my wardrobe.
My thoughts are now turning to travel and packing. Mainly because I've got a big trip coming up, to the US and the UK for 6 weeks next month. And because I'm running a travel wardrobe and packing workshop with the lovely Petrina this week. It's not too late to book click here for details.
I had the pleasure of working with a new client, Rebecca, a few weeks ago. Here's the story of her makeover.
Enjoy this month's Style Snippets. Until next month, all the best

PS I always welcome your feedback, so please contact me with anything you'd like to see either on the website or in this newsletter (reply to this email or use the Contact Me link below).
1 New Item, 3 New Outfits
I love how adding even 1 new on-trend item can create so many new looks that lift your wardrobe! For me this has been achieved with the addition of a whimsical Victoriana/peasant-inspired sheer blouse (from Witchery.com.au) that I'm using to layer under a sleeveless dress, under a sleeveless top and over a tank, all of which are in a similar russet colour.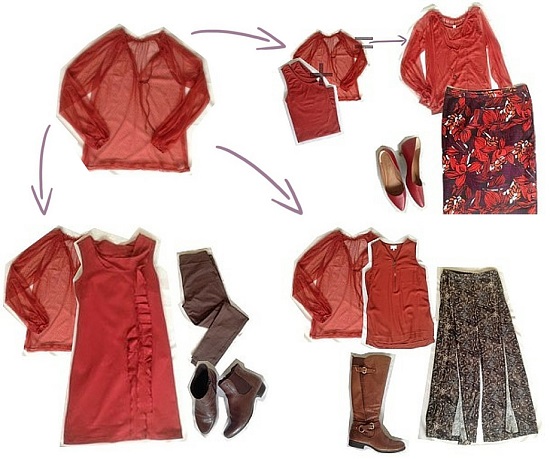 I encourage you to get creative in your wardrobe. How can you create new outfits by combining clothing and accessories you already own into new outfits? Or by adding 1 new item in several new outfits?