Upgrade Your Style Package
A personal stylist and shopper package
"I'd love to help you upgrade your style and create an inspirational wardrobe"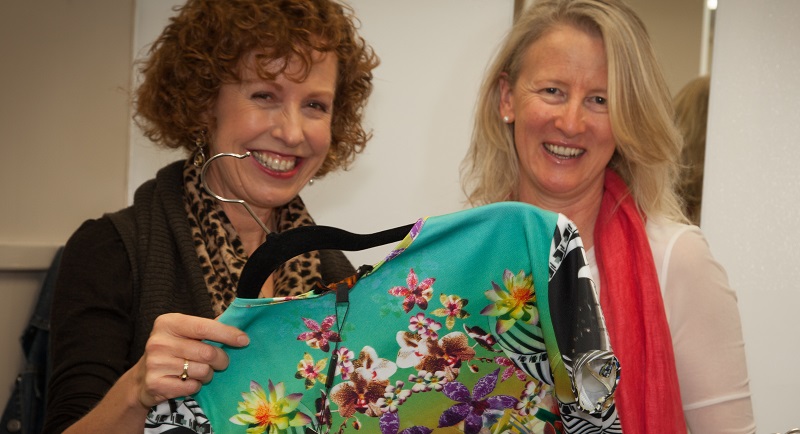 Shopping Success with a lovely client!(yes, she did end up with that great dress I'm holding!)
Are you mainly happy with your style and the ingredients in your wardrobe? Do you have a reasonable idea of what suits you, but would like some new ideas on how to put a bit more 'oomph' into your style?


Or perhaps you've got your style and your wardrobe sorted for one area of your life -- your professional style, for instance -- but have neglected to develop your leisure time and going out wardrobe?
If you feel you've pretty much lost your style mojo, you're not happy with anything you wear and don't know how to become more stylish the Transform Your Style programme will be better for you.
Then you probably simply need a few tweaks to your wardrobe to make it feel fresh, stylish and you again
Perhaps a few new ideas for creating stylish outfits to get more out of what you already have?
Is so, I created this Upgrade Your Style Package just for you! Using my professional, up-to-date, personal styling and shopping knowledge together with a splash of creativity I'll be able to quickly upgrade your look so you can feel confidently and authentically stylish again.
This style package will:
Update and refresh your style with a focus on your chosen lifestyle area for the current season. It includes...
Uncovering the most up-to-date version of you and what you want your personal style to be
Confirming the colours and styles that flatter your colouring and proportions
Strategically shopping for items to update, and complete your current wardrobe
Creating stylish outfits you love which we'll record with photos -- I'll show you new ways to wear your current clothes so they feel new again
The Upgrade Your Style Package includes:
1 x Style Discovery Day to identify the most current version of you, what you'd now like to reflect in your appearance. This results in the style criteria to use when putting your outfits together (click for more details)


1 x Wardrobe Workout Session focussing on your priority lifestyle area and the current season. It includes: creating your updated style in outfits; recording them in photos and/or wardrobe charts; clearing out wardrobe items that are past their use by date, or that can't be used in flattering outfits that you love; and creating a shopping plan


1 x Shopping Success Session to update and refresh your wardrobe. We'll shop to our plan. I'll do the pre-shopping leg-work for you: researching where to go and holding good candidates for you to try. This decreases the amount of time you need to spend shopping. You'll find these sessions very different to shopping you do by yourself, or with a girl friend, especially if you hate shopping! Many clients tell me they now never want to shop by themselves, I save them so much time and pick out items they love that they might never have thought to try themselves!


1 x Wardrobe Integration Session to show you how to use new items to create outfits that reflect your upgraded style. The aim is to integrate new purchases with items already in your wardrobe so they feel fresh and new again and you can get more wear out of them.


Upgrade options:
Additional Wardrobe and Shopping Sessions (for larger wardrobes & additional lifestyle areas)


Makeup Lesson with my preferred makeup artist to update your makeup style. Even if you don't usually wear makeup, or wear very little makeup, it's a great thing to do to see what's possible!


Professional before and after photos to record your style (and great for professional photos and social media)
Where do we Upgrade Your Style?
For this programme I usually come to you. I mainly provide my image consulting and personal stylist services to suburbs within an hour's driving distance of Avalon, NSW on Sydney's Northern Beaches and the North Shore
Suburbs I travel to include, but are not limited to: Avalon, Bayview, Belrose, Bilgola, Chatswood, Clareville, Cremorne, Collaroy, Dee Why, Forestville, Frenchs Forest, Manly, Mona Vale, Mosman, Narrabeen, Neutral Bay, Newport, North Ryde, North Sydney, Palm Beach, St Ives, Sydney north, Terrey Hills, Turramurra, Warriewood, Whale Beach.
If you live a little further away feel free to enquire anyway.
If you live a lot further away you'll either:
Ready to get started?
Great! Schedule your free phone consultation today.
Either call me, Jane, on 0403 747 199, or complete the short form below.
Please allow 30 minutes for this initial complimentary consultation call. I look forward to getting to know you, answering your questions and helping determine if we're a good fit.
Like This Page?