I'm writing this newsletter from the UK. This is my second trip here this year. Sadly, this time it was for my dad's funeral and to spend some time with mum. At 91 dad had a good 'innings' (as the saying goes), but it's still very strange to think he's no longer here.
I return home in a week. October is usually one of my busiest months of the year, and this year was just about fully booked. Luckily almost all my lovely clients were willing and able to wait for me to return. I am fortunate to have a business that allows me the flexibility to take time off when I need it. Just one more thing I love about what I do!
This month I've answered a reader's question.
Enjoy this month's Style Snippets. Until next month, all the best

PS I always welcome your feedback, so please contact me with anything you'd like to see either on the website or in this newsletter (reply to this email or use the Contact Me link below).
What I wore to the funeral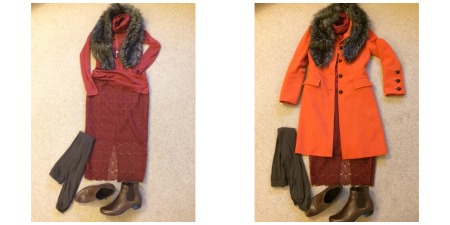 In case you're wondering: no, I didn't wear black for the funeral. I wore a russet coloured lace skirt and a polar neck merino sweater, also in a russet colour, a faux fur stole, chocolate ankle boots and chocolate opaque tights. This outfit felt just right.
Since I only have one warmer formal coat, and the weather was cold for me, I wore that, although it's brighter, burnt orange colour isn't what I'd recommend for a funeral! While it's no longer necessary to wear black to funerals, darker, more muted colours, or neutrals, are usually more acceptable than brighter colours.