60 Too Old for Halter Neck?
Example of halter neck top. Image courtesy David Jones


I am 60 years old and very petite. I am always told that I look very young. Halter necklines really suit me as I am very narrow shouldered. However, is this type of neckline too young for me?


Jane's answer... This is a great question since bare shoulders in general are very much on-trend at the moment! A halter neck top or dress can create a dressy look, or a relaxed casual look, dependent on the style of the top or dress.

As you've discovered a halter neckline makes shoulders look wider. This is great if you have a triangle horizontal body shape. This style can also work for an hourglass and a rectangle shape.

There are a few reasons this neckline often doesn't work for women of 60 and above. By the time a woman reaches her 60s she may:

Have developed a Dowager's hump -- a curvature of the spine that results in rounded shoulders, and a head forward position usually characterized by a rounded hump of the upper back. This is best disguised with a collar or a neckline that is high at the back. Since halter necklines usually bring attention to this area they are best avoided


Want to cover the top of her arms -- either because her arms are heavier than she'd like, or because the skin under her upper arms is now loose and better covered


Want to cover her back -- for similar reasons to covering arms
So, do check your rear view in a full length mirror, as well as your front view, to ensure you're comfortable with the skin you're exposing.
It's also good to
avoid the halter neck if
you have a large bust, wide shoulders (that is, if you have an inverted triangle horizontal body shape), or square shoulders, whatever your age, since this style will emphasize those features.
If you have a double chin, a thick neck, or a short neck, make sure the central neck edge doesn't rise too high up your neck. You'll look best if the central neck edge has a v-shape.
However, if none of the above are a problem for you, then do continue to wear and enjoy your halter neck tops and dresses! And make sure you wear them with a halter neck or strapless bra and/or appropriate shapewear.
The exposed shoulder trend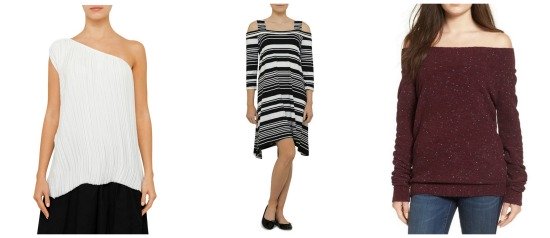 Images courtesy (left to right):

David Jones, David Jones, Nordstrom
Image courtesy Nordstrom
One shoulder. Cold shoulder. Strapless (off the shoulder). Halter-style tops and dresses (that is, they look like a halter style at the front, but actually don't expose the upper back -- see the lovely maxi dress to the left from Nordstrom). All these styles are available at the moment. In both warm weather and cold weather styles!
Cold shoulder styles expose just the upper top of your arms, so they're a great option if you'd prefer to keep your under arm covered.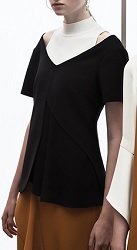 Image courtesy Veronica Maine
One shoulder and strapless styles can also be layered with a top (such as a turtle neck or blouse) underneath to expose less flesh, or to make an outfit warmer (see the photo from Veronika Maine to the right).