Dress to Flatter Your Body Shape Workshop
This small, practical workshop will show you how to dress for your body shape.
It will include an assessment of your proportions, a personalised online style portfolio (the estyles program), how to use line and design to create the perfect proportions, and an assessment of clothes you bring with you.
When: Friday 19th April. Where: My home in Avalon. Only 6 places available. For more details and to book click the link below:
>> Dress for Your Body Shape Workshop
My Private Stylist Online Style Program: Start of the next generation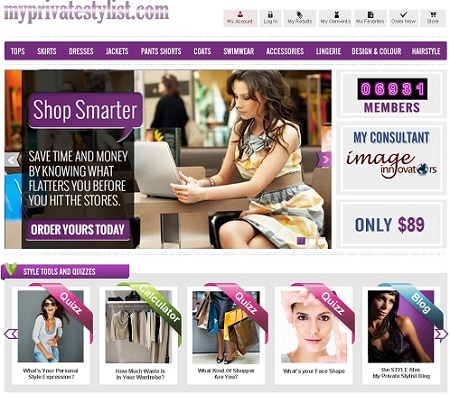 New Look My Private Stylist Online Styles Program

This is the amazing online style program that gives you style recommendations that take all of your body proportions into account. It is the program I use with my clients.

Ann Reinten of Image Innovators (who was also my trainer and mentor when I started my business, almost 6 years ago) has always worked hard to keep this program up-to-date, both from an image and a technical perspective. The program has undergone many improvements since its original launch.

This year the program is set to evolve into an amazing style resource. Ann has a vision to turn it into a fully functional virtual styling room. This will include:

A style finder: the program currently identifies which style shapes and style elements suit you; however, it's up to you to assess the various elements within a garment to determine if that garment is suitable for you; the style finder will be able to assess whole garments -- this change alone will be a major leap forward, enabled by innovative technology changes
Shopping in your own private fashion mall
The ability to catalog your wardrobe and style garments into outfits
The ability to invite me, as your image consultant, into your virtual styling room to help you build your wardrobe and style your outfits
The first step, in the evolution, is to release the next version of the MyPrivateStylist program. It's due to be released by the end of next week. Changes will include:
A 'cleaner looking' design that is easier to use
Many new garment types
Updated garment and accessory images -- including the ability to switch between a work and non-work style
An improved body profile questionnaire (though our recommendation is to have a professional assessment via photos for an additional US$25).
Garment comments and style recommendations completely reviewed and overhauled to reflect current thinking
The good news is that if you have already purchased the program you will automatically gain access to the new look MyPrivateStylist. And amazingly Ann is not increasing the price. For the time being I can still offer it at a very reasonable US$89. I'm really looking forward to the new program!
For more about the MyPrivateStylist program and to access a free sample of the program (setup for a fictional person) click here:
Shoes of Prey Free Swatches
Request up to 5 free material samples
As you may be aware, I'm now an independent stylist for Shoes of Prey, an online custom shoe company (see details by clicking on the 'Custom Shoe Styling Service' link below).
For those of you who can't get to me in person I can now offer free swatch samples. Contact me to find out more.
>> Custom Shoe Styling Service