You are here: What to Wear >
Trend Watch
> Spring Summer Fashion Trends 2013

Spring Summer Fashion Trends 2013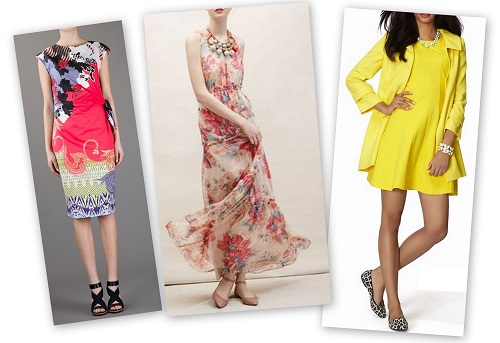 Images courtesy (left to right): Farfetch
Anthropologie
Ann Taylor
The large range of styles and colors continues this season. Choose one or two of the looks you love then check in your wardrobe and see if you can create those looks with clothes and accessories you already have. Perhaps you just need to add one or two garments, or just an accessory or two?
I particularly like:
The mixed fabrics and/or prints creating a collage or patchwork effect (a mixed print version is shown in the Farfetch image above)
Oriental inspired shapes and layering
Monochrome color using similar tones (as shown in the Ann Taylor yellow dress and jacket above)
I also

love

the structured vest/sleeveless structured jacket below (though not in black, or white, for me)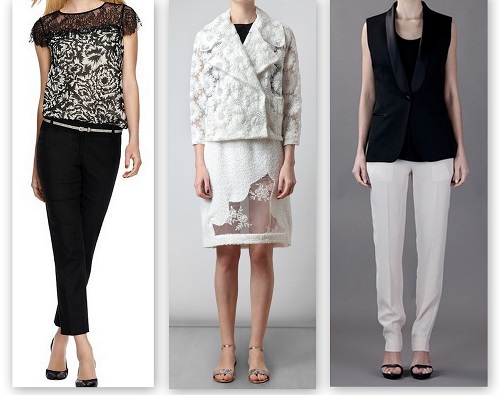 Images courtesy (left to right):Ann Taylor
Farfetch
Farfetch
Black and white is a big trend this Spring and Summer: black and white geometric patterns; stripes; as well as other patterns, such as the floral pattern above; and black and white outfit combinations, such as white pants and black top.
The monochrome look can also be interpreted as tone on tone of a single color -- this is my preferred interpretation!
The 3 images immediately above also illustrate some of the other main Spring and Summer fashion trends:
Lace -- found in dresses, skirts, jackets and panels (as in the Ann Taylor top above)

Florals -- especially large, graphic prints

Slim and tapered pants -- full length and cropped. In patterns, pastels and bright colors, as well as black and white

60s Mod boxy shapes and oversized shapes

Sheer panels or cutouts (shown in the skirt in the middle image)

Pant suits -- including tuxedo styles (shown as a sleeveless jacket/vest in the Farfetch image above)

Snake prints (shown in the sandals in the middle picture)
Spring & Summer Fashion Trends: Main Style Themes
Some of the main style themes include:
Feminine -- within this theme there's still a wide range of looks to choose from including: unstructured garments in floaty fabrics and soft pastels; deep ruffles at the neck or from the hip; fringes as small details or as larger design elements; floral patterns; hourglass shaped fitted and flared dresses; lace; sheer blouses, and overlays over skirts and dresses

Manstyle pant suits. Some of the tuxedo-style suits are great for evening wear -- look for the more luxurious looking fabrics with either soft flowing fuller width pants, or tapered pants. If wearing the jacket alone as a top feels too revealing add a sheer or lace top, or a cami in a pop of color.

60s Mod-inspired shapes and patterns

Oriental-inspired patterns, shapes and layering -- including architectural shapes reminiscent of origami; kimono-inspired tops, jackets and dresses; tunic dresses over straight pants; oriental-inspired jackets over flowing pants
Inspiration for Spring & Summer Fashion Looks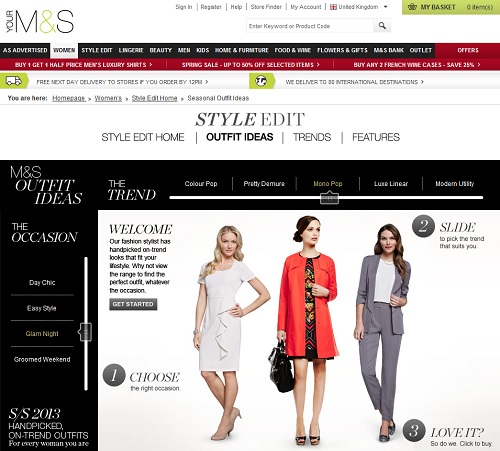 I love the outfit ideas widget on the Marks and Spencer website (see image above). It lets you pick the type of occasion (on the left) and then the trend (across the top) to see and shop outfits picked by the Marks and Spencer stylists.
Check your favorite online stores as well. Many of them have their own Spring Summer fashion trends edits that can give you ideas for creating your own outfits.
I also enjoyed these online magazine Spring Summer fashion trends reports:
>> Style.com Spring Summer Trends summary
>> InStyle.com Spring Summer Fashion Trends report
Like This Page?