Hello!
I'm writing this newsletter from sunny England! The weather since we've been here has been mostly pretty nice. I do love the UK in the Summer when the weather's nice!
Last Saturday we went to my cousin's son's wedding. It was a lovely day and the bride looked beautiful. My sister-in-law said she'd hoped I'd write an article on what to wear to a Summer wedding. What a good idea (wonder why I didn't think of that?)!
It's too late for my sister-in-law, but here's a link to a previous question and answer about wedding wear: What's an appropriate dress length for an evening wedding?. There are also another 5 wedding wear articles listed at the bottom of that one. If you have a wedding to attend soon, I hope these help.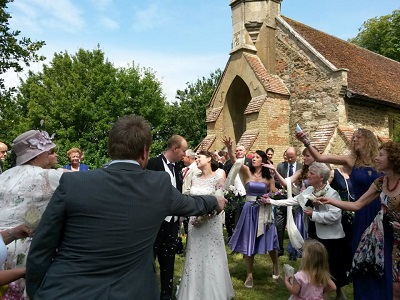 You can just see me on the right hand edge
If you have a trip coming up and need some help with packing light see this article.
Now I'm off to continue enjoying my vacation! Until next month, all the best

PS I always welcome your feedback, so please contact me with anything you'd like to see either on the website or in this newsletter (reply to this email or use the Contact Me link below).