After last month's newsletter several readers have let me know they went and had a makeup lesson and loved it! It's always nice to know when I've made a difference.
This month I've had fun answering 2 very different questions from readers.
It may feel too early to mention it, but are you ready for all the holiday season social events that are just around the corner? Planning what you're going to wear for those events ahead of time removes getting dressed from the stress list! You're also more likely to end up with an outfit you love, rather than one that will just do. If you'd like help with outfit reviews or shopping (here in Sydney, or online) simply reply to this email and let me know what you'd like help with.
I'd really appreciate it if you'd let me know what you'd like to see more of on my website/blog/newsletter by answering this very brief (3 questions) survey. Thank you.
Would you like to meet me? Here's how you can.
Enjoy this month's Style Snippets. Until next month, all the best

PS I always welcome your feedback, so please contact me with anything you'd like to see either on the website or in this newsletter (reply to this email or use the Contact Me link below).
Come and meet me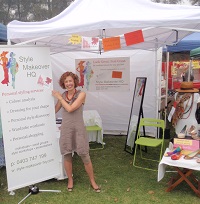 I'll be at the annual Mona Vale market again this year. It's on Sunday 2nd November at Village Park and Park Street in Mona Vale from 10am to 4pm.
I'll be answering style questions and giving outfit ideas. If you're in Sydney do come by and say hello!