How can I start to change my style??
I'm 22 y/o and I feel I'm old fashioned. Can you give me some advice or book or article that can help me?

Also what hair style is good for my square face?

Jane's answer...This is an interesting question -- what exactly is it that makes us look old fashioned at 22 -- or at any age, come to that?

I could really do with a few more details from you to answer this question properly. For instance:

What outfits make you feel old fashioned? Some photos (ideally with you wearing the outfits) would be useful


Do you have some outfits you like that make you feel your age? Again some photos would be useful to show these outfits


Did you choose the clothes that make you feel old? Or were they given to you?


Is there anything from your childhood that influences how you buy clothes and create outfits? For instance, did you spend your time with more adults than children your own age? Did (or do) you feel the need to 'disappear' rather than stand out?
Things that can make you look old fashioned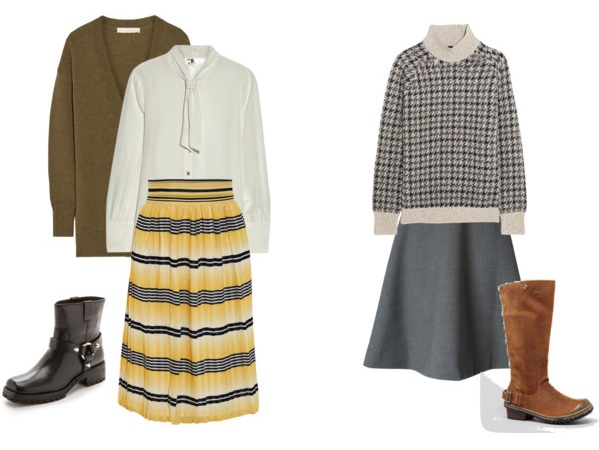 Since I don't know exactly what's going on with you and your style I'll answer your question by identifying some things that might make you look frumpy (and therefore old fashioned). These include:
Old fashioned styling. Any clothing style that has not been in fashion for the last 5 or more years may appear dated if not styled in a contemporary way. For example, aspects of 80s clothing such as pleated pants and larger silhouettes are currently making a come-back. However, styling outfits exactly as they were worn in the 80s (think big hair, super-sized shoulder pads, over-sized clothes on top and bottom, high necklines and long lengths) will make you look old-fashioned


Wearing the wrong colors -- especially if the colors are too greyed, or too muted, or too light, or too warm, or too cool for your coloring


Clothes that are too big and baggy -- especially if your outfit is baggy all over and you are short. Even though big and baggy is current, there are tricks to styling an outfit to make sure you don't look frumpy. For example, if you have a baggy top wear something more fitted on your bottom half, or vice versa


Clothes the wrong length -- for example: pants that are too short, but not short enough to look as if they were meant to be cropped; tops that are too long for your vertical proportion; skirts or dresses that are too long for your vertical proportion


Boring outfit styling -- for example, if you're wearing a top and bottom that are both a similar length, with no accessories to create an interesting focal point, or to add vertical lines. There's a mathematical ratio called "The Golden Ratio", also known as the "Golden Proportion". It's a proportion found in nature and used by artists and stylists to create aesthetically pleasing proportions. Loosely translated it means a proportion of 1/3 to 2/3 is more pleasing than even proportions. There are many way to interpret this within an outfit. However, if an outfit is feeling blah check to see if there's an obvious even proportion within your outfit
How to change your style
Here are some resources to help you:
Part of the homework I ask my clients to do is to create a
style portfolio
. Collect photos of women in outfits that you love and find stylish. You can either create a physical scrap book, or an online one (I recommend Pinterest to create an online style portfolio).
Then study the details of those outfits and try and recreate them in your outfits. Look at the colors used, the proportions created, the external and internal design lines, the use of accessories.
Not everything will work for
your proportions
, but you may be able to adapt the look to work for you.
Hairstyle suggestions
A hairstyle can go a long way to making you look contemporary.
I do hope this has given you some good ideas to get started?