What defines a pear shape?
Defining a Pear Shape Body
Is a pear shape defined by small bust, or narrow shoulders? I have seen both in various places, and am confused. Comparing it to hourglass doesn't help. Sometimes I find that an hourglass shape requires balanced shoulders and hips, sometimes it is balanced bust and hips. If I have balanced shoulders and hips, a well-defined waist, and a small bust, what should I consider myself?

So far, I find that I look best when dressing according to the hourglass guidelines, with the only main change being that I can wear high necklines or ruffles at my bust. I would, however, like to know which I can consider myself officially.
Thanks for your help!

Jane's answer... What a great question! A woman with a pear or triangle body shape looks bottom-half heavy when viewed facing her. She may have a small bust, but not necessarily so. The defining characteristic is narrow shoulders relative to her hips.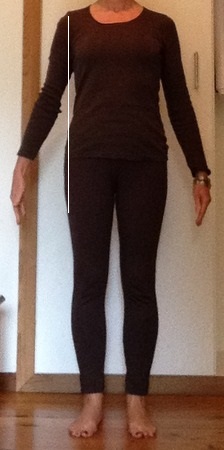 When you look at yourself straight on in a mirror if your hips and shoulders are a similar width and you have a well-defined waist then you have an hourglass shape. So, it sounds as if you do indeed have an hourglass shape.
If your waist is only slightly defined (or not defined at all), but with shoulders and hips of a similar width, then you have a rectangle body shape.
When you're doing this assessment look at the pivot point where your arm is attached to your shoulder. It may be easiest to identify this point from your arm pit. Use a long straight item such as a straight stick or long, inflexible ruler to see if your hips are the same width as your shoulder joint, narrower or wider.
In the photo to the left this woman's hips are the same width as her shoulders and her waist is only slightly defined, making her a rectangle horizontal proportion.
Sometimes it's a fine line between one shape and another. In that case use your judgment about whether you feel balanced, top-half heavy, or bottom-half heavy.
And, as you've found, with a smaller bust you can wear higher necklines and more bulk over your bust area.
Related articles