My year's off to a flying start! I'm not sure why, but it seems this is the year many women have decided it's time to do something about their style.
I hope you're also having a good start to your year?
If you answered my quick survey last month thank you. It's given me some great insights into what you're looking for. This is what you told me.
The survey results and recent clients have both inspired my article this month. I hope it gives you some useful outfit inspiration!
The answer to this reader's question about what clothes suit a sway back and saddle bags is still generating a lot of interest.
Enjoy this month's Style Snippets. Until next month, all the best

PS I always welcome your feedback, so please contact me with anything you'd like to see either on the website or in this newsletter (reply to this email or use the Contact Me link below).
Style Survey Results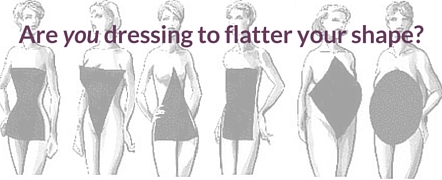 In response to what you'd like my help with for improving your style the overwhelming request was for help with dressing to flatter your body shape.
This was closely followed by wanting to create a stylish mix-and-match wardrobe to make it quick and easy to get dressed every day. And included asking for outfit ideas.
You also want to know where to buy clothes for:
Petites
Age appropriate, especially when you're in your 50s or 60s
Plus size
What am I intending to do with this information? 2 things:
Create a pilot for an interactive online course -- I have a little more research to do, but I think this is going to be how to create comtemporary, stylish, casual outfits for every day wear specific to your shape and appropriate for your age

Write relevant articles -- ensuring I continue to answer your highest priority style issues
If you can't wait for the course pilot I can help you now either with an in-person consultation, if you're in Sydney (Australia), or online via Skype or FaceTime. Simply reply to this email and I'll contact you to work out the help you need.