Clothes to suit sway back and saddlebag thighs
by Sarah
(Birmingham, UK)
I think I have a bit of an unusual body shape and it seems that no matter what I wear nothing looks right.

I have "dips" in my hips so when I wear jeans it looks like I have love handles (I am really skinny and those sticky out bits are bone). If I wear a low slung skirt I have the same problem and if I wear a high one I look all lumpy and weird.

I also have a condition called lordosis so my pelvis is tilted forward and my bum sticks out. This causes problems with trousers riding down at the back if they are too low or there being a massive gap at the back because they fit over my bum but are too big for my waist. If I wear a skirt it is really tight against my legs at the front and then sticks out at the back.

I can never get a shirt that fits me, it is always bunched up at the back and looks really baggy even if it is the right size. If I try to wear anything that sits at my hips it will ride up at the back until it is above my waist.

I would consider myself to have roughly an hourglass shape, my hips and bust are about the same with a smaller waist. I also have long legs compared to the rest of me although I am quite short (5'3). I have looked through the stuff on here about what to wear for my proportions but none of it seems to look right on me.

I don't know what to do, I just feel ugly and stupid no matter what I try to wear. Any advice you could give me would be very much appreciated.

Jane's answer... Hi Sarah. Thank you for your question -- the detailed information you have supplied enables me to give you specific recommendations. When you've learned a few strategies to deal with your specific figure challenges you will feel so much better about your appearance! However, I suspect you already know that, which is why you're actively looking for solutions.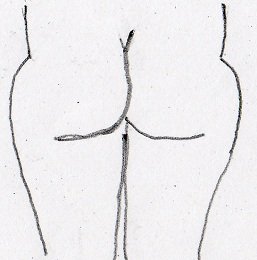 Sketch of Saddlebag Thighs
From your photo (which I haven't published, to preserve your modesty ;D) and your description above, those dips in your hips, and "sticky out bits", are what are called saddlebags. If it's any consolation, you share this body shape feature with Trinny of Trinny and Susannah (famous from the UK TV show "What not to wear"). I've tried to illustrate this in the sketch to the left.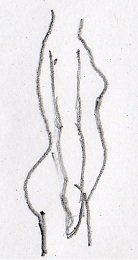 Sketch of Sway Back
I hadn't heard of the "lordosis" condition. However, the body shape you describe is also known as a sway back -- it makes your bottom and stomach look larger than they are because of the the curve of your spine and the tilt of your pelvis . A sway back is often seen in the posture of gymnasts or ballerinas. See my sketch to the right.
Typically I have seen one or both of these body shapes in women who have Triangle horizontal body shapes. Although that's not to say that your horizontal shape isn't hourglass (I couldn't tell from the photo). And it's not to say that all women with a Triangle horizontal shape have these features.
These body features, together with your height (which is classed as petite), and your horizontal and vertical body shapes are all taken into account in the recommendations given in a
personalized eStyles Portfolio
.
Some recommendations for each specific feature are:
For saddlebag thighs...
Your aim is to find pants, skirts and dresses that skim your thighs, then fall straight, to form a smooth silhouette...


Choose pants that are straight and avoid skinny and tapered styles


Your best skirt shapes include straight and subtle A-line styles. This includes the bottom part of dresses too


For your bottom half choose fabrics of medium weight that provide coverage over your hips and thighs, and that flow over your body (that is, not too clingy or too stiff). For example, medium weight knit fabrics such as Ponte. Lined dresses, skirts and pants will also help skim this area


Avoid obvious pockets on your hips and thighs


Layer tops over your hip area. Choose tops in a similar color or color value (amount of lightness or darkness) as your bottoms and make sure the outer layer covers your saddlebags and bottom


For a swayback...


Alter clothes to fit your shape -- either learn how to do these yourself, or factor in the cost of alterations when you buy a garment. Alterations will include:



Altering a skirt or dress hem to make it straight


Making alterations to the back of a garment to ensure it sits correctly, without any excess fabric, over the curve of your back


Side seams of skirts and dresses may need adjusting so they hang straight



Choose jackets and shirt styles that are not too fitted in the back


More strategies
These work for your height and your body features...
Wear bottoms that are darker, or the same, color value (amount of lightness or darkness), as your tops


Create a high focal point -- a focal point is something that attracts attention. For example: an obvious design detail on the neckline of your top (a bow, a lighter or brighter color, or some ruching); a necklace; statement earrings; a bright lipstick
I also highly recommend you get
your personalized eStyles
to fully understand everything that works and doesn't work for you.