You are here: Style Articles > What to Wear > Casual Classic Style
How to Jazz Up a Casual Classic Style
Many of my clients start from a position of a casual classic style that has become too plain and boring.
The definition of classic in clothing is timeless, traditional, tailored and co-ordinated. The timelessness comes from no exaggerated styling details and means that these clothing items can be worn for years without dating. Classic style is suitable for most work situations, especially corporate offices.
Casual classic clothing is relaxed timeless clothing such as jeans and tee-shirts or sweaters.
If you are not particularly interested in fashion trends, but want to feel stylish and look contemporary this is a good style for you.
However, please note that even classic styles can become out-of-date. So, do pay attention to contemporary silhouettes to ensure your look remains contemporary.
The main problem with this style is that it can become boring.
So, here are some ideas to create a more interesting casual classic style: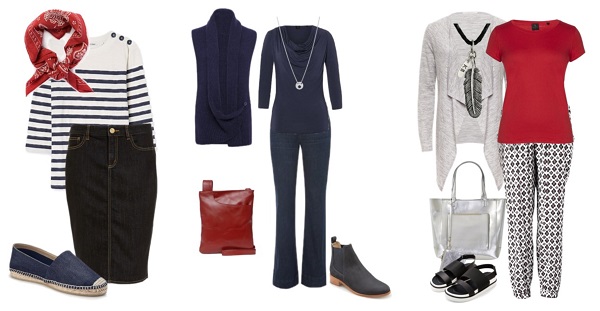 Outfit 1 images courtesy: Sportscraft: jeans skirtCountry Road: Espadrille shoes; top; scarf Outfit 2 images courtesy:David Lawrence: jeans; cowl neck topBirdsnest: bag; necklaceCountry Road: Espadrille shoes; top; scarf
Metalicus: vest
Trenery: ankle boots Outfit 3 images courtesy:Witchery: pantsDavid Lawrence: tee-shirt
Metalicus: waterfall cardigan
Zappos: necklace
Birdsnest: sandals; bag
Focus on creating whole outfits -- including footwear, jewellery or scarf, any outer layers and handbag. Ensure there's some link between all the items in your outfit. The link could be color, texture or classic with a hint of a 'theme' such as nautical

Add a pop of interest with a fun necklace, scarf or earrings.

Add a pop of color.

Link an outfit to your hair color and/or color value (how light or dark your hair is). For instance if you have a lot of grey in your hair try a light colored top, or a patterned top with a light colored background
Simple style
'Simple' is a word that clients often use during a style discovery session.
It means different things to different women, such as:
Easy to get dressed
Nothing too fussy or frilly
A carefree feeling
Light-weight clothes and accessories
A minimal, mix-and-match wardrobe
A casual classic style with a 'twist' is one way to incorporate this style word into outfits.
If you want to give this style a try look for the 'twist' that appeals to you. It could be one of the ideas above, or perhaps for you a touch of Boho is your 'twist' -- for example try a peasant-style blouse -- or look for the something else that lifts the casual classic look, in a way that still feels simple to you.
Styling tip
With the dominance of longer, looser fitting tops it's good to know a simple styling 'trick' that makes these styles easier to wear. The styling technique is called the half or partial tuck. It works by adding structure to the looser, or boxier, longer styles.
Related articles
You might also like:
Like This Page?