One of the blogs I subscribe to, written by a personal stylist, advertised she was organizing her annual buying trip to Vietnam. She takes her clients' favorite garment(s) with her to Vietnam, finds a suitable material and has the items copied.
When I lived in the US back around the turn of the century (gosh that sounds like such a long time ago!) I'd bought a beautiful Ann Taylor jacket -- a mid-brown silk, lined, trans-seasonal jacket -- that I've worn to death, literally! I'd already had it altered once to hide fraying cuffs, but the last time I wore it earlier this year I noticed that a shoulder seam was now fraying too. So, I took my beloved jacket to the personal stylist and discussed what I wanted.
I told her I'd like an exact copy of my much-loved jacket, fabric and all. She seemed professional -- she confirmed what I required and had me try the jacket on to check the fit. Then off she and my old jacket went to Vietnam.
A short while later, when I received the new jacket, I was SO disappointed. The cut, fit and making of the jacket are all excellent. The color is more dark chocolate than the mid, warm brown I was expecting, but that is still fine.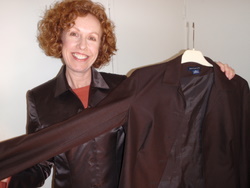 Wearing New Jacket, Holding Original
However, the big boo boo is the shiny fabric of the new jacket! As a Warm Autumn (warm and muted), I look best in fabric surfaces that are matt or have a slight sheen. Shiny really isn't good on me. I might just be able to get away with wearing it for an evening event, but the beauty of the original jacket was it's versatility. (The new jacket will suit a person with Winter coloring best).
I knew doing this was a gamble and I didn't spend too much on it (and hopefully I'll make something back by selling it on ebay -- offers anyone ;) ?). However, it's the disappointment factor. I had such high hopes of having a re-incarnation of this useful jacket to wear again. And what was the personal stylist thinking? (I did let her know my thoughts, but she didn't seem to understand).

The moral of this story? When you're having a garment made make sure the person really understands all the attributes you want in the new garment. This includes color, pattern size and type, fabric type, surface, weave and texture. Fabric samples that demonstrate the desired attributes (and pictures of patterns) should be the best way to avoid any mis-understanding.
Here in Sydney it already feels as if Spring has sprung! And I'm getting ready to plan my new season's wardrobe (and helping many of my clients get their wardrobes organized too!).
Are you looking forward to the new fashion season? Or does it throw you into an "I've got nothing to wear" panic? I know that before I became an Image Consultant I fell into the latter category!
I now know that with a little bit of periodic planning it's easy to create a wardrobe that works for my personality, lifestyle and budget. So, I now look forward to a new fashion season.
What I find works best is to audit and plan your wardrobe twice a year: at the beginning of the Spring/Summer season and at the beginning of the Autumn/Winter season).

This makes life so much easier than if you leave it too long between clearouts! And planning your wardrobe for the new season's likely events and activities stops you stressing about what to wear and panic buying.
As you review your wardrobe with your lifestyle in mind, identify the basic items that need replacing and the new items you'd like this season. Make a list and keep it in your handbag. And remember to refer to your list before you buy!
>> Read more about wardrobe cleaning, wardrobe planning and creating mix-and-match wardrobes
If you live in Sydney get rid of your unwanted clothes and accessories and potentially pick up new, pre-loved, items for your wardrobe at my clothes swap event (see Clothes Swap below).
If you live in Sydney I'd love to help you plan your new wardrobe for the new seaon, see details here.
I personally answer questions that I receive through my website's Contact Me form. Each month I will pick 1-3 of your questions that I think other readers will be interested in and publish the question and answer here.
Q: "How do I plan a travel wardrobe?" from Rebecca of Baulkham Hills, NSW, Australia...
"How does one get the balance between style, practicality, different temperatures and airline luggage restrictions right? We are travelling to Europe for Nov, Dec, Jan (brrr) with two stopovers in Singapore (phew). Even with the temperature out of the equation, I still struggle with packing enough but not too much, and covering a range of social situations from very casual to a bit dressed-up."
A: I'm often asked this question and have it on my list of articles to write! However, since Rebecca is travelling in November and I'm unlikely to have written the article before then, I'll attempt a summary answer here which will, hopefully, help her and other readers who are travelling in the near future. This topic is also something that's top of my mind just now as I get ready for my trip to the UK in a couple of days!
Packing light is especially challenging when you are travelling in a diverse range of climates (such as from the tropics to a mediterranean-climate's winter) and when you'll be covering a range of lifestyle activities (the most challenging being casual to formal special occasion or formal business). I always find shoes the most challenging thing, especially when I'm hiking (needing hiking boots), going to nice restaurants for dinner (needing a more delicate shoe, ideally with at least a small heel) and sight seeing all in the same trip -- in this case I would take 3 pair of shoes, making sure the shoes for evening wear are suitable for some day time activities. If I can get away with it (this will depend upon the type of walking I'm doing) my walking shoes will be good, comfortable shoes that can also been worn as casual shoes (although I find these rarely work with capris, skirts or dresses -- hence the need for another, dressier pair!)
The main advice I can give is to plan in advance and pack items that can be mixed-and-matched and layered. The mix-and-match concept of a capsule wardrobe really comes into its own when travelling! For example, instead of taking one super warm coat and one raincoat, take a thin raincoat and layer wear it over a smart casual jacket, a cardigan jacket, or a smart version of a fleece (the fleece can double as a sweater or cardigan) for addional warmth. >> See my article on planning a capsule wardrobe

The number of items you pack will also depend upon how long you're going to be away and how often you want to wash your clothes. Typically, if I'm travelling for a week or more I will pack planning to wash clothes once every 6 or 7 days.
The following are links to useful articles I've found for packing light. Bear in mind they have both been written by men who typically have less challenges than women since their clothes (shoes in particular) can often more easily suit multiple lifestyle occasions. In spite of this they are useful articles ;) that can be adapted to meet your travel requirements.
My main supplier, Ann Reinten of TAIC (the Australian Image Company) has been very busy this year. Ann and her team have updated both the color swatches and the 2 forms of the female Style Solutions programs.
New Color Products
The main improvements include...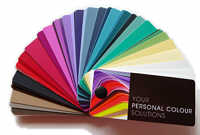 Each swatch now includes 60 color chips (up from 50)

The swatches are now created in-house by TAIC. Ann found this the best way to ensure the quality of the colors. Using new technologies and printing methods and very high grade paper the new swatches really are superb

The name of each color category has changed in keeping with world-wide changes. The new names incorporate the temperature, the intensity and the flow (where this is a duplicate of the temperature it is dropped). For example, a Cool Winter is now a Cool and Clear; a Light Spring is now Warm, Clear and Light

The color manuals have been revised and updated and now come in the form of an ebook (I print this for my in-person clients). The manuals are jam-packed with great information and photos to help you understand all the attributes of color and how to wear it to look your best

The new product has a new branding -- the covers are now black with white writing and a strip of color
If you would like to purchase a new swatch and color set let me know.

Color Swatch including Color Manual AU$55 (US$49) plus postage and packing (Within Australia: AU$5; Rest of World: US$12)



Discover Your Best Range of Colors

If you haven't had your colors done yet, or if you had your colors done many years ago and feel you may now have changed color categories I provide a color analysis service. If you live in Sydney find details of my

in-person colour analysis service here

. If you live anywhere else in the world contact me for details of my

online color analysis service

.





New Style Solutions Programs

The female Style Solutions programs (the in-person Style Portfolio and the online Style ePortfolio) were both updated a few months ago. The already great products are now better than ever. The main changes are...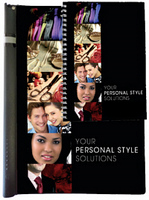 The biggest change is that the illustrations have been replaced with 660 full color fashion photos (courtesy of BlueFly.com)
A number of new styles have been added
The Bridal & Evening Wear and Maternity Wear sections have been removed -- they will eventually be available as separate Style ePortfolios
A major new area has been added, 'Design & Color Coordination' -- this gives invaluable tips on how to get design lines, color and fabrics working for you to balance and flatter your body shape.
In my wardrobe consultations what I find is that we often, unconsciously repeat a mistake that ruins an otherwise great outfit. A typical example, is wearing a pattern that is too large on an area of our body that we wish to minimze. The sections in this new category give your personal recommendations on how to avoid such mistakes.
Avoid recommendations now include the reason why. For example, due to your age or your horizontal body shape
To upgrade: note your licence number then uninstall the program (through the Control Panel), install the new program, then select ORDER PORTFOLIO, select the 3rd option and enter your licence number.
To update the Style Portfolio I created for you and the Shopping Guide contact me.
Look Great! Feel Great!
If you don't yet have your personalized Style Solutions portfolio you can find the details here...
If you live in or near Avalon on Sydney's Northern Beaches and would like to recycle the clothes you rejected after your wardrobe audit and have the opportunity to re-stock your wardrobe with someone else's pre-loved clothes and accessories mark this date in your diary. No money changes hands at this event -- it is purely a re-cycling exercise.
Places are strictly limited, by the size of my studio and office area, so let me know if you'd like to come (reply to this email) and I'll send you the details.
This event is brought to you by Nicola of Bodhi Hair in Mona Vale -- I will be the guest speaker.
Nicola is not only an excellent hairdresser, but a makeup artist as well! In this session she will give you tips on updating your makeup application. I'll be talking about the effect of colour on our appearance and face shapes.
Places are strictly limited by the size of the venue, so please book by replying to this email.
Last year I took a Triumph bra fitting course. Over the last few weeks I finally got around to creating a series of articles on underwear based on what I learnt during that course. I hope you enjoy the articles...
A poor fit in female underwear is a sure way to sabotage an otherwise great outfit! As the foundation for your outerwear, your underwear should only be visible if that's what you intended as a fashion statement! And it should always provide a firm, supportive, jiggle-free, smooth foundation for your clothes -- all the curves in the correct places with no extra lumps and bumps!
Did you know many women wear the wrong bra size? The most common mistake is a band that is too big and a bra cup size that is too small. For example, a 38C instead of a 36D.
Fitting a bra perfectly has 2 elements to it...
Determining your correct bra size
Correctly adjusting your bra for a perfect fit
Breast shapes are different from one woman to the next. Some breasts sit close together, some further apart, some sit high, some sit low. Different styles of bras will suit different shapes. Try on different styles and different brands to find the brands and styles that suit you best.
Panties need to be large enough not to cut into soft flesh. A muffin-top or VPL (visible panty line) is not a good look!
Feel free to forward this newsletter to friends you think will enjoy it!
If a friend did forward this to you and if you like what you read, please subscribe here.
You can find back issues here... https://www.style-makeover-hq.com/style-snippets-backissues.html