Make Your Wardrobe One Full of Inspiration
with my Wardrobe Consultant Service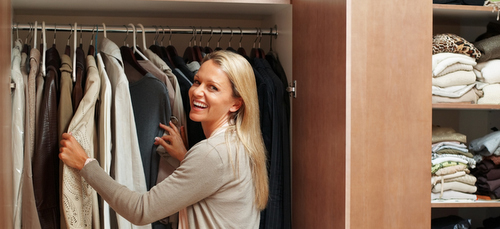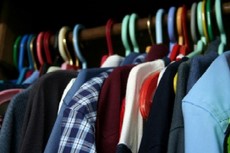 Now that you know your colours and styles (women's styles, men's styles) no doubt you are dying to go shopping for new clothes. However, before you do, first go shopping in your own wardrobe.
You can tackle this yourself with the help of my wardrobe makeover articles. However, it often helps to have an objective and professional wardrobe consultant review your wardrobe with you. Especially if you've been putting off your wardrobe clearout. And it really helps you get 'aha' moments on your new found colour and style knowledge.
What Can you Expect
from your Wardrobe Consultant?

The first step of your wardrobe makeover is the wardrobe review. Together we'll go through your wardrobe and assess each garment using your colour swatch and style portfolio to sort your clothes into piles of...
Keepers
Maybes
Mending or alterations
Throwaways
Giveaways
To sell
I'll get you to try on clothes in the keepers and maybes piles. This may identify clothes that need mending or altering. Sometimes a garment can be made to work better for you by altering a hemline or seam or removing a ruffle or pocket.
This process puts into practise everything you have learned in your colour and style sessions, so you really get to understand how to use your colour swatch and style portfolio.
You'll understand how to...
Look at line and design elements of a garment to ensure it's flattering you rather than sabotaging your look
Choose garment patterns that flatter your body scale and proportions
Apply your colour contrast and fabric type recommendations to co-ordinate outfits
At the end of your wardrobe review your wardrobe will be...
De-cluttered and contain only garments that suit you and your lifestyle
Organised by garment type and colours within garments, so you can easily find things to wear
Next comes wardrobe planning. I can help you...
Identify your lifestyle requirements such as work, sporting activities, social events and so on
Match outfits to your lifestyle requirements
Co-ordinate the clothes you already have -- with your clothes sorted by type and colour it's often possible to see new ways to put together the clothes you have
Identify gaps in your current wardrobe to create a shopping list of items to buy
Here's what one of my clients said after her wardrobe consultation (she also used my colour and style services)...
"A big thank you for yesterday! It was a mammoth effort on your part, so thank you so much; I got so much out of it, and it feels great to be able to cull things that I know it's a good move to get rid of!

"I went shopping today and put everything into practice. I managed to exchange a top and dress I'd recently bought in the wrong styles and colours. And I found some fantastic tops in the sales. And in all things I went for the best size that fitted me nicely in at the waist rather than bagging. And I did it all in an hour and a half! I was so focussed walking into places and able to zero in on the best colours and styles, and looked at things I would normally just walk right past."

Fiona Saville
West Ryde, NSW
Wardrobe Consultant Location
For this service I come to you. I mainly provide my image consultant and wardrobe consultant services to suburbs within an hour's driving distance of Avalon, NSW on the northern beaches and north shore including, but not limited to: Avalon, Bayview, Belrose, Bilgola, Chatswood, Clareville, Cremorne, Collaroy, Dee Why, Forestville, Frenchs Forest, Manly, Mona Vale, Mosman, Narrabeen, Neutral Bay, Newport, North Ryde, North Sydney, Palm Beach, St Ives, Sydney north, Terrey Hills, Turramurra, Warriewood, Whale Beach.
If you don't see your suburb listed here and you would like an in-person wardrobe consultation please feel free to enquire anyway.
If you live a lot further away I offer a Suitcase Wardrobe Consultation service. This is similar to the Wardrobe Consultant service/Shop Your Wardrobe session, except you bring your clothes to me. Bring a selection of the clothes you love and those you are unsure of (don't bother to bring the ones that are past their use-by-date, that you know you need to get rid of anyway).
Wardrobe Consultant Prices
all prices include GST
Wardrobe Consultant Services
Price
Duration
Wardrobe Update

> See Wardrobe Update Service details here
Wardrobe Consultation

This service is for you if you've already done my colour and style sessions
AU$350

($65 per ½ hour after that)


For 2 hours

May require longer dependent upon the size of your wardrobe.
We agree the duration at the start of the session
Shop Your Wardrobe Package

This package is for you if you want to get straight to sorting out your wardrobe without my full colour and style services.

You may already know your colours and body shape.

It includes a body shape analysis, personalized online eStyles portfolio, colour assessment and option to purchase your colour swatch for $65.

See more Shop Your Wardrobe details.
AU$550

($65 per ½ hour after that)
3 hours
Suitcase Wardrobe Consultation

Similar to a wardrobe consultation, but for those of you who live further away. Bring a suitcase or 2 of clothes to me for us to review together.

AU$130
1 hours

($65 per ½ hour after that)
To Book Your Wardrobe Consultation
Contact me to book your wardrobe consultation
by phone or email.
What's the Next Step in your Style Makeover?
Its amazing how much easier it is to go clothes shopping armed with the knowledge of which clothing styles (women's styles, men's styles) and colours suit you best and after your wardrobe makeover you now know which items you need to complete your wardrobe. Now it's time to go shopping.
>> For a full list of Style Makeover HQ image consulting services click here
Like This Page?