The first event of the AICI Australia conference was a makeover by 3 CIPs (Certified Image Professionals -- one of the highest AICI qualifications) of 6 volunteers. I decided to volunteer to find out how it feels on the other side of the fence! I regularly make myself over, but I had never had someone make me over. My Image Consultant was Helen Robinett from Image Quest in Melbourne Australia.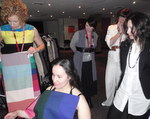 How many Image Consultants
Does it Take to do a
Color Analysis?!
The process Helen used was pretty much along the lines of what I go through myself for my clients. However, due to very tight timelines it was interesting to see where the emphasis was placed and what was left out. This varied by CIP, Helen focussed on color analysis and style expression to suit my stated lifestyle goals and match my personality. She would normally have done a body shape analysis, but due to time constraints skipped that part of the process.
Each CIP was tasked with creating 2 new looks for each volunteer. My brief to Helen was to create 2 new looks for my image consulting work that gave me a more creative/dramatic look: one for working with clients in my home studio and one for giving presentations.
The makeover started several weeks before the day with a phone conversation with Helen to describe what I was looking for and so that Helen could get a feel for my personality. She also gave me a couple of questionnaires to complete. On the day Helen started by reviewing my answers to gain a better understanding of my goals from the session and my style personality. I'm currently categorized as Classic and Relaxed style personalities and wanting to add a Dramatic or Creative twist to my style expression. She then color coded me (Warm Autumn -- called 'Exotic' in her system!).
Next came hair then makeup while Helen and the observing Image Consultants picked out outfits from a large selection of loaned clothing. All the volunteers went to a hair salon near the conference (it was one known and used by one of the conference organizers). My stylist told me he liked the current cut of my hair (which was good, because I do too), so he gave me a trim then blow dried it straight with a tamed curl at the ends (I normally use my finger to twist in some ringlets then just let it dry naturally).
By the time I'd finished having my makeup done Helen and the observing Image Consultants had picked out 3 or 4 outfits for me to try on, with a mix of my own accessories and some borrowed from others. We quickly narrowed it down to 2 outfits: a stone colored sleeveless shift dress, about knee length with an interesting neckline and a matching trench coat -- this was my 'presentation look'; and a trench-style knee length geometric patterned dress in yellow, orange, grey and stone -- this was my 'studio consulting look'. A wide tan belt was added to both outfits.
I ended up buying one of the dresses that didn't end up being selected on the day -- there's a photo of me wearing it to demonstrate wearing a dress with leggings (see below). It's a Boo Radley from the Back Room in Petersham, NSW, Australia and cost $130. Maree has a fantastic range of reasonably priced designer wear and also does any required alterations for no extra charge.
The final part was the unveiling! All the volunteers modelled our 2 looks on a catwalk to the conference participants and guests. We'd each had official before photos taken and these were projected onto a screen as we each modelled our new looks. The relevant CIP explained their approach and we got to say what we thought.
Hairstyle After Makeover
I don't yet have any of the before or after photos yet. However, here's one showing my hairstyle. It was taken at the conference dinner later that night. The general consensus that although it was nice people who knew me like the way I style my hair better. Still, it's good to have a change.
So, how did I feel about the whole makeover? It was exciting, nerve racking, at times confronting and exhausting (all that emotion and jet lag too!). Would I do it again? You bet! Even Image Consultants can benefit from a professional styling session.
Many of my clients forget to wear jewellery or don't pay much attention to the shoes they put with an outfit. Yet accessorizing is a great way to bring a fresh look and feel to an outfit. It's also a budget friendly way to update your wardrobe. With this season's emphasis on a statement within an outfit (see new articles below) think about adding a new statement necklace or pair of earrings to your wardrobe.
I don't know about you, but I find it's easy to get in a rut with outfits and always wear the same accessories with the same outfits. So, another idea is to mix it up -- try putting different accessories with current outfits to create new looks.

>> Do you know these 3 accessorizing tips?
I personally answer questions that I receive through my website's Contact Me form. Each month I will pick 1-3 of your questions that I think other readers will be interested in and publish the question and answer here.
Q: I'm over 50 can I wear leggings and if so how? from Denise of Newport, Australia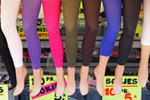 MyTights.com have a selection of
leggings in a variety of colors.
They ship to the US and UK.
A: There was a great blog on this subject, but I can't find it now (I think the owner may be moving it), it was all about leggings not being pants or trousers! And I think that is the key thing to remember, especially if you're over 30! Treat leggings as an accessory, that is, like hosiery and you're less likely to go wrong. Don't look as if you've left home and forgotten to put on your bottom half!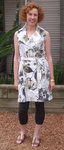 Leggings under dresses
can look great.

Pick a skirt or dress length that suits you, then add leggings to create an edgier look, to add warmth, or to hide varicose veins or scars on your legs. The leggings can be from below the knee to ankle length. Make sure the hem doesn't end at the widest part of your calf. And choose a length so the proportions work with the rest of your outfit.

Q: How to wear a scarf?

Many of my clients ask me this question.



A:

For those of you living in the northern hemisphere you are just coming into scarf wearing season. I love scarves and often wear them as accessories, not just for outdoor wear. There are so many ways to tie a scarf. What works will depend upon the shape of the scarf (square, rectangle or long rectangle), how bulky the fabric is and how long your neck is.

If you have a medium to long neck a scarf will look standing up on your neck. If you have a shorter neck keep the drape of your scarf more cowl-like and away from your neck (except to keep warm when you're out).

YouTube.com is a great place to look for scarf tying ideas. Take a look at these videos for starters...

>>

How to tie a winter scarf

-- I use the first method a lot on finer, long rectangle scarves

>> How to wear a scarf in 5 different styles -- I use the 3rd example a lot. I also use the 'bow tie' over a collared shirt



Discover Your Best Range of Colors

If you haven't had your colors done yet, or if you had your colors done many years ago and feel you may now have changed color categories I provide a color analysis service. If you live in Sydney find details of my

in-person colour analysis service here

. If you live anywhere else in the world contact me for details of my

online color analysis service

.




Look Great! Feel Great!

If you don't yet have your personalized Style Solutions portfolio you can find the details here...

If you live in or near Avalon on Sydney's Northern Beaches and would like to recycle the clothes you rejected after your wardrobe audit and have the opportunity to re-stock your wardrobe with someone else's pre-loved clothes and accessories mark this date in your diary. No money changes hands at this event -- it is purely a re-cycling exercise.

Places are strictly limited, by the size of my studio and office area, so let me know if you'd like to come (reply to this email) and I'll send you the details.

This month, it's all about the new season's trends. I'm still working on a satisfactory (and legal) solution for getting photos to illustrate what I'm talking about.

I'd love you to contribute photos of the clothes or outfits that you've put together for the new season. These can either be of you or a friend (with her permission) in the outfit or just a picture of the clothes and maybe a sentence or 2 about why you love the outfit or how you've styled it. There's a submission form on both the pages below and I've given you a couple of examples to get you started.

Some of the main fall and winter fashion trends include dresses, coats and jackets.

This season continues the emphasis on dresses. The lengths are knee length or above or full length. Around knee length suits many people. And you can always wear leggings, opaque tights or even trousers if you want more warmth or to cover your legs. There's still a large variety of dress styles available so you should be able to find one that suits your silhouette. Remember to pay attention to the design lines and patterns to ensure the most flattering look.

The key spring and summer fashion trends include dresses, blazers and gladiator-style sandals.

The strongest design element is architecturally inspired structures such as pleats, drapes and tucks. In particular you'll see this structural detail in necklines and shoulders. Futuristic shoulder pads also create strong shoulders.

Feel free to forward this newsletter to friends you think will enjoy it!

If a friend did forward this to you and if you like what you read, please subscribe here.

You can find back issues here... https://www.style-makeover-hq.com/style-snippets-backissues.html