You are here: How tos > Accessorizing
The Magic of Accessorizing
It's easy to ruin an otherwise great outfit by choosing the wrong accessories. However, on the flip side, it's easy to make an ordinary outfit look great with the right accessories.
If you don't know what to do when it comes to accessorizing the good news is it's easy to learn a few guidelines to complete your outfit and make it more stylish.
Accessories for Men
While I've written this article mainly with women in mind, the tips apply equally well to men for shoes, glasses, ties and so on.
Fashion Accessories Include...
Shoes
Handbags
Eyeglasses and sunglasses
Jewellery
Scarves and ties
Hats
Belts
Hosiery and socks
Hair ornaments
In fact the broadest definition of accessories includes everything except the outfit itself, which means hair styles, makeup and even outer wear such as coats.

Use Accessories To:
Bring attention to your best points and minimize your worst

Bring an older outfit up-to-date and make it last another season with this season's accessories

Look and feel younger -- regularly updating your accessories is a great way to stay contemporary without having to spend a fortune

Get the "look" you want -- such as chic, elegant, sophisticated, wealthy, business, casual, fun, artistic and so on

Change the look of an outfit -- from casual to formal and vice versa, by changing the accessories you wear. For example, change your shoes, handbag and jewellery (and maybe your top too) to go from work to an evening event
Choosing Accessories
When we buy a new outfit or piece of clothing it's easy to forget about how we will accessorize it until it comes to wear it. Then we might discover that the outfit doesn't quite work, that it needs something to finish it.
So we'll either make do with items we already have, but feel less than happy with the result. Or we'll find another outfit to wear. So, it really is a good idea to get into the habit of thinking about how you will wear an outfit or item of clothing when you buy it. What accessories will you wear with it to create or complete the look you're after?
When shopping for accessories, as with clothes, you will find your most flattering looks by understanding the colors and styles that suit you best. (Find out more about colors here. Find out more about which styles will suit your body shape best.) Take the outfit you want to accessorize with you. And keep the following tips in mind...
3 Accessorizing Tips
Harmonize Accessories with your Outfit


When choosing accessories, such as shoes and a handbag, to wear with an outfit the most important thing is to harmonize with your outfit.

By harmonize I mean make sure there's some common element or theme between the accessory and the outfit. This could be color (either picking out a similar hue or choosing some other color element to echo such as: cool or warm; muted, sheen, or shiny; light, medium or dark), perceived weight, texture or some other style or design element.

For example, if you're wearing a light colored, floaty, feminine, summer dress choose light colored, elegant, strappy sandals rather than dark colored, heavy looking shoes. The same applies for the bag: choose a light colored, elegant looking bag.

Or if you want to wear the brightly coloured courts or pumps that are in fashion now, wearing a top in a similar color has an "eyes-up" effect -- that is, when someone's looking at you their eyes are drawn from your feet to your top. This has a lengthening and therefore slimming effect. Which is a good thing for most of us!

Harmonize Accessories with Each Other

In addition it's a good idea to harmonize accessories with each other in the same outfit. For example, similar silver buckles on shoes and handbag. However, take care to have some contrast in your look. Complete sameness can be boring and aging.


It's always better to choose a size that's in harmony with your body scale. Body scale assessment takes into account your height, weight and bone structure. (Find out your body scale by clicking here.) If you're a...



Small scale choose small to medium accessories


Medium scale any size accessory will work for you. However, if you're short stick with small to medium accessories since large ones will emphasize your lack of height


Large scale choose medium to large accessories (unless you're short, in which case stick with small to medium accessories)


Grand scale medium-sized accessories will work best for you. Small or large accessories will emphasize your size



For shoes

Balance the scale of your ankles and calves as follows...



Small ankles and calves -- choose shoes with thinner soles and heels


Larger ankles and calves -- choose shoes with more substantial soles and heels



Accessories as Focal Points

Focal points are things that attract attention such as a bright color or a striking design.

The aim is to use focal points to attract attention to your good points and minimize or detract from your figure challenges! Clothing line and design aspects can act as focal points and so can accessories.

Eyes-up focal points are those that make an observer's eyes look up to the point. And vice versa for eyes-down focal points. The body shape page explains which body types need eyes-up and eyes-down focal points.

To summarize...



Eyes-up focal points make you look taller and slimmer


Eyes-down focal points make you look shorter and heavier



A polished appearance is achieved through balance, so don't go overboard with your accessories and focal points. Too many can appear flashy, overdone or inappropriate. Too few can result in a drab or uninteresting look. As a rule of thumb 3 focal points are the maximum, although less may work better for a particular outfit or occasion. If you're in doubt don't wear it.

Related Articles
The Finishing Touch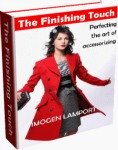 I know many of you need help with accessorizing...
Where to start?
What to choose?
How much is too much?
This is the ebook I now recommend to all my clients to answer these questions and more. See my review of The Finishing Touch ebook to find out why.
Like This Page?