You are here: Style Articles > What to Wear >
Trend Watch
> Spring Summer Fashion Trends 2015
Spring & Summer Fashion Trends 2015
Use my round-up of the main trends for this spring and summer to keep your look current. There's no need to adopt a look 'wholesale'. Be selective. Choose what works for your appearance, lifestyle and personality.
The trends towards a wide variety of styles, colors and shapes continues -- really! (The choice in styles and colors is massive, making it challenging writing this article!). This is great news as long as you know what suits you. If you don't know it really is worthwile investing effort, time and money to find out!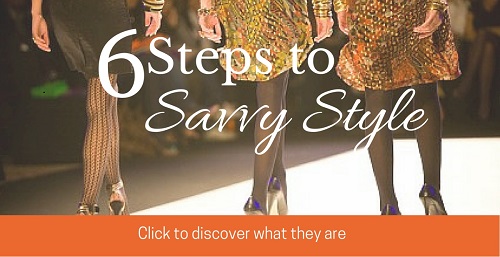 If you'd like my help contact me.
One of the main spring/summer fashion trends is towards larger silhouettes: longer lengths in pants, skirts and dresses; wider widths in tops, and bottoms.
An emphasis on layers also continues. This is great for cooler climates and to cover less firm body parts! However, layers don't really work in hotter climates, except to go between air conditioning and the elements. Luckily there are plenty of other choices available!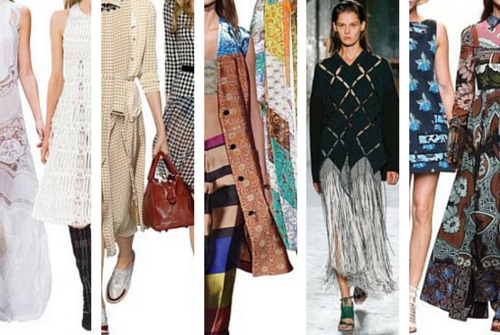 Images courtesy Instyle
Spring & Summer Fashion Trend Main Style Themes
The main themes are:
1970s-inspired styles. This includes: Bohemian soft loose, flowing pants, tops and dresses; flared trousers; texture such as suede, fringing, and 'nubby' fabrics; natural fibres; wide-brimmed floppy hats; practical cross-body bags; denim everything (jeans, skirts, dresses, shirts); handmade clothing and accessories; ethnic jewellery; warm colors such as mustards and olives; clear, bright acid colors; Birkenstocks and flat sandals and shoes; platforms, wedges and block heels; sloganed clothing and so on.
Sportswear as day and evening wear -- it's easy to go too casual with this look, but can work well when combined with luxe fabrics and some element of tailoring. For example: a straight, tailored shirt with a baseball-inspired jacket; or yoga-style pants with a softly tailored jacket
Monotone colors -- wearing shades of one color such as blues, or greys, or whites (or any other color). This look can be very elegant. The trick to getting it right are making sure there's enough contrast between the color you pick and your face (skin, hair and eyes). Use different fabrics and textures to create more interest.
The Main Trends in Style Elements for this Spring & Summer
In line with the emphasis on larger silhouettes and layering, the range of styles in skirts, pants and tops continues to improve.
Skirts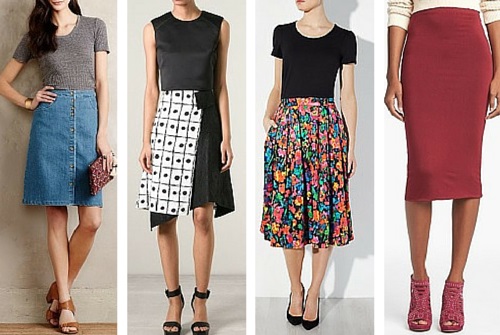 Images courtesy: Anthropologie, Farfetch, John Lewis, Nordstrom
A larger range of skirt styles has finally made it into the shops. Lengths are mainly knee length and midis. Styles include:
A-line styles -- both obvious A-line, such as the button-through denim skirt pictured, and more subtle-A-line styles in 'swishy fabrics'
Wrap and psuedo-wrap styles
Full, dirndl styles -- reminiscent of the 50s
Straight and tapered remain, but are mostly longer than recently, such as the above calf midi-tube shown
Images courtesy: Nordstrom, FarfetchCulottes: Skirt or Pants?
Culottes started to appear as a very minor trend in the last year or so. They're back more prominently this year with more choices of lengths and styles. I'm never sure whether to classify these as skirts or pants! If you're going to experiment with this style take care that you don't make your legs 'disappear'!
Pants, Trousers and Shorts
Images courtesy: M&S, Anthropologie, Ann Taylor, Farfetch
There's pretty much any style and length of pants and trousers to choose from this season! The ones shown above represent just a small sample (and no the striped oufit is not a jumpsuit, though you'd be forgiven for thinking it was!).
If you like knee length, fuller shorts you'll find them this year.
Dresses
Images courtesy: Anthropologie, Nordstrom, Ann Taylor, Banana Republic
Dress styles include: maxi and midi flowing boho styles; shirt dresses; shift dresses; and fit-n-flare styles.
As you can tell from the above images patterns and prints are widely available. As are shades of blue!
Tops & Outerwear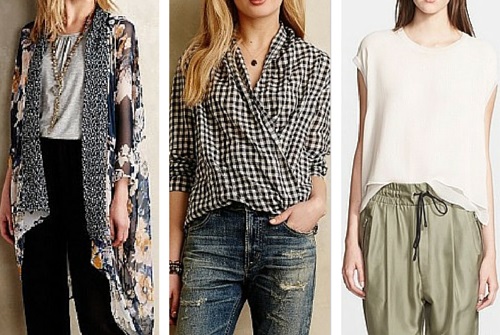 Images courtesy: Images 1 & 2 Anthropologie, Nordstrom
Inline with the wider choices in skirts and pants there's a greater variety of tops available as well. If you're going to try bigger volume on your bottom half keeping your top half more streamlined will most likely work better for you.
There are still mainly styles of jackets available. For example, the kimono-style pictured above, which can be used to dress up an outfit.
Light-weight and light-colored trench coats are also on trend. There are both classical and more creative style to choose from.
Styling tops tucked in and belts both help to manage the volume.
Accessories
Shoes
Heeled sandals include strappy styles. Ankle straps are still on trend. As are neutrals with a pop of color
Flat sandals including Teva-style sporty styles, Birkenstocks, and gladiator-styles
Stilletto and block-heeled pumps -- look for florals and fun colors
Other flats incude loafers and sneakers in solid colors and patterns such as florals and stripes
Platforms and wedges, in keeping with the 70s trend
Jewellery
The dominant theme for jewellery is abundance: achieve this look by layering many necklaces, or bracelets, or rings (for this to work choose items related to each other somehow in color, shape, or theme); or with large statement, often ethnic, styles
Bags
There's a large range on sizes, styles and colors available. The long-strap style is particularly dominant. However, there are also many clutch purses around and totes as well. Bags are a great way to add a pop of color or trendy fringe to an outfit!
Belts -- use to give structure to larger shaped clothing. As a minor trend, the obi-style belt is also back.
Scarves -- 70s airline hostess neck scarves. I've seen a photo of Iris Apnel wearing this style well! So, you don't need to be young, but you do need a long, slimmish neck.
Spring & Summer Fashion Trends in Fabrics
Fabric Types
Trends include:
Fabric Color Trends
White and light neutrals -- shades of white, stone, greys and creams
Blues -- many shades from light to dark
Red-tones -- from cool, bright pinks to light, warm corals and deep browny-reds (Marsala is the Patone color of the year)
Olives and khakis
Patterns & Prints
The trend towards mixing prints continues (tricky to get right, but can look really interesting when it's done well!). A new trend is to wear a top and bottom in the same print. When tucked in this will make the outfit look like a jumpsuit or dress.
There are still a large number of patterns and prints available, especially:
Stripes
Bold florals
Graphic prints such as gingham
Pop art prints
Animal and reptile prints continue
Like This Page?