Hello {!firstname}
Since last month I've started an online clothing stores directory. There are just 2 online stores listed so far, but I'll be adding to it on an ongoing basis. And, best of all, you can add your favorite stores too! As well as add comments about other stores in the directory.
This month's Style Snippets also contains some travel related articles inspired by my recent trip to Thailand. There is also a link to a new question from a site visitor and my answer. And some exciting news about some upcoming changes to the Style ePortfolio.
Enjoy this month's Style Snippets (phew! Just made it by the end of the month ;D). Until next month, all the best

PS I always welcome your feedback, so please contact me with anything you'd like to see either on the website or in this newsletter (reply to this email or use the Contact Me link below).
In the September 2009 issue of Style Snippets I described a failed experience I had with getting a garment custom made. Well, in January my husband and I had a holiday in Thailand, which is also famous for it's vendors of custom made clothing. So, I decided to take along my original silk jacket to see if I could get a wearable custom made copy by selecting the fabric myself.
This decision was made easier due to the fact that I had plenty of room in my suitcase as I followed Imogen's "Travelling Light" guidelines for packing.
This time I have a jacket that I'm very happy with (see the photo)! We visited 3 locations in Thailand: Bangkok, Kanchanaburi and Phuket. It was when we were in Bangkok I decided to try and find a suitable tailor. I visited a number of tailors and selected the one to use based on what felt "right" (professional and listened to what I wanted), the fact that they had a fabric I liked and a price I was willing to pay. I found the tailors through our guidebook (The Rough Guide to Thailand).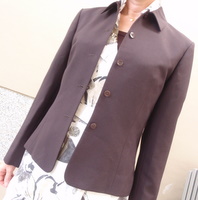 New Custom Made Jacket
The price was not as low as I'd expected, but it was still reasonable at AU$140 for a lined, cashmere wool jacket. I ended up choosing a medium-light weight wool rather than silk due to prefering the color, drape and matt finish of that material (Thai silk is quite firm with a shiny finish).
I was expecting to have a fitting, then to go back and pick up the jacket. However, at the fitting the jacket was finished and fitted so well it didn't need any alterations.
I'm delighted with the result. I've worn it already and know I will get a lot of wear out of it.
My husband, Kim, also got 2 suits made when we were in Phuket (we had more time there). He picked the tailor based on a personal recommendation. Kim found some material he liked (1 linen and 1 cashmere wool) in medium-dark colors (marine navy and a textured charcoal grey) that suited him and that are suitable for business wear. He chose the patterns from some example suit pictures the tailor had and then specified all the details for lapels, pockets, pleats, lengths, and so on. He went back for 2 fittings.
He paid AU$450 in total for the 2 suits, which is very reasonable. There were lots of lower cost "deals", 2 suits and 2 shirts for US$199 was a common one. However, the guide books and everyone we spoke to warned us off these offers.
Since returning home Kim's worn 1 of the suits and found that although he thought the trousers fitted correctly they actually feel a bit tight around his thighs. No-one would notice, but it just means they're not as comfortable as he'd like, which probably means he won't wear them as often as he thought he would. However, both jackets work well and he's yet to wear the other trousers, which were in a slightly different style.
It seems that the best results are obtained when you can take a garment to be copied. That was certainly our experience and I've heard this from others too. Another tip is to try and find a shop where you speak with the actual tailor who will do the work -- many of the shops have the work done off site so there can be communication problems between your request and the actual person doing the work!
Travelling Light
I travel enough to know that I didn't want to cart a heavy suitcase around. Besides which I was expecting to buy things while I was away, so I wanted to have plenty of room in my suitcase and spare baggage allowance!
I've been getting better at packing light as the years go by. However, there's always room for improvement, so I decided this would be a good opportunity to review Imogen Lamport's "Travelling Light" ebook.
I didn't quite get my allowance down to carry on only (as Imogen suggests) -- I like to take a few more tops than Imogen recommends, so I have to worry about doing laundry less often. However, my husband was amazed at how little I seemed to be taking -- usually he moans about how heavy my luggage is. So, I've clearly improved my packing style a lot since the last time we travelled together!
It's all about creating a capsule wardrobe and Imogen gives lots of good advice illustrated with pictures of sample capsules.
Great advice, thanks Imogen!
>> Read more about the ebook and get your copy