Hello {!firstname}
It's one of those 2 times a year -- time to remind you to review your wardrobe! I've been enjoying doing this for clients and last Saturday did my own. I share some more thoughts on this here.
If you're here in Sydney I'd love to help you with your Spring & Summer wardrobe update. There's a discount if you order before Saturday 19th October. See details here. If you're not in Sydney see my online services here.
It's also one of those 2 times a year when I write my trend watch pages. It's strange how I struggle to write these pages, since I love doing the research for them! I find myself procrastinating as long as I can!
The hard part, apart from distilling my research into articles, is selecting the images that best illustrate what I'm trying to convey (ok, so sometimes I give up on this, to get a newsletter out!). My report for the Southern Hemisphere (Australia & NZ) is here, and I hope to publish my report for the Northern Hemisphere (USA, UK etc) by the end of the week.
This Thursday, 3rd October I'm teaming with Vivienne and the lovely team at Image by Design in Chatwood to offer custom shoe styling consultations (no charge). See details here.
Enjoy this month's Style Snippets. Until next month, all the best

PS I always welcome your feedback, so please contact me with anything you'd like to see either on the website or in this newsletter (reply to this email or use the Contact Me link below).
Playing in Your Wardrobe
Last Saturday I got to do my own wardrobe review. I'd been resisting buying new season fashions until I'd done this, so I could practice what I preach and work out exactly what I need. It turns out I need far less than I thought (good news for my hubbie and my bank balance!): mainly a few pieces of on-trend cosmetic jewellery and some new tops.
I started my wardrobe audit by reviewing my style words and listing my lifestyle needs for the next 3 months or so.
I condensed my style words to: comfortable whimsical (flamboyant or funky). (Thanks to Sue Donnelly for my 'whimsical' word ;D). Embedded in my understanding of those words is that I like texture, natural fabrics, and natural materials in jewellery. It's also important that my appearance is appropriate for the occasion and the people I'm with.
In considering my lifestyle needs I listed everyday activities -- such as image consulting work, socialising and exercise -- as well as any dressier, special occasion events such as Christmas parties and trips to the theatre/ballet.
Since I regulary (twice a year) do full wardrobe audits I no longer have much to cull. I did have a small pile of repairs, clothes with labels to remove (from scarves and shear cardigans), and alterations to take to my talented alterations lady.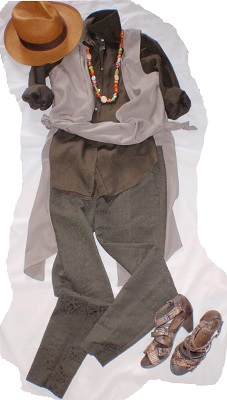 Playing in my Wardrobe
However, most of my time was spent being enjoyable creative, playing in my wardrobe! I used my knowledge of on-trend clothing silhouettes, colours and styling to try on new combinations of items in my wardrobe. As I went I noted the few items I was missing to create an updated shopping list.
One item I've had on my shopping list for some time now is a lighter weight waistcoat, vest or gilette. I recently found this very funky long-line vest at a great price at a local market. I had such fun integrating this item into my wardrobe. I particulary like it in this man-style themed outfit; and with a grey linen skirt that I've now pulled back from the give-away pile (because it felt too boring worn in more traditional ways).
For more about wardrobe audits click here.
If you struggle with doing your own wardrobe review I'd love to help (see my Spring/Summer Wardrobe update service)