You are here: What to Wear >
Trend Watch
> Spring Summer Fashion Trends 2013 Southern Hemi.

Spring & Summer Fashion Trends 2013
for Australia & NZ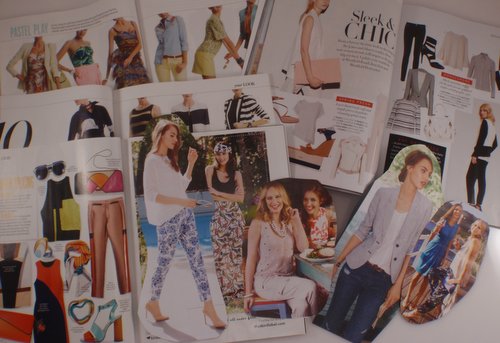 A key trend I've noticed for a season or three is outfits that are lighter in colour. At first I thought it was just me -- I've found myself feeling weighed down when I've worn outfits with my usual base of chocolate brown (my version of black). However, I've now recognised it as a growing trend. And it especially makes sense for the Spring and Summer fashion season in the warmer regions of Australia, when we want to reflect heat rather than absorb it.
Yes, of course there is still a lot of black around. However, it's often mixed with white or lighter colours. Either in a pattern in the garment itself, or in the styling of an outfit, on the runway, in shops and in fashion magazines.
To embrace this trend, it might require you to re-think how to combine colours in your outfits. Of course, I'd love to help you with that!
Sadly, if you're into layering this way, it looks as if leggings are disappearing. Use skinny, or slim-fitting pants instead.

Spring & Summer Fashion Trends: Main Style Elements
Pants, Trousers and Shorts
Pant legs are finally getting fuller. There are still many skinny pants around, but at last we're also seeing fuller styles, including: slim straight legs; tapered legs; harem; pyjama style, that is, wider legs with elastic or draw-string waist, and often in soft or silky fabric; and even palazzo styles.
There are more colourful, patterned pants available, and still some plain, coloured pant options.
Cropped pants, such as 3/4 length jeans with cuffs (or roll your full length to create this effect). Please make sure your 3/4 length pants have slim, narrow legs, or are tapered, unless you want to make your legs and you look extra short!
You'll find shorts in all lengths from really short to below the knee. Now is a good time to replace any worn out knee length shorts, there are a few options around, including jean shorts
Dresses
Silhouettes include something for everyone:
Fit and flare -- great if you have an hourglass silhouette or a triangle body shape (though make sure the flare is in a fabric that creates a subtle A-line shape, rather than exaggerating your wider bottom half).
Boxy and stiff -- in contemporary takes of 60s styles
Boxy and soft -- in shifts and tunic styles (layer tunics over pants, skirts or dresses)
Semi-fitted -- works for every body shape. Good for the office
Fitted -- body-conscious styles
Lengths are still mainly around knee-length, some midis (just above or just below mid-calf, don't let the hem end at the widest part of your calves) -- we'll be seeing more of this length son -- and some full-length maxis.
There are still many peplum styles around -- take care the peplum doesn't end at your widest part!
Skirts
There still aren't many skirt styles around. What there is is mainly tapered or straight and around knee length and some full, dirndl-styles. There are some knee-length, straight jean skirts, in white as well as blue.
I was expecting to see more of the midi-lengths I was seeing in Europe, but they don't seem to have made it here yet. There are also a few full length skirts available.
Cardigans & Jackets
As an alternative to a cardigan, a jacket takes an outfit up a notch or two in smartness. There are still many jacket style choices around this season for both going out and work. Styles include:
Around hip-bone length blazers and tailored jackets
Crotch length blazers
High hip-length denim jackets
Cardigans
are long-line and floaty, shorter and floaty, or shorter and more classical feminine-styles.
Tops
Short sleeves -- there are more options with sleeves this year. Good news if you dislike displaying upper arms, or if you've got a triangle body shape!
Shirts -- in crisp linen, and soft cottons. Tie the ends of longer-style shirts, for a contemporary, casual look
Kaftan-style tops -- great for beach cover ups or paired with shorts, or skinny or slim pants or jeans
Crop tops -- only for the young and then only those with well-toned, trim figures please!
Accessories
Shoes & Sandals
Toes: pointed and almond. Toe caps in a contrasting colour add a twist to classic pumps
Heels: flat, and high, but some nice medium-height varieties too. Styles include: wedges; stiletto; stacked. Platforms with all heel variations, including flats (I think of this as Japanese-style
Ankle straps -- not so good if you don't like your ankles or calves. If you want to try this style anyway, look for skin toned straps to minimise the ankle and calf broadening effect
Other high vamp styles -- including strappy-gladiator-inspired variations
Sheen, shine and glitter -- metallic colours act as a great neutral shoe to go with many outfits
Snakeskin -- in earthy tones, also acts as a great neutral
Casual flats include: Birkenstock sandals (perhaps because they've currently got some fun colours? I'm yet to be conviced as to their comfort, they seem so stiff!); ballet flats; oxfords and sneakers.
Necklaces -- there are many fun statement necklaces around in tribal-inspired styles. Collar-bone lengths create a great collar-effect on simple, high-necked tops or dresses.
Spring & Summer Fashion Trends: Main Style Themes
Feminine -- style elements include: soft or sheer fabrics; dainty florals; dots; lace; fit and flare silhouettes; light and soft colours; modest lengths and necklines
Man-style -- relaxed, boyfriend jeans; blazers; crisp, man-style suiting; safari-style jackets
Bohemian (hippy even) -- comfortable, loose fitting clothes; ethnic prints; tie-die prints;
Luxe -- sheen, shine and textures. Created from sequins, beading, jacard, lace, metallic-look fabrics, satins and silks. In daytime outfits, as well as for evening attire
Eras -- The main styling eras include: 30s (Art Deco style elements); 40s (skirts below the knees, sweet knits and land-girl styles); 50s (fit and flare dresses); 60s (boxy styles)
Military styling -- metal buttons, epaulets, camouflage print
Punk -- black and red clothing, hard and raw finishes: netting, raw-textured fabrics; hardware such as chains, studs and spikes.
Comfortable -- looser fitting styles: boxy and stiff; boxy and soft; drawstring waists.
Spring & Summer Fashion: Main Fabric Trends
Fabric Types
Lace
Leather -- more for cooler Spring days! Used in bottoms, tops and panel inserts in garments
Linen -- I'm loving fine-linen tops, as a change from cotton!
Cotton
Silk
Viscose and rayon -- both manmade, but from wood pulp versus plastic, so they feel nice against the skin
Sheer, floaty fabrics
Fabric Prints and Textures
Florals -- big and bold; Liberty-style prints; garden-inspired; and abstract. A great way to express a feminine element
Dots -- another feminine element
Stripes -- horizontal, vertical and diagonal orientations are around. A masculine style element reminding us of maritime activities, and summer (though we may be seeing them this Autumn/Winter season too!)
Checks
Lace
Mixed fabrics, such as cotton or viscosse tops with semi-sheer polyester at hem-line
Mixed prints -- I'm particularly liking stripes with florals or dots (not on me personally, but those combinations have worked well for some of my clients). Do make sure there's some relationship betweent the 2 patterns, such as at least some colours the same in both prints. And check that the scale of the 2 prints work together.
Laser-cut leather -- creates a feminine look from a masculine fabric
Fabric Color Trends
There are many neon lights, brights, and pastels (muted and light), as you might expect at this time of year. Spring and Summer fashion colours include:
Greens -- the Pantone colour of the year. Mainly cool and neutral versions. Some clear, warm, Spring colours as well. Very few sludgy, olivey greens (sad for those of us with Autumn colouring)
Navy -- a great neutral alternative to black!
Blues -- light to medium hues. Mainly cool temperatures, but a few warm acquas and turquoises too
Whites -- pure white, soft whites, and light creams
Black and white
Reds, pinks, watermelons, corals, oranges -- bold and cheerful!
Yellows -- refreshing and summery feeling, but can be tricky to wear, unless part of a pattern, unless your skin is darker
Ways to wear colour include:
Going neutral -- with tones close to your skin tones, this is a challenging look to pull off and still look healthy!
Monotone -- Try pairing tones of similar colours, for a modern take on the monotone look. The monotone look makes you seem taller and slimmer!
Colour blocking -- try teaming separates in strong shades of very different colours. Or look for garments that already have colour blocks within the design. An especially flattering, slimming, version of this is where the design has a lighter or brighter panel in the centre of the garment and a darker shade on the outside!
Like This Page?