You are here: Style Resources > Clothing & Accessories >
Custom Made Shoes
> Shoes of Prey Review
Review of Shoes of Prey Custom Made Womens Shoes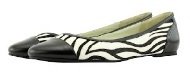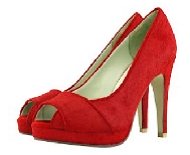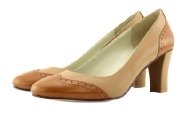 A selection of custom made womens shoes designed through Shoes of Prey
Shoes of Prey is an online store that provides an online shoe designer application to design your own custom made shoes. You start designing by selecting an initial template, then you customize all the details.
Your shoes are then handmade in quality materials and finishings. They arrive, amazingly quickly (in my experience), beautifully wrapped and complete with their own shoe bag and inserts (gel and leather sole inserts, and suede heel grips) in case you need to refine the fit.
Shoes of Prey is located in Sydney, Australia. However, they ship worldwide.
Below, I describe my experience with the whole process. I whole heartedly recommend Shoes of Prey and will definitely be designing and ordering more shoes from them!
What tipped the balance for me is that if you don't like your shoes -- for any reason -- Shoes of Prey will remake the shoes for you, and/or refund your money. You only pay for the cost of shipping the shoes back to them.
How my experience started
I first heard of Shoes of Prey (SoP), not long after the company launched, through my image consulting contacts. I think I took a quick look at their website then, thought it a brilliant idea, but for some reason never considered it for myself.
Then last year (2011), I had the opportunity to hear Jodie Fox (one of the 3 founders) speak at a business women's event. Jodie gave a very inspiring talk and I had an opportunity to talk with her afterwards. She is a lovely person -- very friendly, enthusiastic and generous with her time.
When I explained that I am an image consultant and could see her shoes being very useful to recommend to my clients, she kindly invited me to the SoP offices to see more examples of their shoes and to see the full fabric range.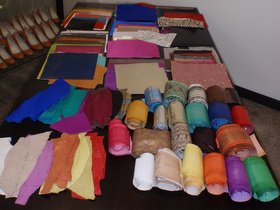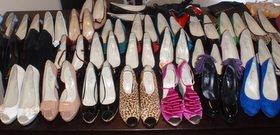 Beautiful Materials and Custom Made Womens Shoes from Shoes of Prey
I thoroughly enjoyed the hour I got to spend with Jodie and instantly fell deeper in love with their shoes! The fabrics and quality are really good. And the thought of designing my own custom made womens shoes to end up with shoes that are both comfortable and fashionable was very exciting!
How I'll use my custom made womens shoes
The thing I find most challenging about packing, for any trip, is limiting my shoe selection to 3 or less. Every year I visit the UK. I like to take 1 pair of shoes for day wear (smart casual), 1 pair of sandals that will also double as evening shoes, and often I need serious hiking shoes.
I have bought a pair of ready made low heel ballet flats previously. However, their fit isn't good -- they're a bit too big, which means, that even with gel inserts, they're not as comfortable as they should be. I have 6.5 size feet and most shoe manufacturers don't make half sizes.
So, I focussed the design of my first custom shoes on comfortable, low heel covered shoes for smart casual day wear.
I visit the UK in summer, but (due to how wet and cool British summers often are) I often find I need covered shoes. However, because I wanted them for summer I decided I didn't want them too dark. I prefer low heels rather than flats -- I find they're better for my lower back. And I wanted them to be fun, fashionable and go with as many outfits as possible!
Ballet flats, but with a small heel, in a trans-seasonal color would fit the bill. Plus they'd be useful for every day wear here at home in Sydney too.
SoP quickly responds to queries
SoP has ballet flats, but no option for selecting anything other than the standard flat heel. So, the first thing I did was use the "Contact Us" form to see if they could do a small heel. I quickly received a reply back saying they can do a "nearly 1" heel" on ballet shoes. Perfect!
If you don't see what you want, ask!
I notice the designer still doesn't have the small heel option available for ballet shoes. However, I checked with Jodie and she said you can either email in advance, or add a note to your order to request the "nearly 1" heel" option for ballet flats.
Designing My SoP Custom Made Womens Shoes
So, with all the above criteria in mind, I started using the online Shoes of Prey designer.
I do confess, I enjoyed playing with the designer so much I initially got rather side-tracked and excitedly designed half a dozen or so other styles of shoes before I got back to focussing on my low heel ballets!
With the SoP shoe designer you start by selecting a bare-bones style closest to what you have in mind. Then you vary the heels, toes, and decoration and choose your material(s) and trim. It's very easy to use. And lots of fun!
If you create an account you can save your designs and return to them later. This is useful for experimenting with different styles and making your final decision.
It took me several weeks to work out what I most wanted for my first pair of custom made womens shoes. And then a few days more before I settled on this design. The main material is light tan with black genuine snake skin, with chocolate brown soft leather trim and heel. Here's something of my thought process...
They had to go with my warm autumn coloring (warm and muted), since that's what my clothes are
I love animal and snake prints
Even though there is black in the snake skin pattern I figured that since it's mixed with tan and trimmed with brown it would look brown rather than black (and it does)
I used the SoP gallery and my knowledge of current shoe trends (from what I was seeing in shops and in fashion magazines) to help visualize my final design
One-off bonus
I also asked Jodie if they had plans to introduce strappy sandal options to the range. She said they're considering it and are always adding to the design choices. In the meantime, I feel very privileged to have had these sandals (see below) made for me to my specification. They're in the coppery-bronze shiny soft leather, with a 2" stiletto heel (comes out as a kitten heel at this height).
If I hadn't had these made, I would have used that material for peep-toe sling-backs.
My custom made womens shoes arrive!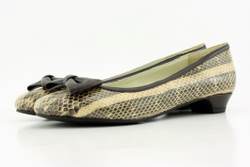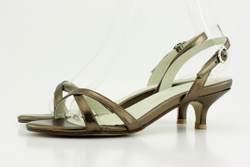 I expected my shoes to arrive in about 6 weeks, instead they arrived in just under 2 weeks!
A lovely touch is the photos they send you of your actual finished shoes, as they ship them! (As you can see, the snake skin print can vary from what you see in the designer).
I love both pairs of my custom made womens shoes from Shoes of Prey. Especially the low heel ballets, which are the most comfortable pair of shoes I own!
Now I'm working on designing my next pair! What Shoes of Prey shoes will you design?
April 2012 Snake Shoe Boots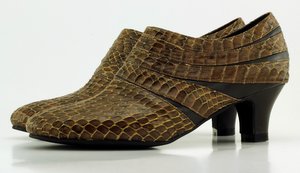 These are my next pair of custom designed SoP shoes (well shoe boots actually)!
This pair didn't work out the first time -- I kind of expected that they wouldn't, since I have fat ankles, relative to my foot length.
I worked with a lovely SoP "Customer Happiness" girl to work out how the ankle opening (the vamp) needed to change. The re-make fitted my ankles perfectly and were delivered to me within a couple of weeks.
These (and my snake ballet flats, above) were the shoes I wore most often this winter!
February 2013 Update
I am proud and delighted to announce that I've been selected as an independent stylist for Shoes of Prey! I now offer a range of shoe styling services from individual private consultations to running shoe parties.
> Click here for details of my shoe styling services
Like This Page?