Hello {!firstname}
I'm back from my world trip and rareing to go! I've had a great time researching the northern hemisphere's fashions for the Fall/Winter 2010/11 season in France, England and the US. I'll have more on this subject for you next month.
I did so much 'research' that it's just as well the baggage allowance from the US is more than from Europe and that I'd packed light when I left home! I'd forgotten how much I love shopping in the US and how much cheaper, than either Australia or the UK, the clothes are!
Enjoy this month's Style Snippets. Until next month, all the best

PS I always welcome your feedback, so please contact me with anything you'd like to see either on the website or in this newsletter (reply to this email or use the Contact Me link below).
Wardrobe Clearout Time!
It's that time of year again! The seasons are changing: getting cooler in the northern hemisphere and warmer in the southern hemisphere. So it's a great time to clear out your wardrobe, put away off-season clothes, bring out the new season's clothes you had packed away and plan your wardrobe for the new fashion season.
I give you a systematic way to approach this here.
Gap comes to Australia!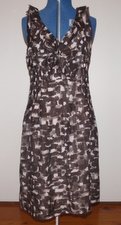 Gap Dress
I'm very pleased to report that the American clothing store Gap has opened in Australia! The store has been in the UK for many years.
Gap has long been the source of some of my best basics such as t-shirts and cardigans. And I've also found some great core wardrobe items there, such as pants. And this year, while I was in the UK, I bought a lovely silk and cotton sleeveless dress with a ruffle neckline that is set to become a favorite (see photo).
The first Australian store is in Melbourne's Chadstone shopping centre. The next to open will be in Sydney in October. Great, so I no longer have to wait for my annual UK trip to re-stock!
For updates see Gap's Australian website.