what to wear in your 60s
by Brenda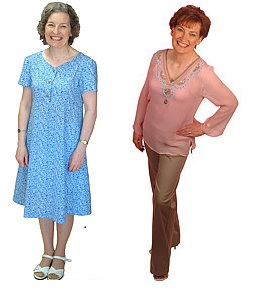 Examples of: what not to wear (left) and what to wear (right)
I am 63, and don't buy many clothes, but I am always kind of confused on what to wear for my age group.

I have always paid attention to style fashions for each season of the year, but now that I am older, I don't want to look like my daughter, or my grandmother!

It seems very hard to find a balance at this age?
I am 5ft tall 125lbs blue/grey eyes, a light spring in colors...

fair skin/freckels, sandy blond hair...

Thanks
Brenda

Jane's answer... Hi Brenda. This is a great question. It deserves at least an article on how to dress well for your age and even a book or it's own website!

The secret to looking stylish in your 60s is actually the same as looking good at any age. The fundamentals are...

Great grooming -- this includes your hair, makeup and well maintained clothes


Wearing clothes to suit your coloring


Dressing to flatter your body shape -- using contemporary styles


With the style fundamentals mastered you can then
plan your wardrobe
taking into account
your lifestyle
and
your personality
.
One of the reasons it can become difficult to know what to wear in your 60s (50s, 40s, or even 30s -- any time you have a style confidence crisis) is that your body shape and coloring may well have changed since the last time you worked out what you should wear. So suddenly it seems that your current clothes no longer work for you. And it's easy to feel you've lost your way, or got stuck in a style rut. One of the first things to do is reassess your shape, coloring and grooming.
It's good that you stay in touch with current styles. I always recommend using style magazines or style websites to periodically keep in touch with what's contemporary. And each season I add my
trend update articles
to outline the main trends. The challenge is that the fashion industry tends to target young women, so you need to learn how to interpret what you're seeing.
Almost any fashion trend can be adapted if you know some general guidelines.
Here are some tips...
Avoid age related stereotypes associated with young girls -- no minis, short shorts or leggings worn as pants no matter how great your legs are


Avoid age related stereotypes associated with the elderley -- in presentations I often ask my audience to call out their image of a little old lady. Responses always include things such as: shapeless cardigans; buttoned up, peter pan collars; purple dye perms; pale, muted, dusty and greyed colors such as dusty pinks, mauves, blues and greens; small florals; mid-calf pleated skirts. Pleated trousers; trousers that don't cover the shoe; baggy, shapeless clothes; and unattractive footwear also belong in this category


Start with a good foundation. When was the last time you got measured for a bra? Or bought a new bra, for that matter? Make sure your underwear is smoothing and firming your figure, not adding to the problem areas. Read more about good foundations here.


Disguise problem areas either by covering, or by emphasizing a good point and de-emphasizing the problem spots. For example: cover flabby upper arms with a three-quarter sleeve; bring attention to your face with a scarf or earrings; don't wear light colors on areas you want to minimize.


Since you don't buy many clothes make sure your core wardrobe items such as pants, skirts, jackets and coats, are the best quality you can afford. And make sure they fit perfectly (it's worth having garments altered if you can't find the exact fit off the rack). If you choose classic styles, rather than items with exaggerated design elements, they will remain contemporary longer. These core items should be in your most flattering dark to medium-dark neutrals such as black, charcoal or chocolate.


Supplement with good quality shirts, blouses, knitwear and tops


Show your personality and update your look with accessories and cheaper fashion tops


Update your haircut and color. Choose a contemporary style that's shoulder length or above, with layers to add volume and movement. Keep the style soft and off your face. Try virtual hairstyles and colors to get ideas to communicate to your hairdresser.


Update your makeup. I often suggest that my clients have a makeup lesson from a makeup artist (rather than a free one from a department store) to work out how to update their beauty routine. The 'Beauty at Any Age' ebook, by Diana Pemberton-Sikes, gives some great tips to update your beauty routine.


Your main aims are to create stylish, smooth, lines using contemporary clothing styles that flatter your body shape and coloring, using 1 or 2 focal points (using accessories or color) to direct attention where you want it. And to have fun re-defining your style!
Ideas for what to wear in your 60s
The pictures below are of real clients who are in their 60s (faces cropped to protect their privacy). Please note that neither client is a Light Spring coloring, but hopefully you can use some of the ideas for garment styles and outfit styling.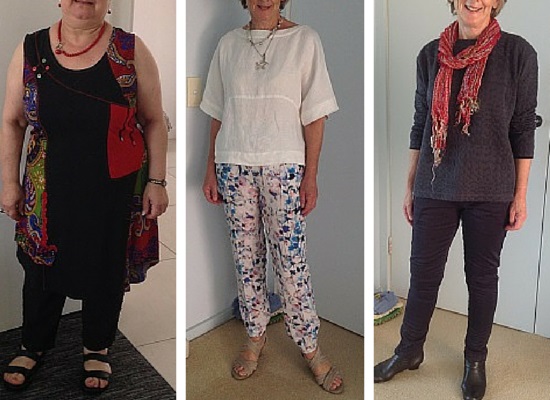 Ideas for What to Wear in Your 60s for warm weather and cool weather