Dressing to Flatter Your
Body Shape

Workshop

"Dress to flatter your current shape and
create the illusion of the ideal body shape"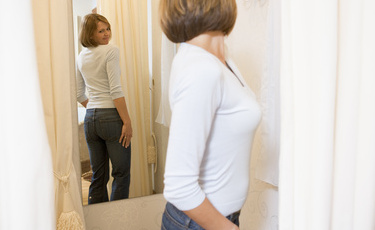 "Does my bum look big in this?"
Do you know the clothing styles that suit you best?
Do you struggle putting together outfits that work for you?
Has your shape changed recently and you no longer know what works?
If you don't always feel you look your best you may be heartened to know that dressing stylishly is a combination of science and art. The science is easy enough to learn. And understanding a little art theory, together with a bit of psychology, can take you a long way towards creating the art of style too!
Dressing for your body type is one of the fundamentals of looking great. So, in this workshop I introduce you to the science of body shape and how to use concepts borrowed from the art world to create the illusion of the perfect shape.
You will discover:
The 6 horizontal body shapes
The 3 vertical shapes
How figure variations affect the main shapes
How to assess your proportions
How to create an illusion of the perfect proportions
What you can compromise when buying clothes off-the-rack, and where you should never compromise
Book Here
When: Wednesday 19th November 7pm to 9.30pm
Where: Avalon (on Sydney's Northern Beaches). I'll send you the address after you've booked.
Price: $49
To keep the workshop personalised and comfortable the workshop will limited to 12 women. Book now to avoid missing out.
Like This Page?