You are here: Style Articles > How tos > How to Buy Shoes
How to Buy Shoes:
Choosing your Best Womens Fashion Shoes
"Give a girl the right shoes and she can conquer the world" - Marilyn Monroe
Do you love shoes? I certainly do!
I'm often asked: "how do I choose shoes?". Since the right shoes add that perfect finishing touch to an outfit it's useful to understand how to buy shoes that flatter you.
The main considerations are to choose shoes that...
Flatter your proportions
Work with your outfit
Are appropriate for the occasion
Suit your personality
Oh, and I could add: that are comfortable! That would certainly be one of my criteria for how to buy shoes and from the many emails I get asking where to find comfortable womens fashion shoes, I know I'm not the only one. However, that may not be one of your top concerns.
Let's look at each area in turn...
How to buy shoes to flatter your body proportions
Anatomy of a shoe
First let's look at the parts of the shoe to consider...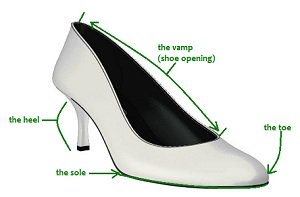 How to Buy Shoes:
The parts to consider(Image courtesy ShoesofPrey)
The vamp -- this is the opening where the foot goes into the shoe. Straps that come higher up the foot typically give the effect of a high vamp. Shoe boots and ankle boots are classed as high vamp shoes. A lower vamp makes your legs look longer and your foot slimmer.

The toe -- can be open, closed or peep-toe and varies in shape. Closed shoes are typically seen as more formal than open-toed shoes (with the exception of evening wear) and are always suitable for work.




The heel -- heel heights vary from flat to ultra high. Heel styles vary from skinny, such as stillettos, through chunky, stacked styles to a wedge, which is the most supportive to the foot. Thicker heels make the shoe look heavier.

The sole -- varies from thin to platform. The thicker the sole, the heavier it appears.
Body proportions
The proportions you should consider are...
Your vertical body shape
The size of your ankles, calves and thighs
The length and width of your feet
The vertical body shapes are: balanced; short legs, long torso; long legs, short torso,
The balanced body is the perfect vertical proportion. The aim of the person with this vertical body shape is to keep their vertical shape looking balanced. For example, if you have a balanced body and are very slim your best shoes will not be ultra-high heels.
The aim for the other 2 proportions is to give the illusion of a balanced body by making proportionally long legs look shorter and proportionally short legs look longer.
The elements of the shoe that affect perceived leg length are...
The heel -- the higher the heel, the longer your legs will look
The sole -- the thicker the sole, the longer your legs will look
The vamp -- the lower the vamp, the longer your legs will look
The toe -- the longer and more pointed the toe the longer and slimmer your legs will look. However, long, slim toes also make your foot look larger.
The color -- nude color shoes (those that blend with your bare leg) or colors that blend with your hosiery and hem color will make your legs look longer
Conversely, to make your legs look shorter, wear flat shoes, with a high vamp, rounded or broad-square toes and thin soles, in eye catching colors.
Calves, ankles and thighs
If your calves, ankles and/or thighs are chunkier your best shoes will not be too exteme. That is, not too delicate looking, or too heavy looking, since either of these looks will bring attention to the thickness of your legs. For example, a medium width stack or column heel will work better than a stiletto or kitten heel.
Feet
The toe shape of a shoe will affect the perceived length and width of your foot and can make your feet and legs look longer and slimmer or shorter and fatter.
Round toes, such as Mary-Jane styles will make your feet look wider and your legs shorter. Pointed toes will make your feet look longer and slimmer.
How to buy shoes to flatter your outfit
Current fashion trends give much broader option than just choosing shoes to match the color and style of your handbag. If your style personality is Classic you may still favor this look, but beware it can be seen as too matchy-matchy and boring!
| | | |
| --- | --- | --- |
| Here my shoes pick out brown of leggings and dress and echo the snake skin pattern of the dress | These shoes are more like my skin color, so have a nude effect, making my legs look longer | These sandals echo my hair color and so tie my shoes into my overall look and create a balancing effect |
However, your best shoes for any outfit will tie in with some aspect of your outfit for one or more of the following...
Color -- the best choices are (see picture examples above):



Pick a color within your outfit. If you tone your shoes with your hose and hem your legs will look longer. If you want to wear a fun, bright color such as red, and you don't have proportionally long legs, make sure you wear some of your shoe color above the waist, in your outfit (for example, a necklace that includes your shoe color)


In spring and summer nude shoes (shoes that tone with the skin color of your legs) can be a great option, since these will go with a large number of outfits and make your legs look slimmer. Nude shoes may also allow you to wear a higher vamp than would suit you in a more contrasting color (for example, a nude gladiator style)


Your hair color -- this has the same balancing and tie-in effect as picking a color within your outfit. The shoes don't have to match your hair exactly, but be similar enough to have a tie-in effect



Texture -- sometimes it's enough to repeat a texture within your outfit, even when there's no color in common


Theme -- keep shoes in the same general theme as your outfit (though don't make it too "costume-like"). For example: a leopard print dress and a snake print shoe; a tribal look, with a beaded wooden shoe


Level of formality -- match the level of formality and perceived weight of the outfit in your choice of shoes. For example, heeled pumps (courts) are good with a suit, casual sandals are great with a summer day dress; an evening dress with a dressy sandal. Typically, the heavier a shoe looks, the more casual it is. Matt shoes are seen as more casual, shiny is seen as dressier
How to buy shoes appropriate for the occasion
Of course you should also take into account...
Form and function -- if you need to do a lot of walking that might rule out killer heels!

Time of year and weather -- for example, more covered shoes for cooler and wetter weather; lighter, more open shoes for warmer, drier weather

Time of day -- evening shoes are typically dressier, shinier, skimpier (lighter looking), and more embellished, than day time wear

Level of formality of the occasion. Heeled pumps are a classic choice and always appropriate for office work. Funky sandals or boots are more appropriate for a weekend lunch with friends.
How to buy shoes to suit your personality
As with clothes, you'll like your shoe choices best if the style of shoes you buy suits your personal style.
For example, if your main personal style is Classic you might like a black, mid-heeled pump. If your main style is dramatic, you might like a pair of ultra high, platform, peep-toe shoes is the latest bright fashion color, or in a snake skin print.
More Tips for How to Buy Shoes
When trying on shoes...
It's best to try on shoes at the end of the day, when your feet are largest (especially if you've been sitting all day and the weather is warm)
If you're intending to wear the shoes with socks or hosiery make sure that's how you try them on
We all have one foot at least a bit larger than the other, so make sure you try on both shoes for fit
Make sure there's enough room for your toes in the toe box of a covered shoe. There should be a bit of space between your longest toe and the shoe
Stand up and walk around in the shop to make sure the shoes are comfortable. If the upper part of the shoe is leather they will stretch a bit. Shoes may rub a bit until you've worn them in, but if they're uncomfortable in the shop, don't buy them!
If you're
buying shoes online
, make sure...
The online store has a good returns policy
You check the sizing scale the store uses. Sizes vary by country. A good online store will show you conversions between the different types of sizing schemes
Buy the larger size you usually take (unless you know the size you take for the particular brand). For example, if your shoe size is 6, 6.5 or 7 (depending on the brand) and the online store only has whole sizes, buy a 7 and use gel sole inserts and/or suede heel grips to correct the fit
Want to Know More About How to Buy Shoes?
For more help with how to buy shoes, including lots of lovely photos showing examples, on how to choose your best shoes (and to learn a lot more about all types of accessorizing) I recommend "The Finishing Touch" ebook by Imogen Lamport. Imogen also gives guidelines for how to choose the different shoe types for a shoe wardrobe so you always have appropriate footwear.
Related Articles
Custom Made Shoes -- are you having difficulty finding the right shoes? If so, it's worth considering custom shoes.

The Magic of Accessorizing -- do you know these 3 key accessorizing tips to keep your look stylish and contemporary?
Like This Page?