Wardrobe Magic: Outfit Ideas Workshop
"Ideas for mixing, matching and layering"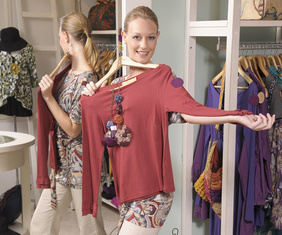 This workshop is for you if you:
Struggle to consistently create outfits you love to wear
Usually wear your clothing and accessories in the same combinations
Sometimes feel you're not dressed appropriately
Often buy wardrobe "orphans" that don't work with anything else you have
Are bored with your look
If you're like many of my clients you often find it challenging creating inspirational outfits from your wardrobe. It could be that you're missing 1 or 2 items that would take your outfits from just ok to fabulous. Or you may already have the items, but have got into a rut of wearing your clothing and accessories in the 1 or 2 same ways each time.
Maintaining an inspirational wardrobe is one of the 6 essential steps to achieving "effortless" style. Learning how to create a mix and match wardrobe (also called a capsule wardrobe) can mean you need fewer items in your wardrobe so you get better value from your clothing and accessory purchases.
In this fun, practical workshop...
You'll learn how to:
Play in your wardrobe
Wear your clothing and accessories in many different combinations
Wear the latest colour trends in a flattering way (if you want to)
Look for inspiration for new outfit ideas
Plan your wardrobe
You'll bring a good range of your clothing with you, focussing on the upcoming season, including:
Key pieces (dresses, tops, bottoms, jackets and coats)
Neutral layering pieces (camis/tanks, leggings/jeggings/opaque tights, cardigans, tees)
Accessories (shoes/boots, scarves, jewellery, handbags)
Bring items you love and want to get more wear out of and also an item or 2 you'd like to wear, but haven't worn at all, or as often as you thought you would.
We'll also look at:
The other 5 steps to achieving savvy style
Wardrobe essentials
What suits you
What you should get rid of
What to buy
Come prepared to have fun in this grown up version of dress-ups! We'll record your new outfits with photos and wardrobe charts, so you can remember what looks good on you.
How to Book
Scheduled workshops
You can attend this workshop by booking into a scheduled workshop run out of my home in Avalon (on Sydney's northern beaches). To keep the workshop personalised and comfortable numbers are limited to 6 participants.
Click here to see scheduled workshops and to book
.
Private workshops
You can also book this workshop, or a variation of it, as a private workshop for a small group of women. I can run this event either from my home in Avalon, NSW, in your home, or your selected venue.
To book contact me.
Like This Page?