The Finishing Touch eBook Review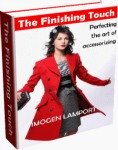 Review Summary: "The Finishing Touch" ebook, by Imogen Lamport, is the ebook on accessorizing that I now recommend to all my clients.
What I particularly like about this ebook on how to accessorize is it clearly shows you...
Where to start accessorizing and why
How to finding your most flattering jewellery placement and accessory shapes
Lots of really good information on choosing shoes, including the latest thinking on colors
27 (I may have slightly mis-counted, but a lot anyway!) ways to tie a scarf, including a link to a step-by-step video
Pros: Covers the latest thinking on how to choose accessories that flatter you (your body proportions, your features, your coloring and your personality) and add that flattering finishing touch to your outfit. I love the way Imogen uses both photos and descriptions for each point she talks about.
Cons: None really, except maybe the few typos that distract a bit every now and then.
Rating:

What "The Finishing Touch" Includes
"The Finishing Touch" is a very good name for an ebook all about accessorizing. The name also summarizes a good reason for learning how to accessorize better. Imogen also gives you a few more reasons in the ebook's first chapter.
This ebook is for you if accessorizing is still a bit of a mystery and you find yourself wondering...
What to choose?
How to put accessories together?
What's too much?
And even if you've mastered some of the basics of accessorizing this ebook will take your ability to finish your outfits to the next level.
The accessories included
The broadest definition of clothing accessories includes everything added to your appearance other than the outfit itself. This includes...
Shoes and boots
Hosiery
Outside wear such as coats
Hair styles and ornaments
Makeup
Jewellery
Eye glasses and sunglasses
Hats
Scarves and ties
Belts
Bags
Imogen's coverage of the topic includes everything except...
Hosiery
Outside wear
Makeup
What you will learn
As you might expect there are sections for each of the different types of accessories. Imogen also goes into a lot of useful detail about how to select accessories that work with...
You -- your shape, your coloring, your features, your personality
Your outfits
Other accessories
Focal points are a particularly important aspect of dressing to flatter your shape and Imogen gives great descriptions and illustrations of what a focal point is and how to create them for different areas of your body. Even if you think you know what a focal point is I find it's always useful to see more examples.
Learning about levels of refinement and matching clothing refinement and accessory refinement is also very important and well described. Rules such as these are often broken now-a-days. However, even if you do choose to break this rule sometimes, it's best to do so knowing what you're doing!
The section on where to start is also very important and well described and illustrated. Imogen's saying "If they're looking to your eyes they're not looking at your thighs!" should give you a hint!
The information on working out your balancing points and the best accessory shape for your defining features is advanced thinking on creating harmony. Imogen makes it easy to apply these great concepts from the art world. (They were first applied to personal image and dressing by Carla Mathis in her book "The Triumph of Individual Style: A Guide to Dressing Your Body, Your Beauty, Your Self".)
I love scarves and wear them year round in place of a necklace. Thanks to Imogen and this ebook I've now learned quite a few new ways of tying a scarf!
You should also find the section on shoes and boots very useful. It includes selecting shoes to suit your feet, ankles, calf size and leg length. And different approaches for selecting shoe colors.
The section on glasses is also particularly useful. As well as discussing the best shape for your face shape it goes into design features to flatter facial features such as noses, eye spacing and eye shape.
What Now?
Get your copy of "The Finishing Touch" by Imogen Lamport. Learn where to start and then pick 1 or 2 aspects and start experimenting. When you've mastered those go back to the ebook and pick 1 or 2 more aspects to try.
With this ebook you will soon be accessorizing like an expert!