You are here: What to Wear >
Trend Watch
> Fall Winter Fashion Trends 2014/15

Fashion Trends for Fall and Winter 2014/15
The trend towards larger silhouettes and relaxed tailoring continues. Comfortable shoes and boots (such as flat Oxford shoes and knee length boots) align with the comfort trend. As do fun over-sized sweaters, slouchy pants and midi skirts. And practical, warm coats and capes.
If you haven't updated your silhouette for a while, it's a good idea to do so this fashion season to ensure your look remains contemporary. Have fun experimenting, and realize this new larger silhouette may take a bit of getting used to if it's new to you, so pick 1 or 2 . As always, I recommend you pick shapes, lengths and colours that suit you, your lifestyle and your personality.
Main Themes for Fall and Winter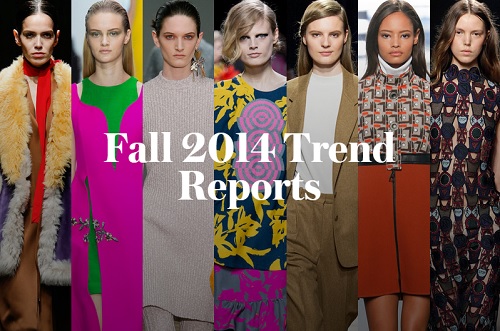 Fashion Trends FW 2014/2015
from Style.com
Style.com neatly summarizes the key themes that I'm seeing. Click through the slideshow above to see the images.
Warm & fuzzy texture -- includes feather, fur (pseudo fur and real), hair and shearling
Color -- bold, vibrant colors; earthy colors; but also whites and pastels usually associated with Spring and Summer. It's great to see greys and browns as well as black for neutrals
Cosy, over-sized knits -- patterns reminiscent of Alpine settings and skiing; and plain, textured knits too, including polar necks
Prints & patterns -- strong angular high-contrast graphics; snake and leopard prints; tribal-inspired prints; and abstract medium and high contrast patterns
Unisex and understated -- including man-style inspired tailored larger silhouettes and practical, more classical, minimal looks
60s mod -- clean boxy shapes; psychedelic prints
Fairy tale & fantasy -- glamorous, romantic or futuristic evening wear. Includes: long flowing dresses; lace, tulle and metallic finishes; sequences and beads
Main Style Elements for Fall and Winter
Like This Page?