Fall Fashion Trends 2011/2012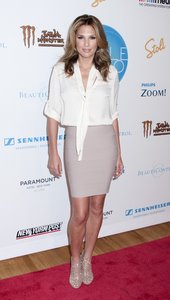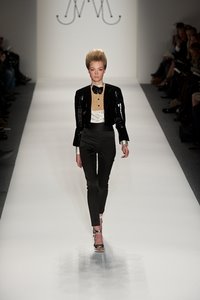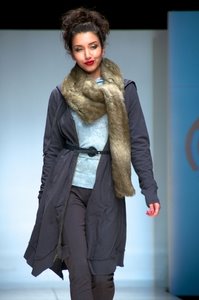 Photos by PR Photos
The 2 main fall fashion trends for 2011/12 are...
Yin or feminine styling, and the opposite
Yang or menswear-inspired styling
Create layers within one of these themes, or mix yin and yang in the same outfit for a creative, edgy look or a natural sporty look (like the photo on the right above).
Fall Fashion Trends & Winter Fashion Trends 11/12:
Main Style Elements
Dresses
While there are still many dresses around the emphasis this season is on pants and skirts.
Dress styles include shift, and fuller softly draped and floaty styles. For the fuller styles use a narrow belt either on the waist or loose over the top of your hips to give you more shape.
Pants and Trousers
Menswear-inspired medium-width straight legged trousers

70s-inspired flared jeans and pants (iron in a center crease!) -- make sure the hems are only just about the ground or they'll be too short (this means you'll need to pick the shoes or boots you intend to wear them with)

Slim, straight legged or tapered, cropped pants -- this style is challenging for most people to wear and look good in. Its best if you have proportionally long legs and are slim, otherwise it can make you look shorter and heavier! If you want to try this look anyway go for a monochrome look from your feet up through your legs (that is, choose a similar color depth for shoes, socks or tights, and pants)

Colored pants and patterned pants -- this look is best if you are tall, because the pants create a low focal pointl. To wear them anyway add a balancing high focal point above your bustline or choose a light or bright top
Skirts
Pleated skirts
Pencil skirts
Straight skirts
Midi skirts with thigh high splits
Lengths are on or just below the knee, plus the returned midi length (make sure the hem hits a flattering part of your calf: where your leg starts to curve out to it's fullest width, or below the calf where the curve comes back into your ankle)
Coats and Jackets
Trench -- especially, a new, shorter mid-thigh length
Practical Parka
Tuxedo jackets
Mens-style coats
Capes -- short and long styles
Leather jackets
Mixed leather and knitwear jackets
Tops
Feminine long-sleeved blouses -- these include: sheers; neckties; polka dots; softly draped silks. Buttoned up and worn with a necktie, either in the same fabric as the blouse or a contrasting color -- this look works if you have a smaller bust and at least a medium long neck. Otherwise unbutton and wear the tie loose (see the photo on the left at the top of this page)

Vests/waistcoats -- great for layering. Leave unbuttoned if you have a larger bust
Knitwear
Longer length, fine,

softly draped cardigans

Chunky knits

Fine-knit polo necks

-- this style is not for you if you have a larger bust or a shortish neck
Accessories
Shoes
Heeled pumps
Leopard prints
Loafers and brogues with high, stacked heels
Flats include ballet flats, loafers and brogues
Toes are mainly easy-to-wear almond shaped point
Boots
Ankle boots

-- styles include sturdy menswear styles and longer ankle boots
Scarves
Add a seasonal update to an existing outfit with a leopard print scarf, a curved feminine style, a fluffy fake fur, or a plain, quality menswear-style scarf.
Bags
Structured handbags

-- in stiffer fabrics

Box clutches
Belts
Narrow

-- worn on the waist or hip-slung to create a slouchy feel
Fall Fashion Trends & Winter Fashion Trends 11/12:
Main Style Themes
Chic feminine -- this look includes pencil skirts and buttoned up blouses, with or without a self-tie at the neck; polka dots and florals; lace; feminine-styled suits (think of a pencil skirt and flowing long-sleeved blouse)

Menswear-inspired styling -- menswear-inspired suits, including tuxedos; vests; loafers with or without heels

Vintage inspired -- includes all decades from the 1920s to 1980s, for example...
20s-inspired

: pleated skirt and sweater combo
40s isnpired

: pencil skirts
60s-inspired

: color blocking
70s-inspired

: flared jeans; wider legged pants; tie-die fabrics; psychadellic colors
Fall Fashion Trends & Winter Fashion Trends 11/12:
Main Fabric Trends
Fabric Types
Jersey knits
Chunky knits
Wool suiting fabric
Textures include shaggy fur, fluffy feathers, chunky knits
Fur -- real and fake. Look for fun, bold colors and well as black, browns and beiges. You'll find it in coats, jackets, vests, hats, collars and boot and shoe trims
Chiffon
Lace
Fabric Prints and Textures
Snake-inspired prints
Animal prints -- inlcuding leopard (especially in shoes and accessories) and zebra
Feminine polka dots
Flowers
Plaid and other checks
Fabric Color Trends
Black

-- is this

ever

out of fashion?

Reds

and other bright,

jewel colors
Related Article...
Have A Current Fashion Trend You'd Like to Share?
If you've noticed a trend that I haven't mentioned feel free to share it here.

Or, if you'd like to talk about a current fashion that you love or hate (regardless of whether it's mentioned on this page already) this is the place to do it.

Tell us what it is about the item or outfit that you love or hate. For example...

Do you love the way it flatters your body shape?


Do you hate the way it looks on you, but love it when you see someone else wear the style?
And if you have a photo to upload to illustrate your observation that would be great.