Michele's Style Makeover
The Brief
Michele wanted to develop a more "grown up" style. She found herself tending to wear jeans, t-shirts and jackets most of the time. She'd tried to get a better understanding of what she should be looking for by watching TV makeover shows, but had come to realize she needed more personalized advice.
She had already started working on her wardrobe organization, so she could more easily see what she has. However, she wanted to truly understand what clothes suit her body shape and her coloring and how to reflect her personality in her outfits.
Michele sings in a rock band. This, together with special occasions and going out, were the areas of her life she wanted to focus on first for her new look.
The Style Makeover Summary
We agreed Michele needed these services: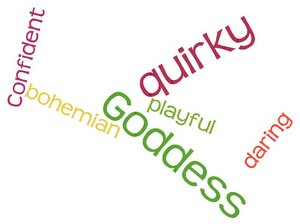 Michele's Style Words
We worked through these areas over a few weeks, starting with identifying Michele's personal style words (see the image to the right).
The first session we split into 2: an initial 2 hour session to discover Michele's style words, then a 1 hour session after I'd done her colors and body shape assessment, so I could bring everything together for her into her Style Formula.
Below is an outfit we put together via Skype for a singing gig Michele did shortly after the consultation. We used Michele's Style Formula, and my styling knowledge, to guide how we put this outfit together.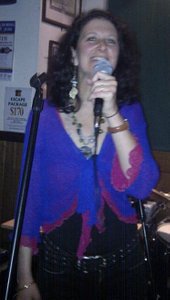 Michele Ignacio After Makeover
As you can see this isn't a professional photo. However, it gives a good indication of Michele's new personal style.
So much nicer than jeans and t-shirt!
(She emailed me to say: "I got some nice compliments. Thanks!
Yes I know the watch sort of blew the whole outfit! Will get another one that matches better.")
She how she's layered the mesh cardigan-jackets? This represents her bohemian, quirky and playful style words. They also represent the feminine part of her Goddess look, in the soft, flowing fabric. The single, statement earring can be seen as playful, quirky, confident and daring.
The Style Makeover Experience
Here is Michele's feedback about her style makeover experience...
Before choosing my style makeover services…
Q: What encouraged you to look for style makeover services?
A: My issue was not being able to go out clothes shopping with any sense of confidence in what looked good on me etc. In fact I was petrified with style, colour, etc. I played it safe wearing jeans, shirts, and jackets.
Q: Do you remember how you first heard about my services?
A: I had been to other websites eg Trinny and Susannah's "What not to wear" after watching their TV show. I wasn't confident as to picking my body style, and colour apropriate to my personality and look. I googled "long torso" and found your website and was impressed by articles and services. There were services in my local mall, but there was never anyone there to talk to about it.
Q: What were your major objectives at this stage?
A: Being confident to go shopping and know what suited me, what to look for. Changing my wardrobe to suit my style and colour.
Q: Were there any time constraints affecting your decision?
A: No.
Q: Why did you choose me?
A: The website looked informative and inviting. With technology I knew that even though you are in Sydney and I am interstate, that working with you could happen effectively.
Q: What were the major attractions of the solution?
A: Doing the style word appointment with the homework that you provided. Finding out face shape, body shape, finding colour and a tailor-made solution and shopping guide for further shopping and purging of clothes that don't work for me.
What was your experience of working with me?
Q: Tell me how you felt going through the style makeover process?
A: You were not judgemental, so I felt comfortable in discovering my style words etc. You are really enthusiastic with what you do and it shows! That transfers to a good experience working with you.
Q: What were your expectations? And were they met?
A: My expectations were to feel more comfortable exploring my fashion sense, of which I pretty much had none, and gain tools for changing my wardrobe in ways that flatter my body and personality.
Q: What are my strengths?
A: Good listener. Fantastic knowledge base. Easy to work with.
Q: What are my weaknesses?
A: There are none.
Q: Would you use my services again?
A: Yes!
Q: What advice would you give to others who are considering reviewing and improving their image?
A: Take time and play with their wardrobe and accessories. Look in fashion magazines to see what they like style-wise. Check out your website, review services you offer, sign up for your newsletter, have a session with you!
What did I achieve for you?
Q: What will you do now that you were not doing before?
A: Shop with confidence of what suits and not being afraid of purging and expanding clothes. Having a clothing plan with my particular style in mind.
Q: On a scale of 1 (poor) to 10 (excellent) how do you rate your experience with me?
A: 9
Q: What further services are you considering?
A: None, currently
Q: Would you refer and recommend me?
A: Definitely
Q: What would you say about me and my services?
A: See above
Q: Do you have any other feedback or comments for me?
A: Thank you for a great experience into myself and my fashion journey!
You can see and hear Michele and her band the Underground Orchid here.
Like This Page?