You are here: Style Articles > What to Wear >
Trend Watch
> 2020 Spring Summer Fashion Trends
2020 Spring Summer Fashion Trends in Australia
As I was researching fashion trends for spring summer 2020-21 it occured to me that trend reports written before March 2020 are likely to be well off what we'll be wearing this season. Even if we see more formal wear available to buy I think most of us will be looking for more casual wear.
The corona virus pandemic means many of us are still more home-based, or travelling within our own state (if we're allowed to travel). I also wonder how earlier lock-downs, both here and abroad, affected production of orders placed bc (before corona virus) and how many brands were able to adjust what they ordered for this current season?
So, the overall trend is for comfortable, casual clothes and smarter tops for those online-video meetings.
For some time I've been mentioning the rise of matching suiting. This trend has continued and expanded to include matching sets of casual tops and bottoms, I've shown examples below. If you do try this trend take care your casual set doesn't look too much like a pyjama set -- especially when you're choosing patterned items!
Images (from left): Country Road; Veronika Maine; Decjuba
Fashion Trends: Main Style Elements
Dresses
The dominant trends in dresses are: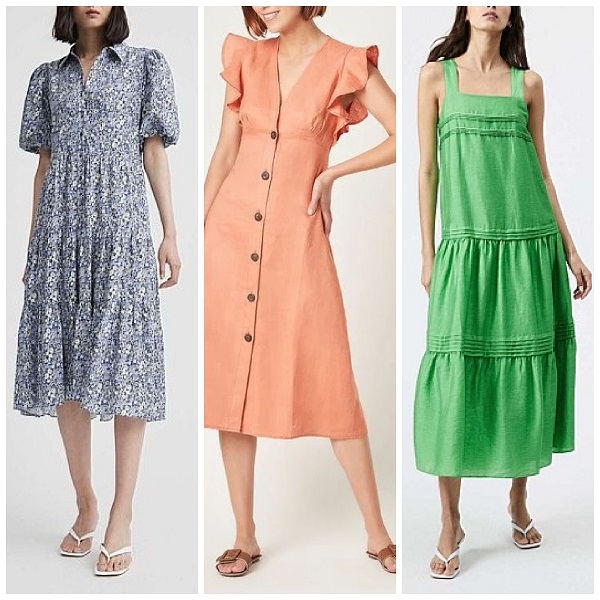 Images (from left): Witchery; French Connection; Witchery
Voluminous sleeves -- especially puff sleeves
Midi length -- although you will also find mini dresses, knee length and maxi dresses
Tiered styles -- some tiered styles have more shape to them than others. If you like this style (I do) make sure you check the silhouette works for your shape and that the horizontal lines of the tiers fall in flattering places on your body
You will also find wrap dresses, shift dresses, and a few shirt dresses.
Images (from left): Sportscraft; Trenery; Trenery
Pants and Shorts
The dominant trends in pants are:
Images (from left): Sportscraft; Decjuba; Witchery
Cropped lengths -- yes this trend continues! And it's a great option for women who don't like showing their legs (although challenging if you don't like your ankles!). The trick is to make sure the crop is at a length that suits you. Most often this will mean you need to have the length shortened -- it's worth making the change though as it can be the difference between dowdy and stylish! Wearing the right shoes or sandals will also help -- look for toe styles, strap styles and colours that create a lengthening effect
Slim to wide leg styles -- including a few kick-flare styles
Shorts range from very short to longer, just-above-knee lengths. And from casual denim styles to more dressy.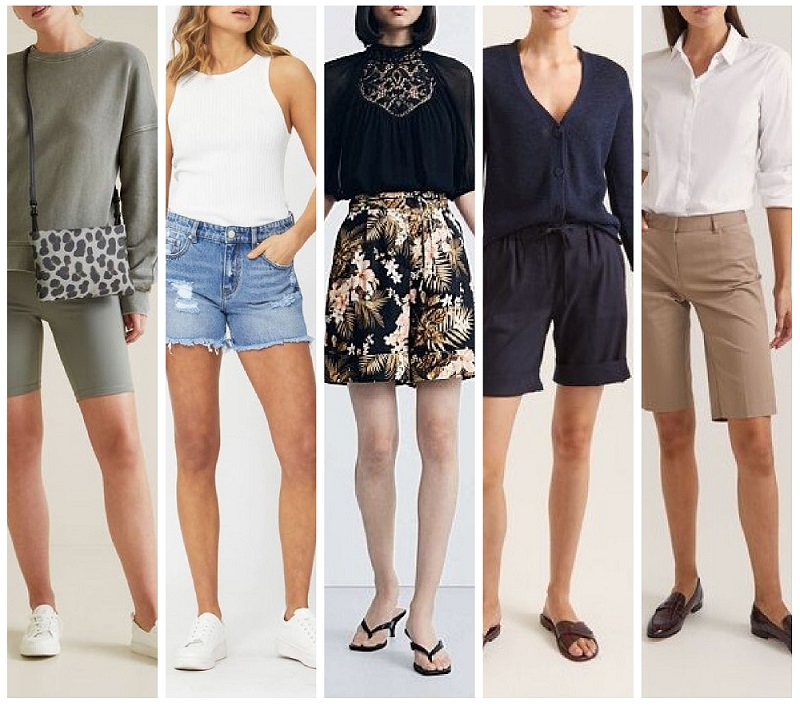 Images (from left): Seed Heritage; Decjuba; Witchery; Sportscraft; Sportscraft
Skirts
The main trends in skirts are:
A-line silhouettes -- from subtle to pronounce A-lines. There are also many single or multi-tiered styles. Pencil skirts are still available, but harder to find
Midi lengths -- although you'll also find above knee, mini and maxi lengths
Jackets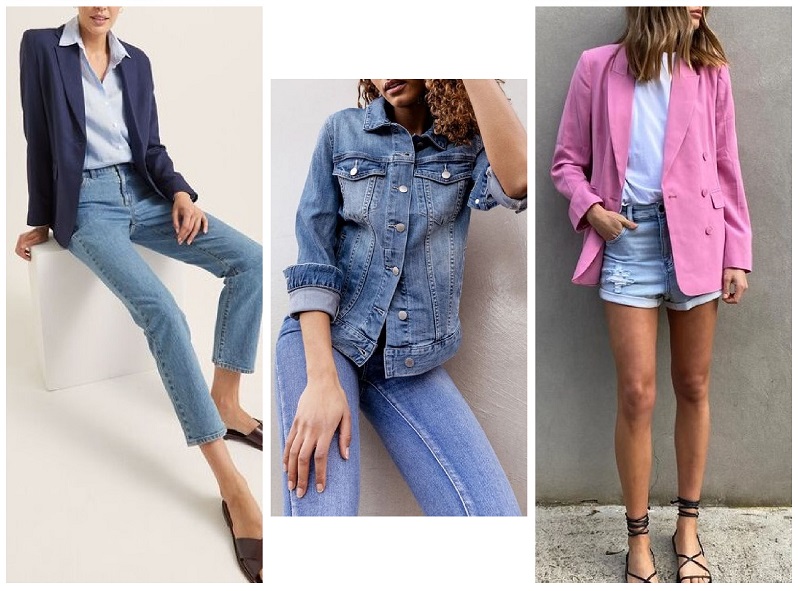 Images (from left): Sportscraft; Decjuba
Blazers remain the dominant trend in jackets. You'll find single-breasted and double-breasted styles.
Classic trucker-style denim jackets remain on trend, if you prefer a more fitted casual jacket style.
Tops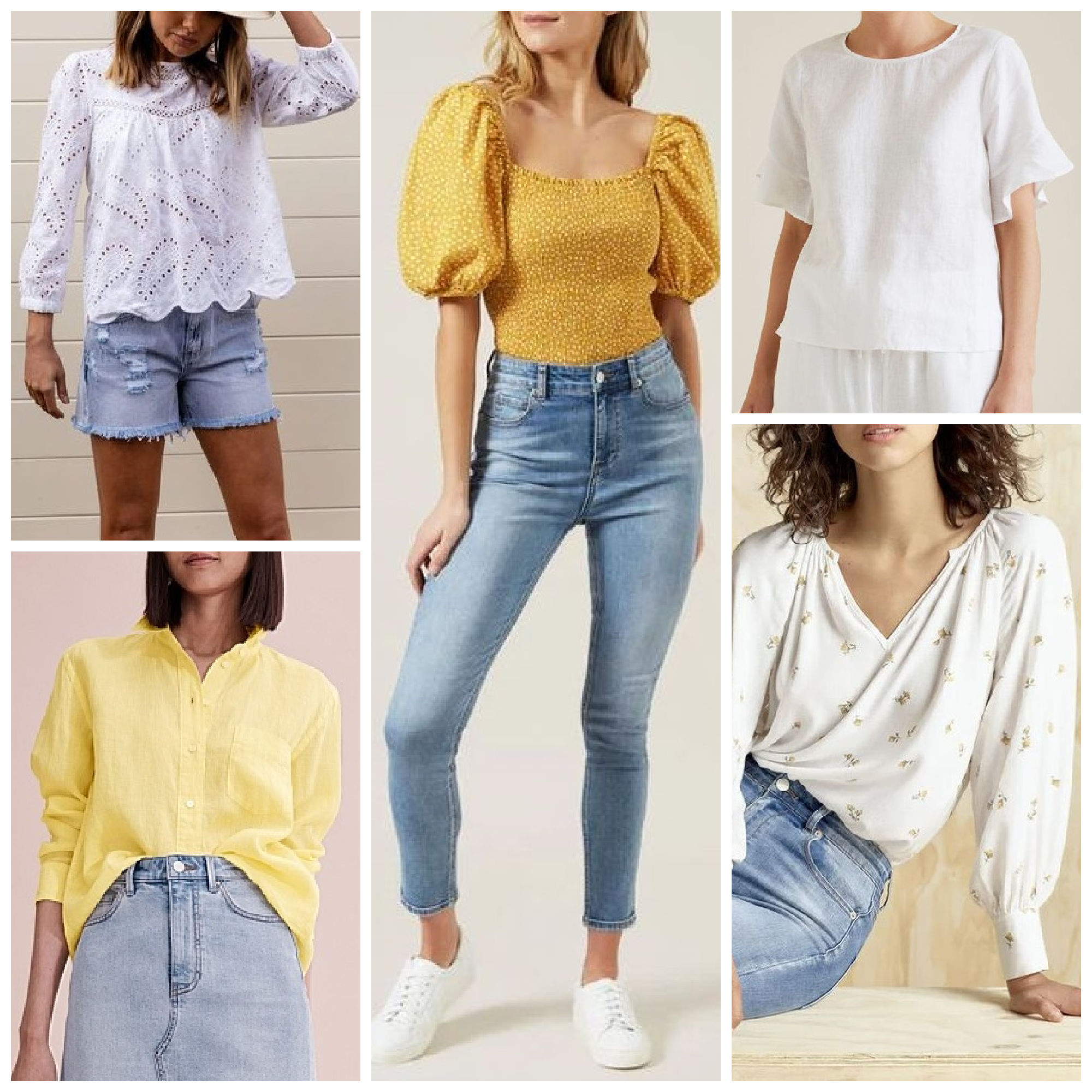 Images (clockwise from top left): Decjuba; French Connection; Seed Heritage; French Connection; Country Road
The dominant trend for all tops is puff-sleeves -- both short and long puff-sleeves. You'll also find short-sleeve flutter styles.
Shirts & blouses are still widely available. There are still many lace and broderie styles available and cool linen shirts in a range of colours.
Light weight knit tops include short-sleeved and sleeveless-tank styles.
Boxy, crew-neck t-shirts are widely available. Although you will find some v-neck and scoop-necks as well.
2020 Spring Summer Fashion Trends: Accessories
Sneakers and Sandals
In keeping with the trend for comfort sneakers remain a strong trend in footwear. The main sneaker trends this spring and summer are for: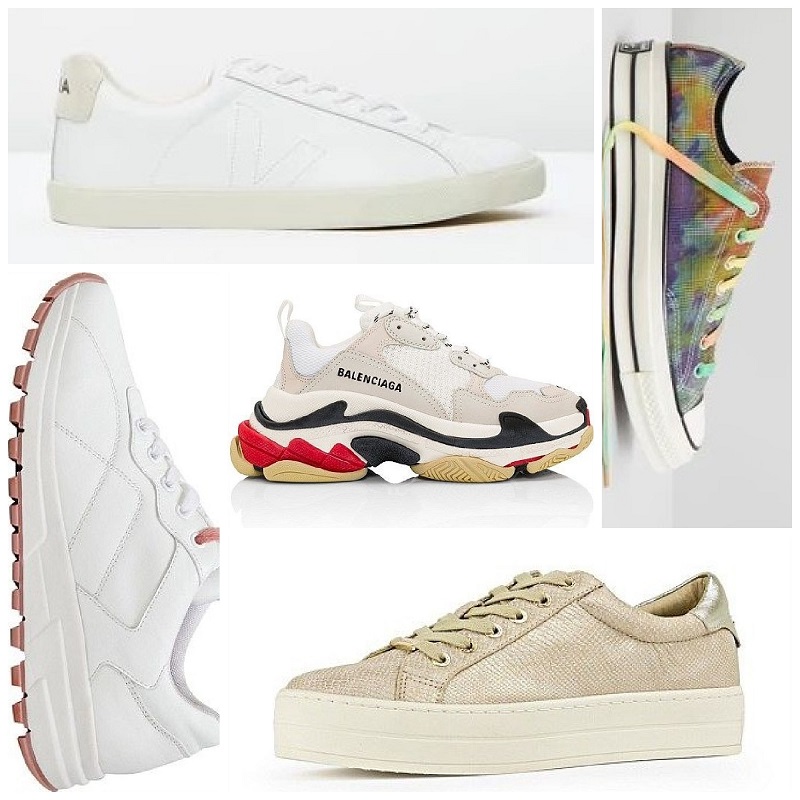 Images (clockwise from top left): The Iconic; The Iconic; David Jones; David Jones; David Jones
Tennis shoe styles -- especially all white tennis shoes, but you'll also find styles in different colours, both subtle hints of colour and full-on coloured versions. Flatforms are still a variation on the more traditional look
Track-training sporty styles -- in various degrees of chunkiness and many colour options
Futuristic styles -- such as chunky colourful, or monotone styles; and sock-like versions
Comfortable sandals are also widely available, in both flat and low-heeled styles. Long may the trend for comfortable footwear continue! Styles include: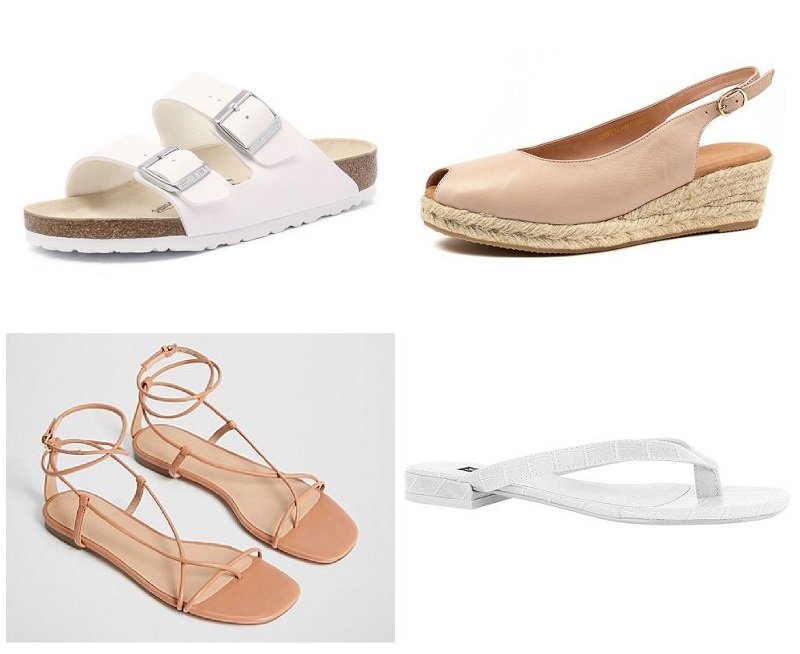 Images (clockwise from top left): Style Tread; Midas; David Jones; Witchery
Slides
Espradrilles -- in both wedge and flatform styles; closed toe, peep toe or wide straps
Thongs
Strappy
Square-toed sandals that started appearing 1 or 2 summer seasons ago are now more widely available.
Jewellery
Statement earrings are still widely available.
Above bust layered chains and pendants -- both fine versions and more chunky styles. You can buy these layered necklaces already layered for you, or create your own layers. With smaller earrings go for 3 layered necklaces. With bolder earrings 2 necklaces are often best.
Of course both these trends work well with online-video meetings where pendant and longer necklaces won't be seen.
Pearls are also trending, both cultured and fresh water pearls in a range of styles and sizes.
2020 Spring Summer Fashion Trends: Main Fabric Trends
Fabric Types
Linen is an especially strong trend this season, closely followed by cotton and high-percentage-cotton mixes.
Fabric Patterns and Textures
Florals, polka dots, and tie-die are the main pattern trends. Although stripes and animal patterns haven't totally disappeared.
Textures include ribs, broderie, and loose cheese-cloth
Fabric Color Trends
The dominant colours available include:
Whites and creams
Blues light blues, medium blues, navy
Earthy tones including warm browns, oatmeal and sand
Yellows especially cool lemon shades
Shades of red including pinks and corals
Khaki greens
Black
More Fashion Trends...
For more examples (and links back to the vendors) of 2020 spring summer fashion trends see my Pinterest board here.
Like This Page?