You are here: Style Articles > What to Wear > Casual Evening Out
Stepping Up Your Casual Evening Wear
When was the last time you fussed over yourself and got dressed up in a way that felt sassy, fun, or sexy? It's that feeling you get when you've given yourself a chance to look and feel special, just because.
I'm not only talking about getting dressed up because you're looking for a mate, or going on a date. I'm talking about any kind of evening out. For example: dinner out with friends; dinner or BBQ at your place; an evening concert or cultural event.
Do you have pieces in your wardrobe to pull-together an evening outfit that puts you in the right mood for the night?
It can seem like a lost art, but it doesn't have to.
You could be out of practice or have just forgotten how to pay yourself that kind of attention.
Is it time for a refresher on how to dress up for a casual evening out?
Here I share some easy ways to elevate your casual evening wear allowing you to feel confident and focus on enjoying your night out.
Ingredients for evening wear
The aim is to dress-up your look by adding some polish, glamour, or drama. Some fabrics, jewellery, colors and styles say evening more than others. By adding one or more of these evening-elements to an outfit you can transform a daytime look into a casual evening outfit.
Evening friendly fabrics
Dressy looking fabrics include:
Fabrics with a shine or sheen about them, such as fabrics with a smooth or polished surface, and fluid fabrics with sheen. For example: silk, crepe de Chine, silk jersey, silk crepe, satin, metallic finishes and polished cotton
Rich looking, textured fabrics such as velvet, brocade, and tapestry. These are usually winter fabrics. Also taffeta, slub silk
Filmy, semi-sheer fabrics such as chiffon, georgette, gauze
Lace
Fabrics embellished with sequins, sparkly crystals, or glimmering beads
Evening colors
Typically dark colors are viewed as evening colors, especially black.
However, in summer, especially in hot-climate places light and bright colors are also evening-appropriate.
If black isn't your best color, evening is the best time of day to wear it. This is because in low light we don't see colors as well as in daylight, so it softens the effect of wearing black (or any color that's not your best). It also helps to follow the usual guidelines for how to wear a color that isn't your best color (such as minimizing the black near your face and wearing a lipstick in one of your best brighter colors).
Evening style elements
Style elements that say 'evening' tend to be less practical, less robust, than day wear. More fanciful, more refined, or more flirty or fun. Here are some ideas to get you thinking:
Strappy tops and dresses. Or strapless, or one shoulder, or sleeveless. The cold-shoulder (cut-out shoulders) works well if you're not so fond of your upper arms
Layer a top with sheer or lacey sleeves to a sleeveless outfit. Or add a sheer or gauzey shrug or wrap. These both work well if you're not so fond of your upper arms
Full, fluid pants
A fluid maxi skirt with room to swirl
Textured slim pants, lacey or jacquard
A wrap-style (or pseudo wrap) silky top
A filmy, glittery, silky, scarf or shawl
Evening-appropriate jewellery
Images (clockwise from left): Lovisa; earrings above Decjuba; earings below Birdsnest; Mimco; David Jones
Real or costume jewellery with shine or sheen says evening, such as diamonds and pearls. As do metals with a shine or sheen finish.
Add polish with good quality jewellery (both real and cosmetic).
Add drama with oversized earrings, or a statement necklace, bracelet, or rings
Evening shoes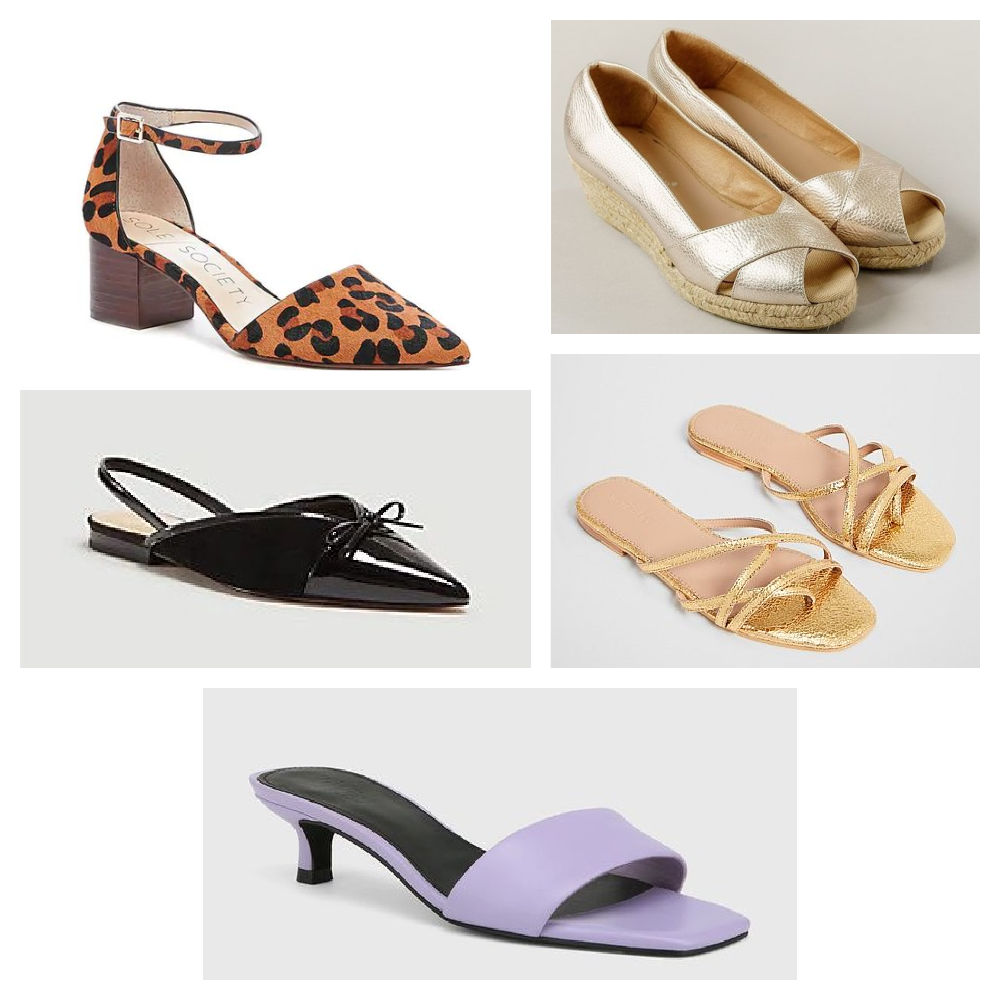 Images (clockwise from left): DSW; Blue Illusion; Witchery; Wittner; Ann Taylor
Shoes with shine (patent leather pumps), sheen, or metallic finish work well for evening.
Even a low heel may feel more evening-like, especially if you don't usually wear heels.
However, low heeled pumps or sandals with embellishments such as crystals, sequins, or pearly beads, will also work. Or flats in an animal print or metallic finish. Or opt for a fun color.
Evening handbag or purse
Images (from left) Amazon: studded rhinestone; velvet sequin; lace
Replace your daytime tote with a smallish evening bag or purse. This could be a clutch purse, or smaller shoulder bag. A bag with a metallic finish works with a wide variety of outfits. Or a bright or beaded bag might work for a change.
Now-a-days I find I need a slightly larger evening bag, even though I replace my daytime purse with a small pouch for cash and cards, I also want a bag large enough to hold my mobile phone and reading glasses as well as a lipstick and a couple of tissues. So I suggest you think about what you'll need with you for the evening to find the right-sized evening bag!
Evening makeup
For the same reason that black is easier to wear at night, evening makeup needs to be darker and/or brighter than daytime makeup. Even if you typically don't wear much makeup in the day applying some makeup for evening will add a level of polish and finish to your look.
If you need help creating an evening makeup look I highly recommend booking a lesson with a professional makeup artist.
Through the lens of your personality
Of course your preferences and needs for evening wear (as with any other area of your life) will be interpreted through your personality, where you live and the types of evening activities you're most likely to do.
However, for an evening out you may decide you want to focus on an aspect of your personality that isn't on show at work, or in your daily life. For example, you may wish to feel sexy, or more dramatic than usual.
So, pay attention to how different looks and fabrics make you feel. For instance: silky fabrics may make you feel more sexy; flippy dresses may make you feel more playful; bright colors may make you feel more dramatic, or more outgoing. Choose items that make you feel how you want to feel.
Casual evening wear examples
Here are a few ideas for mixing day wear with evening elements to get you started building your casual evening wear wardrobe. To help remember what you can create in your wardrobe do take photos that you can easily find and refer to when you need to quickly get ready.
To dark jeans, pants, or skirts add a top that says 'evening'. For example: a silky wrap top; or a leopard print blouse; or a lacey top
To a day dress in your best dark neutral add sparkly sandals or heels, chandelier earrings, an evening-friendly wrap and evening bag and bangels
To a column of color add a kimono, evening bag and statement earrings. This works best with slim-fitting pants and top
For more examples and links to suppliers see my Casual Evening Wear Summer Pinterest board.
Additional tips for casual evenings out
Have suitable ingredients in your wardrobe ready to go. Work out how many outfits you need for each season. For example, if you typically go out once a week and often with the same people have around 4 outfits or outfit variations, for each season. In your planning think about the different types of evenings out to make sure you have suitable outfits you can pull together. Make sure you've worked out the whole outfit, including shoes, jewellery, outer layer (wrap, cardigan,jacket or coat), and evening bag
Don't spend a fortune on things you don't wear or use very often. Buy out of season and on sale
Always take an evening outer layer that complements your outfit for example, an evening-appropriate wrap, or cardigan. Even if it's warm the airconditioning may be chilly. In cooler weather wear a camisole or light-weight under garment for additional warmth. It's sad if no-one gets to see your cute outfit.
Wear comfortable footwear -- especially if you'll be walking any distance, or mostly standing
Use accessories (shoes, jewellery, scarf) to draw attention and add interest
Don't forget the right underwear! For example, no-line underwear, shapewear, slip, bras to suit the neckline or low cut back
Ready for an evening out!
With just a few of the above ingredients in your wardrobe, you'll quickly and easily be able to get ready for an evening out! You'll be able to accept even last minute evening out invitations. And better still you'll be comfortable and confident in what you're wearing.
Related articles
Like This Page?