You are here: Style Articles > What to Wear >
Trend Watch
> Fall Winter 2020 Fashion Trends
Fall Winter 2020 Fashion Trends
The world has changed significantly since the February and March runway shows. And with it how many of us live and work has also changed, to become more home-oriented, with less travel and fewer occasions to dress-up for. This also affects what we choose to wear. And so my round-up of fall winter fashions for autumn and winter 2020 has used this lens to pick the most wearable trends.
Comfort is key. However, it's still good to get dressed properly (keep gym wear for exercising and lounge wear for your lounge)!
Cosy knits
Easy dresses
Chunky footwear
Warm coats
The Main Fall Winter 2020 Fashion Trends
Tops
The main trends in tops are:
Images (from left): Ann Taylor; John Lewis; Ann Taylor

Volume in sleeves, especially balloon sleeves, bishop sleeves and puff sleeves. This is by far the major trend in tops. The trend applies to all styles of tops from button-down shirts to knits.
High necklines -- including crew necks, turtle-necks and roll-necks. Pretty blouses with high-necks and full-sleeves have a Victorian feel.

Images (clockwise from top left): Banana Republic; Ann Taylor; Hobbs London; Nordstrom;
J Crew

Textured knits. You'll find sweaters with textures such as cable knit, bobbles and fringing
Patterned knits and tops. Sweaters patterns include argyle, fairisle and animal prints. Top patterns include checks, animal and chain prints.
Menswear-inspired styles -- such as crew necks, collared sweaters, crisp button-down shirts and neck-ties
Bottoms
The main trend in bottoms is also volume with waist definition.
Pants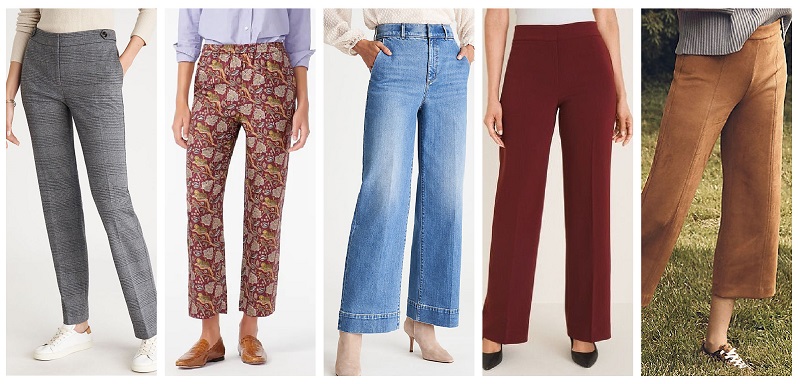 Images (from left): J Crew; J Crew; Ann Taylor; Chicos; Ann Taylor
The main trend in pants is for wide-leg styles this ranges from slim-straight styles through to very wide legs. This trend applies to jeans as well.
Lengths include cropped and full-length.
The main patterns available are all types of checks.
Skirts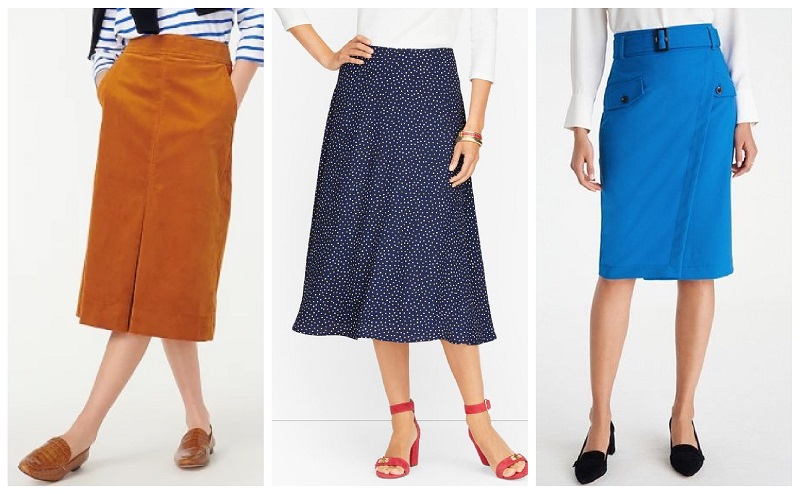 Images (from left): J Crew; Talbots; Ann Taylor
The main trend is skirts is subtle A-line and full-A-line styles. However pencil skirts are also available.
The dominant trend in skirt lengths is midi-length.
Dresses
Images (from left): Talbots; Banana Republic; Topshop
Sweater dresses are the dominant trend in dresses this season. You'll find them in lengths ranging from just above-the-knee to midi length.
There are also many other dress styles still available. In particular fit-and-flare midi lengths.
Outer layers
Cardigan sweaters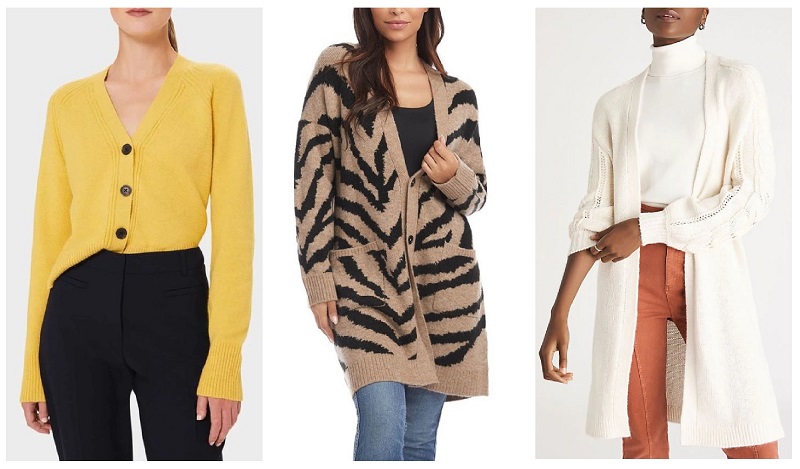 Images (from left): Hobbs; Nordstrom; Ann Taylor
There's a good range of cosy cardigan styles this season. The shorter styles can be worn as stand-alone tops. The thicker, longer styles can be worn as coatigans.
Jackets and coats

Images (from left): Chicos; Nordstrom; Nordstrom; Talbots; John Lewis
There's a wide range of jackets and coats available, including:
Biker jackets -- both leather and faux leather
Blazer coats -- both double and single breasted
Teddy and faux fur coats
Trench coats -- patterned and plain in a range of colors
Quilted jackets and coats
Shoes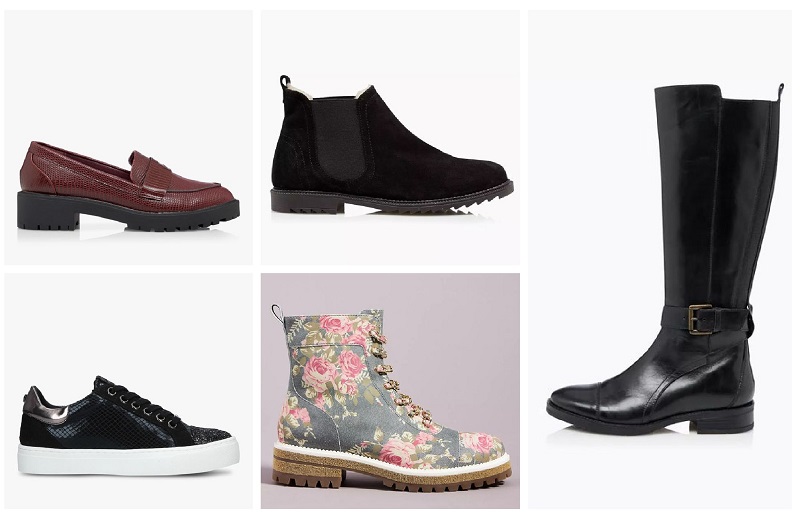 Images (clockwise from top left): John Lewis; Dune London; Dune London; Anthropologie; John Lewis
The dominant trend in shoes and boots is for tire-tread soles. There are also many equestrian style elements, such as the strap on the full-length boots above.
Sneakers also remain widely available.
More Fashion Trends...
For more examples (and links back to the vendors) of 2020 spring summer fashion trends see my Pinterest board here.
Like This Page?