You are here: Style Articles > How tos > Online clothes shopping tips
Online Clothes Shopping Tips
to Improve Your Chances of Success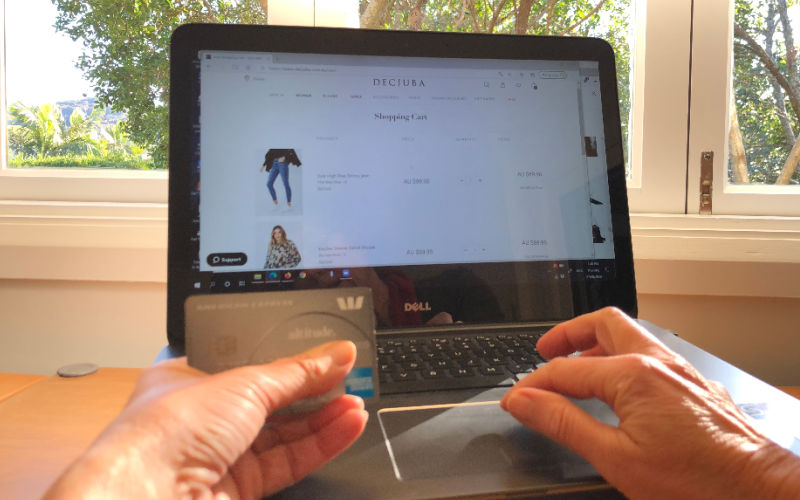 My preference is to buy clothes, shoes and accessories in physical stores. I like to see the color, feel the fabric and try on clothes and shoes for fit and comfort. And I know I'm not the only one!
However, sometimes shopping locally simply isn't possible. You might live in a regional area with a limited selection of stores nearby. You might have needs that aren't easily catered for where you live, such as a wide foot, or a narrow foot, or be a petite height. Or you might be looking for a particular item that you can't get locally. Or a nasty virus may have created a mandatory or voluntary need for physical distancing!
Since the pandemic many more of us are buying online. And I've been hearing from many women that they haven't had much success with their purchases. So, here are my recommendations for improving your chances of successfully buying clothes and accessories online.
What you need...
As with shopping in-store, you have a greater chance of a successful purchase when you know:
Your best colours
Your most flattering clothing shapes
Your personal style likes and dislikes
What styles work in your environment and for your lifestyle
The gaps in your wardrobe
For more details of each of the above see this article.
In addition, for online shopping you'll need your current measurements to hand.
Where to shop?
Your safest bet for quality, safety and service is to use well known retailers, either where you've shopped previously and had good experiences, or websites recommended by friends and family.
Check:
Where is the online store physically located?. It will be faster and cheaper purchasing items in your country. Especially since the corona virus there have been postage delays with items from overseas. Also, returning items will be more expensive.
How responsive is the store's customer service? Is there an online chat capability? Is the phone numer easy to find? Feel free to test the service by contacting the store and asking any questions you may have.
The website address -- some scam websites rely on common typos to create fake websites. Always carefully check the URL in your browser's address bar to make sure you're on a legitimate website.
Check terms and conditions
Stores have different online shopping terms and conditions.
Check:
Is there a delivery cost? Often there's free delivery offered for total purchases over a certain amount
Can you return items? Read the fine print here. In Australian consumer law a retailer doesn't have to exchange or refund an item unless it's faulty. However, many retailers will exchange or refund full price purchases within a limited time period. Sale items will often not be exchanged or refunded (although some websites limit this to items marked as 'final sale' items).
Is there a charge to return items? If so, is it a small fixed amount, or is return postage entirely your responsibility?
What's the return time-frame? If you can return items, and need to do so make sure it's within the store's deadline
Can you return items to a physical store? If there's a branch of the store with you, and it's open, this might be a better option for you.
Check item details
When you're happy with an online store's validity, location and terms and conditions, these tips for selecting clothes, shoes and accessories will improve your chance of successfully buying online.
The best online clothing stores show garments laid out (so you can see the silhouette) and also on a person and give that person's height, size and measurements and what size garment she's wearing. If there's a video look at it for an idea of how stiff or fluid the fabric is. Product reviews can also be useful to determine quality, sizing, fit and color.
Assess how true the color is in the photos
The color of an item may not be what you thought it would be -- photos can lie! The way your screen displays color and the light when the photo was taken can both change the color of an item. It's good to look at several photos, if they're available, and notice if the color seems the same in each photo. Check the review comments too, look for mentions of the color.
Please note there's no official name for a color. Yes, the name might give you an indication of what the color will look like. However, the store's name may be nothing like what you'd expected. My favorite pair of sneakers came to me that way! My mum bought them thinking they looked like a dove grey, and the name used for the color was something like that. However, they're more my shade of sludgy green-grey. Luckily for me, mum and I are the same shoe size. Thanks mum ;D.
Assess the shape and fit
For this step it's useful to think of what works on you. What shapes of clothing do you already own that work really well? What doesn't work so well?
Consider the garment's silhouette, then any internal seams and style details. Especially look at horizontal and vertical lines, any other stitching details, embellishments, and any changes of color within the garment.
Think about where those seams and style details will fall on your body. We all have areas that we'd rather not draw attention to. Make sure the item you're buying doesn't emphasize what you'd rather hide!
Also consider what fit issues you typically have when buying that clothing item. For pants do you find it hard to fit your hips and thighs without the waistband gaping? For tops and dresses is it a challenge to find sleeves that are loose enough? Do shoulder seams need to be on your shoulder, rather than a dropped shoulder style?
For example, I have a rectangle body shape and hate anything tight, or overly fitted, over my stomach, so I won't buy anything online with a fitted waist as it's very unlikely to work for my shape and personal preferences. Also the waist seam also falls too high on my body.
Check the length of the garment. The measurement should be in the details. You'll also get an idea from photos on a model, although she may be quite a bit taller than you!
Check the scale of bags and jewellery. Those cute earrings might be so small no-one can see them! And that bag might be oversized. Use photos and measurements to assess scale. Also pay attention to the scale of a pattern. Will the pattern overwhelm your frame, or emphasize your size in a bad way? If you can't tell the size or scale from the details, use customer service to ask.
Check the fabric
There's no point in buying a sweater with wool in the fabric mix if wool makes you itch! If you feel the heat fabrics that have a high percentage of polyester or nylon won't work for you. So, if you have specific fabric requirements make sure you check the fabric details.
The fabric composition together with the price can also give you an indication of quality. The lower the price and the more synthetic the fabric the more likely the garment is of lower quality.
What size should you order?
This is one of the trickiest things to answer for online shopping.
If you've bought the brand before you should have a good idea of the size that will work for you. However, even within the same brand different styles will have a different fit, which may mean a different size to what you'd usually wear.
Use the website's size guide to compare your measurements to their sizes. This might narrow your choice to 1 or 2 of the sizes.
Make sure you know the country the website's sizes are in. US sizes are larger than the same UK or Australian sizes, for instance. For example, a US size 6 is a UK size 10, and an Australian size 8. Shoe sizes are also different in each country. If you know your European shoe size that can help, although there's some variation in shoe sizes, just as there is in clothing
If the website has a fit finder app it's good to use that. It should ask you things like your fit preference, and sizes that typically work in other brands. However, even using such an app I've bought the wrong size and ended up changing it for another size, which brings me to my next tip...
Order the item in 2, or even 3, sizes knowing you'll return at least 1 of the items. This way you increase your basket size, so are more likely to get free delivery. And, if you want to wear the item as soon as it arrives, assuming the style works for you, you're more likely to have it in the correct size.
Online clothes shopping help
Contact me for help with your online clothes shopping.
Like This Page?