You are here: Style Articles > What to Wear >
Trend Watch
> Spring Summer Fashion Trends Australia & NZ 2018-19
Spring Summer Fashion Trends 2018-19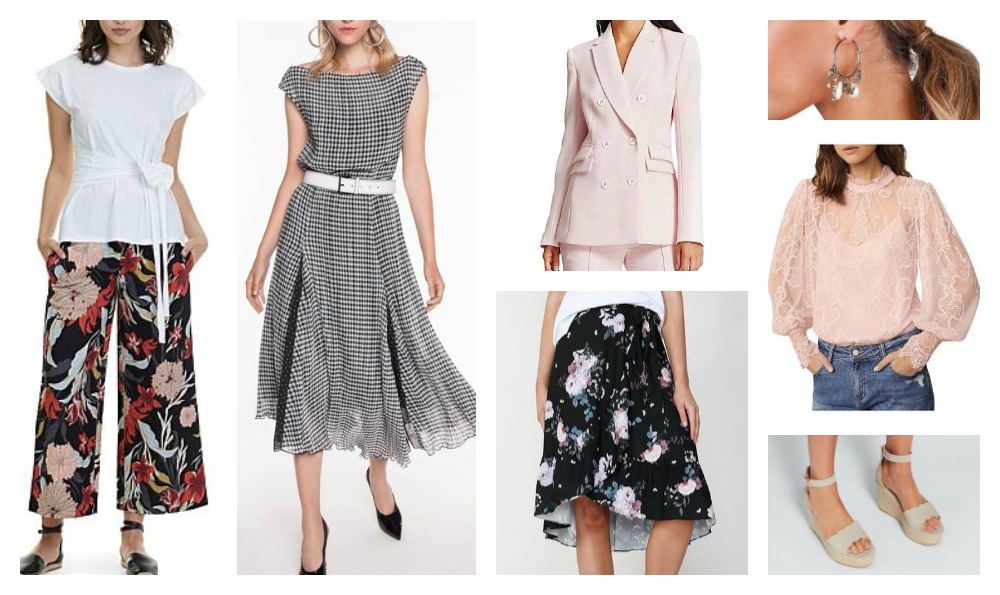 Images (clockwise from left): Country Road; Seed Heritage; Witchery; Decjuba; Witchery
On the runways the main trends in silhouettes continues to be larger volume and longer lengths. These trends are reflected in the shops with a greater selection of:
Wide-leg pants -- both full length and cropped styles
Fuller (A-line) midi and maxi length skirts
Midi and maxi length dresses with fuller skirts
Blouses, tops and dresses with fuller sleeves -- such as: puff sleeves; flutter sleeves; trumpet-shaped sleeves
Oversized blazers
Chunky footwear -- platforms; flatforms; wedge heels; stack heels; chunky sneakers
Oversized ear rings
Increased volume is also being created by unusual layering. We've seen something of this for a while on the runways and it's a major theme of the northern hemisphere's AW runways. It's also starting to appear in store lookbooks and in street style photos. To try this look experiment with wearing 2 outer layers such as a jacket kimono under a denim jacket; or pants under skirts; or 2 shirts.
At first this may seem like a strange trend (and you do need to take care you don't end up looking like the Michelin man!). However, it's also very practical for days of variable weather, for travel that involves places with very different weather conditions in the one trip, and for dealing with hot flushes!
And there's still a wide variety of other styles available. Skinny and slim legged pants are still widely available, for instance.
Main Spring Summer Fashion Trend Style Elements
Outer Layers
Jackets are a strong trend this season. Try an oversized blazer or military style jacket for work or every day wear. Denim jackets are great for more casual work environments and for adding a bit of structure to a casual outfit.
As the denim jacket trend continues we're seeing a variety of lengths and fits and greater variety in colour. I'm currently seeing dark blue, chambray blues, blush pink, white and khaki (I'm still waiting for a rust or plum colour for my wardrobe!). There are also linen and other lighter weight fabric versions of this jacket style.
Trench coats are also still widely available in lighter weights and colours for spring. You'll find styles ranging from more classic shapes to more creative, deconstructed versions, including trench jackets.
Jackets have almost replaced cardigans this season. However, there are still some available, including straighter grandad/grandma styles (do make sure you wear these with contemporary under layers to keep your look modern!) and classic fitted styles
Pants, Trousers and Shorts

Images (from left): Decjuba; David Jones; Trenery; Sportscraft
Patterned wide-legged pants in full lengths are a major trend this season. This style can be challenging to wear well unless you're tall and slim. However, there are ways to make it work. Look for patterns in a scale appropriate for your frame. At least a small heel, or platform, will help keep your legs in proportion to your torso (wide pants do tend to make your legs look shorter if you don't pay attention to how you wear them). A more fitted top will also help.
Cropped pants are a continuing trend. They're practical for warmer weather and I find many women in their 60s and beyond prefer cropped pants to shorts. This season you'll find wide-leg cropped pants. Cropped wide-leg styles are even more of a challenging style if you're not tall and slim. However, if you like the look there are ways to make them work. Slightly flared crops are an easier version to get right.
Tapered pants are still widely available. And you'll still find slim and skinny styles too.
Shorts -- there are many short shorts available (best left for younger women). However, you'll also find mid-thigh and knee length styles. The relaxed above knee style above has a contemporary look.
Skirts
Images (from left): Cue; Decjuba; Trenery; Seed Heritage
Skirts are mainly full (A-line or subtle A-line) and midi-length. There are also straight knee length styles, including utility styles (like the one on the far right above).
Dresses

Images (from left): David Lawrence; Decjuba; Sportscraft; Witchery; Trenery; Veronika Maine
The fit-and-flare silhouette is the main dress trend. There are many wrap dresses available (fit-and-flare and straighter styles). Skirt dresses are still widely available and now available in fit-and-flare, as well as straight styles. There are still some shift dresses around and dressier more fitted dresses too.
Tops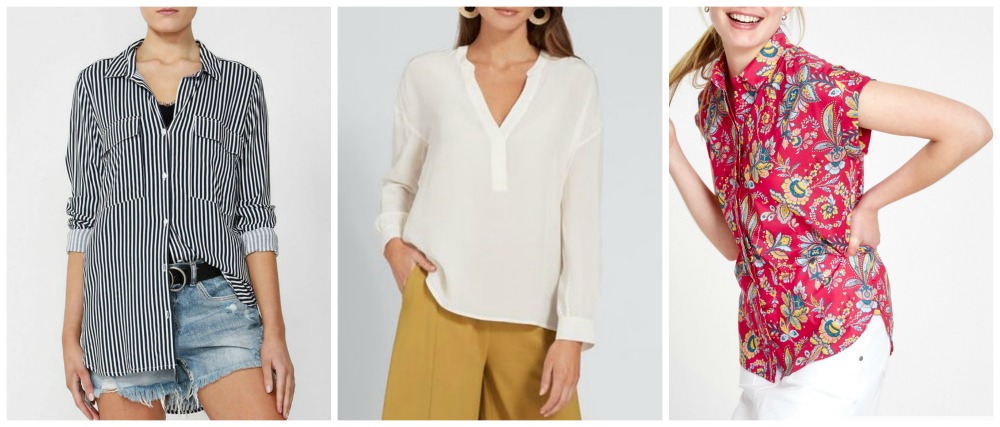 Images (from left): Decjuba; Seed Heritage; Sportscraft
Shirts and blouses are widely available. A dominant trend is the oversized shirt, but you'll find plenty of pretty, more floaty, feminine styles as well.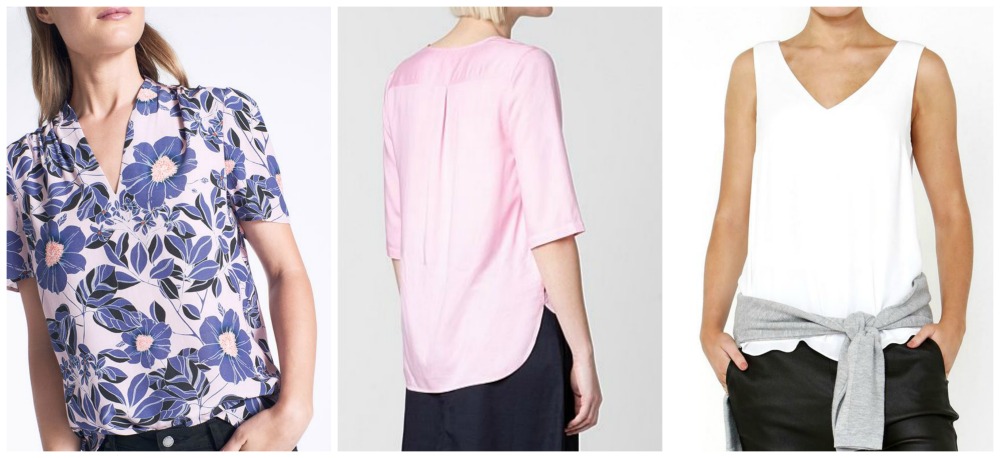 Images (from left): David Lawrence; Trenery; Decjuba
Other tops and tees include flutter or frilled sleeve options. And there's a wide choice of short and half-sleeved tops and tees.
Look for interesting sleeves, or interesting hem lines such as handerchief hems or hems that curve at the sides. I find these double-layer tanks (see above right) and camis flattering around the tummy and useful for wearing with fuller skirts and pants (if you don't like your arms you can cover them with a light weight jacket or cardigan).
Spring Summer Fashion Accessories
Shoes, sandals, and sneakers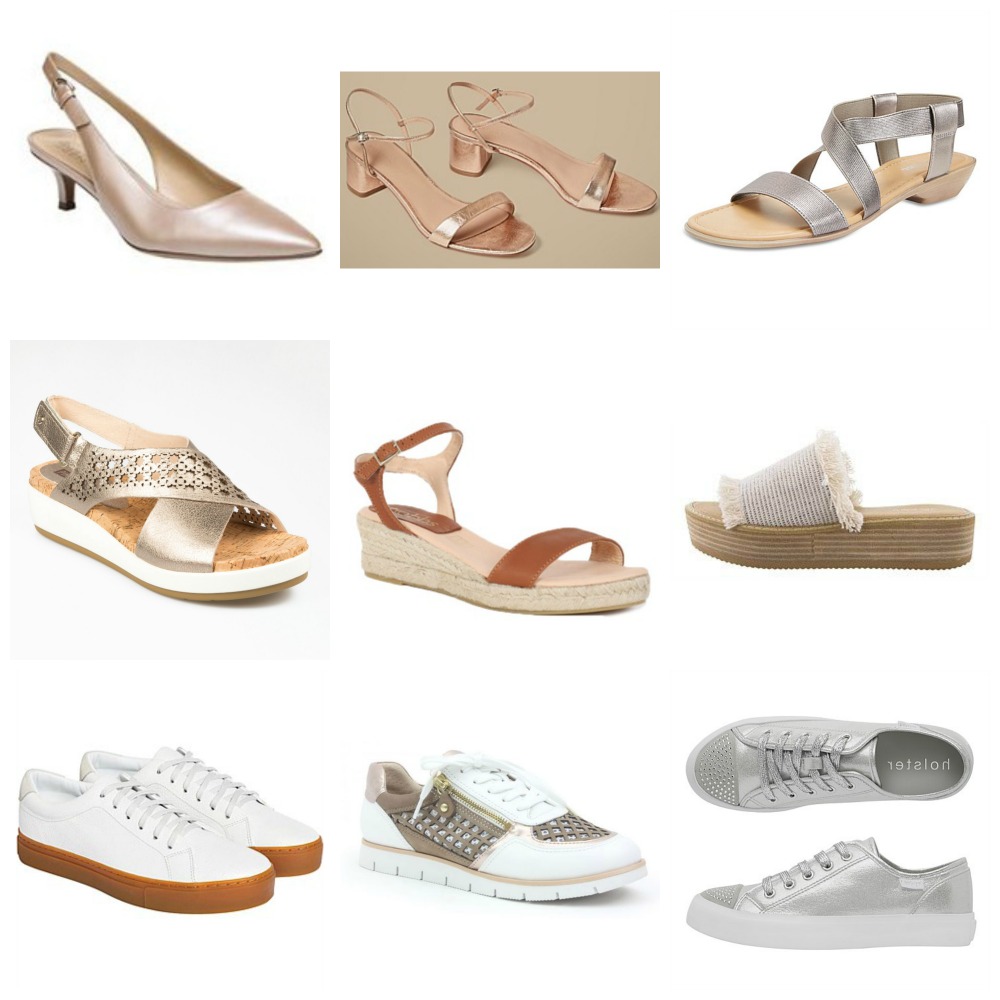 Images (clockwise from left): Myer; Witchery; David Jones; David Jones; David Jones; Gino Ventori; David Jones; Leisures; Hobbs
There continues to be a large selection of stylish low and mid-heeled footwear (yeah!). The main trends are:
Slingbacks -- look for styles with kitten or block heels. Great for dressier occasions
Strappy sandals, block heels and shiny metallics -- all 3 items are on trend. Shiny metallics include silver, gold and rose gold and make even flat, casual sandals and sneakers look smart
Flatforms, and platform wedges -- if you don't wear heels, but would like to be taller, try a low flatform. They're available in mules, slides, espadrilles, strappy sandals and sneakers
Espadrilles -- you'll find covered canvas versions as well as strappy sandals and slides
White sneakers -- white sneakers are still widely available, the trend is for chunkier styles and more embellishment. You'll also find sneakers in plenty of other colours
Earrings
Large earrings remain a strong trend, especially oversized hoops.
Fashion Trends: Main Style Themes
The dominant themes in spring summer fashion include:
Romantic feminine -- this look is created with floral prints, soft and semi-sheer floaty fabrics used to create 'wafty' dress, skirt, pant and blouses. Sorbet colours are also very feminine.
Utility -- this includes practical, hard wearing, often military-inspired styles. Trench coats, cargo and chino pants, cargo skirts, menswear-inspired shirts, denim, khaki colours.
Natural-chic -- style details that create this look include: quality natural fibres, such as linen and silk; light neutrals worn in low contrast monochrome outfits; refined and subtle styling details; quality accessories; refined-classic shapes
Main Fabric Spring Summer Fashion Trends
Fabric Prints and Textures
Oversized florals -- you'll find oversized blooms on dark backgrounds, light backgrounds and medium backgrounds. Your best choice will usually be a background colour similar to your hair depth. Mainly the patterns are reminiscent of soft furnishings. However, you'll also find more abstract prints, tropical leaf prints
Stripes -- the stripe trend continues. You'll find vertical stripes, horizontal stripes and diagonal stripes. The main differences this spring summer fashion season are uneven width stripes and low contrast prints, in addition to high contrast prints
Checks -- look for gingham and tartan checks
Animal-inspired prints -- these never go entirely out of fashion, but they're definitely on the increase this season. The main ones are: leopard, tiger, ocelot, and snake-inspired prints.
Fabric Color Trends
The main neutrals are navy, black, olive, khaki, warm and cool beiges and taupes, white
Sorbet shades especially pink, peach, lilac and yellow
You'll also find the occasional neon pop of orange, red, emerald, cobalt
Could it be that brown is about to appear again (oh I do hope so!)? It's on the northern runways and here I'm seeing some earthy rust tones for spring and summer, along with the light beiges and taupes
More Ideas
You can find more clothing and accessory ideas for this spring summer fashion season here on my Pinterest board.
Like This Page?