You are here: Style Articles > What to Wear >
Trend Watch
> SS Fashion Trends 2020
Spring Summer Fashion Trends 2020
9 of the 12 Vogue UK reported biggest trends are illustrated above. These represent the trends I'm actually seeing in mid-range online stores. (You can see Vogue UK's full report by clicking on the link above.)
There are version of these trends that are very wearable for every day wear and will suit a wide variety of personal colouring, body shapes and personalities!
You'll probably find you already have clothes in some (many?) of these categories. Often we can make clothes feel new again by simply taking a fresh look at what we already have and styling them in slightly different outfit combinations, inspired by the new season's trend reports.
The 9 spring summer fashion trends pictured above are:
Neon colors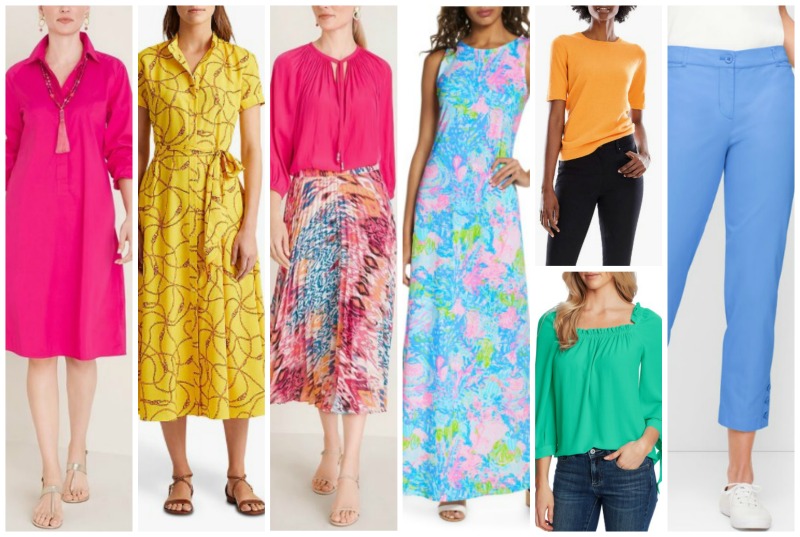 Images (clockwise from left): Chicos; John Lewis; Chicos; Marks and Spencer; Marks and Spencer; Talbots; Nordstrom
I'm certainly seeing a range of bright colors as well as a few, harder to wear, neon colors in online stores. You'll find shades of citrus (yellows, limes and oranges), bright reds, bright pinks, bright greens and bright blues.
If wearing neon (or bright colors) from head-to-toe isn't your thing, you could add a small pop of bright into an outfit. Perhaps as part of a pattern, or a scarf or necklace. Or choose a color that's on the brighter side for you. These colors will certainly lift your mood!
Long shorts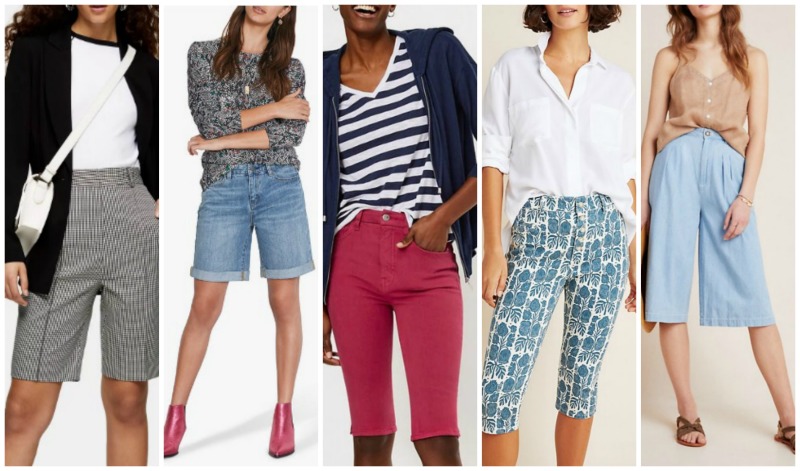 Images (from left): Topshop; John Lewis; Marks and Spencer; Marks and Spencer; Anthropologie; Anthropologie
The Vogue UK article talks about shorts suits. However, what I'm seeing, and what may work better for you, is a wide variety of long shorts. You'll find slim fitting shorts and wider-leg styles. After so many years of short shorts it's good to see these longer options!
A word of caution! It's very easy to look frumpy in the wide-leg, culotte version. This style does look better shorter. However, the options I'm finding are all above mid-thigh, which is too short for many older women. I wonder if a length of just above the knee could still look stylish?
The below knee, capris or pedal-pusher styles can work well with a dress that's a bit too short and with over-sized shirts and tunics.
Menswear-style waistcoats
I love this look! However, I'm not yet seeing this trend readily available, except in higher-end stores and labels.
Trench coats (with a twist)
Images (from left): Marks and Spencer; Anthropologie; Ann Taylor
Versions of the classic trench coat, and shorter trench jackets, have been easily available for years. And remain so.
On the runways this Spring Summer's fashion version is for longer (maxi) lengths. However, I'm only finding knee and midi lengths in online stores.
However, there are many colors, patterns and embelishments available, as well as the classic sand/camel options.
Denim
Images (clockwise from left): Chicos; Talbots; Ann Taylor; Chicos; Banana Republic; Nordstrom; Anthropologie
There are indeed many denim clothing items available.
Jean styles include skinny and straight-leg styles. Cropped styles are widely available. And there are now more wide-leg, and kick-flares around.
Other denims include: jean shorts; jean skirts; button-down shirts and trucker-style jackets.
70s-inspired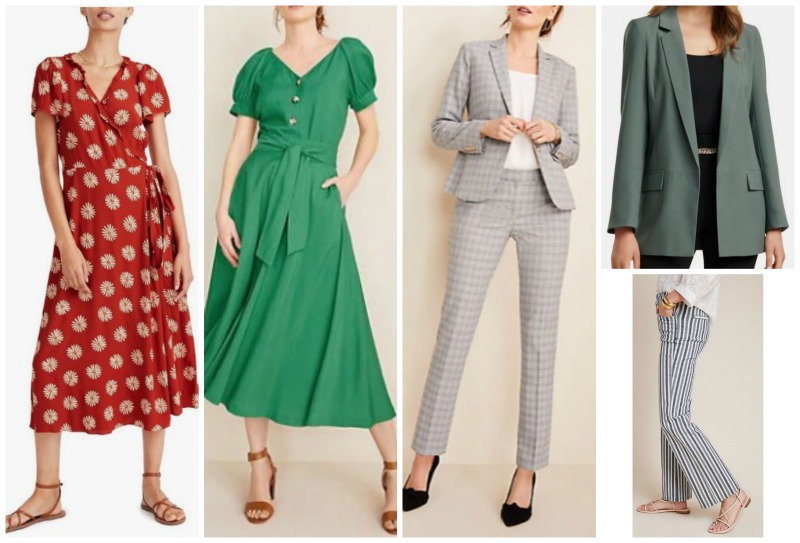 Images (clockwise from left): Nordstrom; Ann Taylor; Ann Taylor; John Lewis; Anthropologie
There are still many 80s-inspired styles to be found. However, a big trend this spring summer fashion season is 70s-inspired styles.
Style elements include:
Matching suiting in non-traditional fabrics, especially in jewel tones, or abstract prints. I am seeing more variations of matching suiting, but not in abstract prints
Midi dresses -- these are widely available in a wide range of styles, including: shirt dresses; wrap dresses; dresses with tiers or ruffles. There is also a wide range and variety of midi skirts
Blazers -- this trend remains strong in a range of styles, including: slim single-breasted styles; relaxed, longer-line styles; and longer double-breasted styles
Kick-flares -- there are a few flared jeans and bootleg pants in stores
Jewel tones -- there are many of these colors available
Craft and homemade styles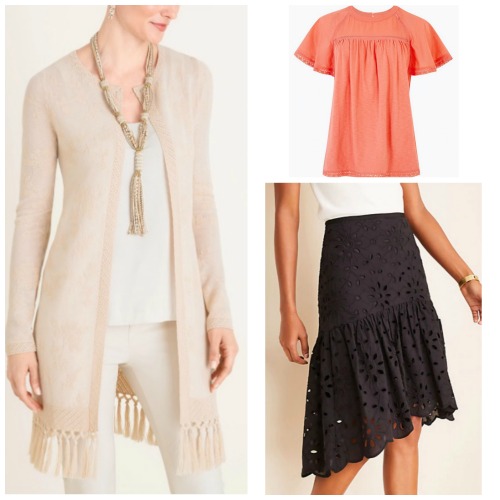 Images (clockwise from left): Chicos; Marks and Spencer; Ann Taylor
Crochet and, hand knitted form part of this trend. There are also tops, skirts and dresses in broderie anglais (aka eyelet) fabrics.
Look for clothing or accesories with a homemade feel, or styling detail, such as a rafia fringe.
Button-down shirts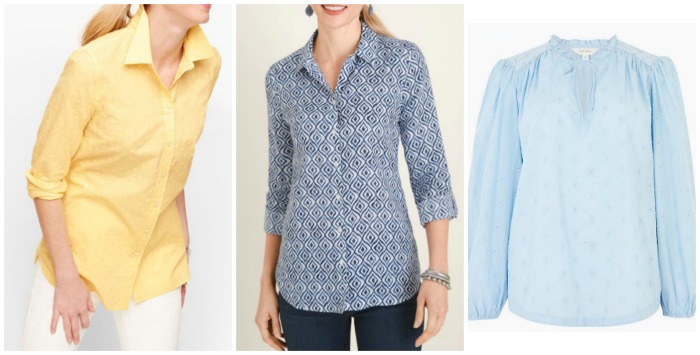 Images (from left): Talbots; Chicos; Marks and Spencer
You'll find many classic button-down shirt styles, in a range of plain colors and prints, as well of a range of other shirt and pop-over styles.
There are also find many peasant-style blouses available.
Tropical prints
I'd expected to find plenty of these, but in fact haven't found anything worth showing you!
The biggest print trend this season is floral. You'll find floral prints ranging from ditsy to oversized abstract florals. There are also a good number of polka dot print available.
For more spring summer fashion inspiration...
See my Pinterest 2020 Spring Summer Fashion Board here.
Like This Page?