You are here: Style Articles > What to Wear >
Trend Watch
> Spring & Summer Fashion Trends 2017/18 Australia
Spring & Summer Fashion Trends 2017/18 Australia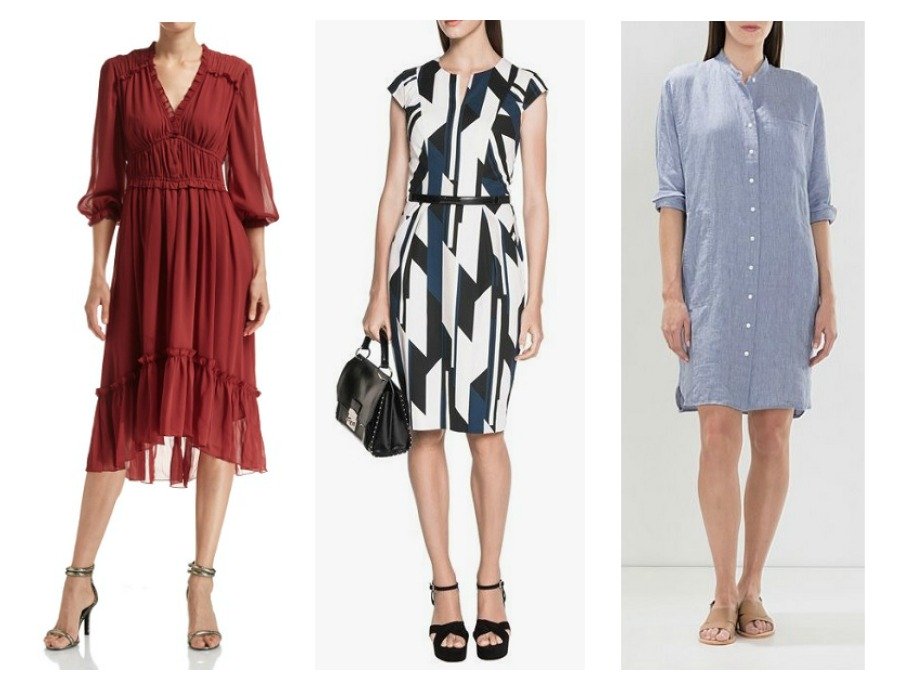 Images: Saba; Veronika Maine; Trenery
If you like dresses, you're in luck this season! There's a wide range of dress styles available with silhouettes ranging from fitted through floaty fit-and-flare to full and boxy shapes. This should make it possible for you to find at least one style you love!
Dress lengths range from mini to maxi, with the midi length remaining a particularly dominant trend.
Spring & Summer Fashion Trends: Main Style Elements
Other key fashion trends for this spring and summer include:

Images: Saba; Veronika Maine; Witchery; David Jones; Witchery; Mimco
Statement sleeves -- sleeves really are having a moment! The big shapes include: flared; puff; bell; and ruffled styles. Or opt for deeper cuffs and a sheer sleeve.
Ruffles can be found on all garments (including shoes!). The most prevalent being single or double diagonal ruffles on tops, dresses and skirts
Shoulders are still on display with off-the-shoulder styles widely available, as well as one-shoulder and a few cold shoulder styles.
Bold florals -- look for florals that are in proportion with your body scale, unless you have a particularly dramatic dressing style. Particularly flattering florals will have a background colour similar to your hair colour, or at least in a similar colour depth.
Inject some colour with red or another strong solid colour such as a medium green or sunshine yellow. If you dare, try wearing red from head to toe!
Try some over-sized and playful statement earrings to cheaply and easily update your look.
Main Fabric Trends for Spring & Summer
Fabric Colours

New season colours include bold reds, yellows and blues. Try adding a small pop of colour, with a bag, for instance. Or go bold and wear a strong colour from head to toe!
Blues are still available in a wide range of shades and depth
Neutrals include black, navy and khaki
Fabric Patterns and Textures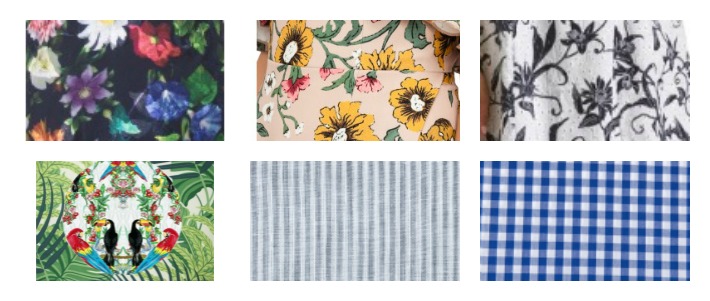 Florals and botanicals are the strongest pattern trend. Especially larger florals and botanical patterns. However, this season there's a choice of background colours. Your most harmonious look will be to choose a pattern scale that isn't too large for your proportions and where some part of the pattern contains an element of your hair colouring. A background colour similar to the depth of your hair colour will be your best choice)
Tropical prints are also widely available. Patterns include one or more of: tropical leaves; tropical birds, such as colourful toucans; tropical fruit, such as pineapples or water melon slices
Stripes -- there are still some stripes available. Look for oversized shirts in faded blue and white vertical stripes, or uneven horizontal stripes on light backgrounds
Gingham checks are available in black and white, blue and white or red and white
Like This Page?