You are here: Style Articles > What to Wear >
Trend Watch
> Spring Summer Fashion Trends 2017
Spring Summer Fashion Trends 2017

Images: Vogue Top Spring Runway Trends
On the runways the main trend for spring and summer fashion this season continues the 80s-inspired exaggerated volume silhouettes and maximal styling of last season. The volume is in padded shoulders, leg-of-mutton sleeves, and also in longer lengths of skirts and dresses and more voluminous skirts and pants.
However, note that the look includes shape definition somewhere in the outfit. If you have a well-defined waist, emphasize it with a belt, or with high-waisted pants or skirt and a tucked in top. If you opt for volume on your top half, choose a slimmer line below and vice versa.
Shoulders also remain the focus for exposure, the latest being exposing one shoulder either with one cold shoulder cut-out, or one off-the shoulder exposure.
Other spring summer fashion trends illustrated above include:
Statement sleeves including leg-of-mutton and puffed sleeves
Utility clothing in workwear fabrics, often inspired by military styles. Such as updated trench coat styles and cargo pants. Colors include olive, khaki, camel and taupes
Stripes are still very much in evidence. Vertical stripes, horizontal stripes, diagonal stripes, broad stripes, uneven widt stripes, pinstripes. High contrast and low contrast
The new look florals are retro 60s and 70s bold-sized florals ranging from quirky to interior decor (think sofas and wallpaper)
Colors are very much in evidence from sporty-inspired neon shades such as yellow and bright blue to deep and mid shades of pink
Statement shoulders both squared and rounded padded 80s-inspired shapes, especially in oversized blazers and coats
Sheer fabrics worn with skimpy layers under. However, don't be afraid to opt for more coverage underneath, or use a sheer blouse under a top or dress
Create a minimal palette with shades of white such as cream, bone, and ivory
So what am I seeing so far in stores online? Pretty much all of the above, although there are still plenty of other style choices available as well. Some of the more exaggerated, fashion-forward styles are only available from designers (see Nordstrom designer collections, for instance) and fast fashion stores (such as Zara).
I encourange you to pick 1 or 2 trends and see if you can make them work for you. For example, pick a color you haven't got in your wardrobe (it's safer to do this when you've had your colors done and can use a swatch to pick the right shade for you), or add a pattern, or a statement sleeve.
Here are some of the things I'm seeing that will be easy for a wide range of women to incorporate:
The Main Spring Summer Fashion Trends
Statement sleeves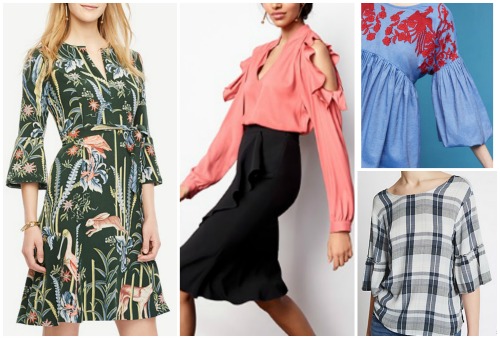 Images (clockwise from left):
Ann Taylor, Ann Taylor, Anthropologie, Marks & Spencer
Statement sleeves are now widely available, although I'm currently seeing the bell-style sleeves flaring from the upper arm, or elbow or below, rather than leg-of-mutton or puffed-shoulder styles.
Exposed shoulders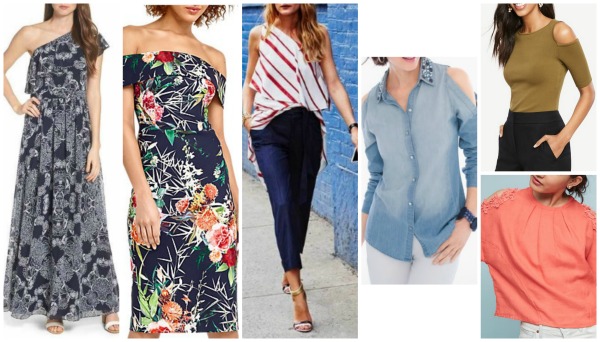 Images (clockwise from left):
Nordstrom, John Lewis, Banana Republic, Chicos, Ann Taylor, Anthropologie
There's a wide range of off-the-shoulder and cold shoulder styles available and a smaller selection (so far) of one shoulder styles. I haven't yet seen any of the new one-cold-shoulder style.
A cold-shoulder with one of the more modest openings is a great way to try this style. Remember that you can introduce both off-the-shoulder and one-shoulder styles with a layer underneath, if you prefer more coverage.
Cropped pants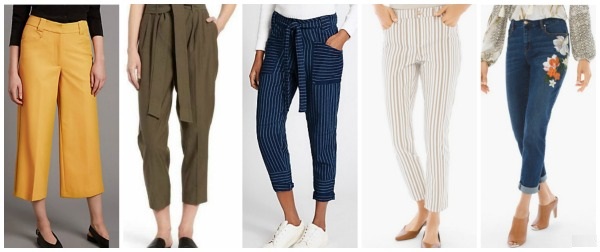 Images (left to right):
Marks and Spencer, Nordstrom, Marks and Spencer, Chicos, Chicos
There remains a good selection of cropped pant styles available in a wide range of widths. If you're on the shorter side you might want to wear these with a flatform sandal or shoe, or at least a small heel.
Play with the hem length. Many women look best with the hem ending between their full-calf and ankle, rather than on their ankle. And a tapered or straight leg style may work better for you than a flared or wide-legged style.
Cropped styles are a great alternative to shorts, and shorter skirts, if you don't like exposing your knees or legs.
Feminine style elements
As well as the utilitarian menswear-inspired styles the spring summer fashion trends include a wide variety of feminine style elements. Look for ruffles, florals, floaty fabrics, sheer and semi-sheer fabrics, lace and embellishments such as floral embroidery and applique. These come in dresses, skirts, tops, and outerwear.
Color Spring Summer Fashion Trends
Images (clockwise from left):
Marks and Spencer, Chicos, Ann Taylor, Banana Republic
Pinks and yellows in all shades are widely available and a great way to inject some color into your wardrobe!
Flat shoes
Images (clockwise from left):
Zappos, Nordstrom, Dune, Anthropologie, Marks and Spencer
I'm so pleased to see a wide range of attractive flat and low-heeled, booties, shoes, sneakers, and sandals available!
Like This Page?